Video: Gary Neville's brilliant analysis of Manchester United's defensive frailties in Spurs defeat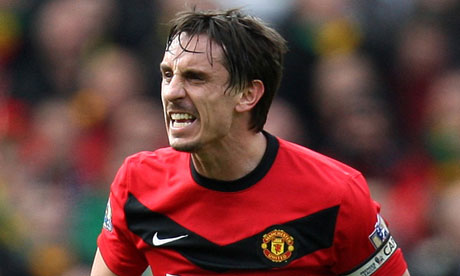 Gary Neville's analysis on Sky Sports during Monday Night Football is regularly a must watch and so it proved ahead of QPR v West Ham.
The former Manchester United defender must be the most incisive football pundit on TV and so it proved as he delved deeper into his former club's first defeat at Old Trafford to Spurs for 23 years.
Many of the headlines in the back pages this morning have concentrated on Neville's criticism of Rio Ferdinand, suggesting the Manchester United central defender won't be included in the England squad later this week.
But, Neville doesn't just pinpoint Ferdinand, he criticises Manchester United full backs Rafael and Patrice Evra, with analysis that even Sir Alex Ferguson could probably do with watching.
And Neville also credits Tottenham for their excellent counter attacking football in what turned into a famous win. Jermain Defoe is particularly highlighted for his excellent runs which assisted (without touching the ball) Spurs' first two goals in the game.
Neville also talks about the second half on Saturday as Manchester United turned the tables on Tottenham, dominating proceedings with Paul Scholes at the heart of things.
Again though, the Manchester United full backs and Rio Ferdinand come in for criticism for the eventual Spurs winner, scored by Clint Dempsey.
Finally, it should also be mentioned that Neville's analysis of how a back four defence should work "like a piece of string" is excellent advice for anyone playing the game.
Apologies for the sound and picture quality on the video below but Neville's analysis is so good it deserves to be seen. Turn your volume on high…
[jwplayer config="For-all-videos" mediaid="239226″]
---
GAMBLING CAN BE ADDICTIVE, PLEASE PLAY RESPONSIBLY