The 40 nominees for the 2013 Golden Boy Award published ft. Pogba, Draxler, Lukaku & more [Tuttosport]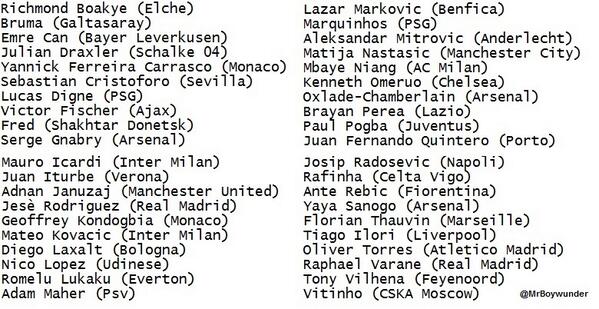 Tuttosport today published the Golden Boy Award 40 nominees for the past year.
Sports journalists will decide who wins, with the winner usually announced in December.
In recent years the winner of the Golden Boy Award has often gone on to great things. Isco, Gotze, Balotelli, Aguero & Messi are all former winners as well as Manchester United struggling midfielder Anderson.
Paul Pogba is considered an early favourite but faces stiff competition from the likes of Romelu Lukaku, Julian Draxler, Raphael Varane amongst others.
Serge Gnabry of Arsenal is certainly a surprise inclusion.
Why you need a VPN?
Cut chords:
Watch everything (Netflix, BBC iPlayer, Hulu) online using a VPN.
Unlock geoblocking:
A VPN gives you access to the best content from anywhere in the world.
Privacy & security:
A VPN keeps your information private, activity encrypted & data anonymous.
Just $6.67 a month + 3 months free!
Click here for more Premier League betting tips
---