Stjarnan win Icelandic top flight thanks to 93rd minute penalty v FH!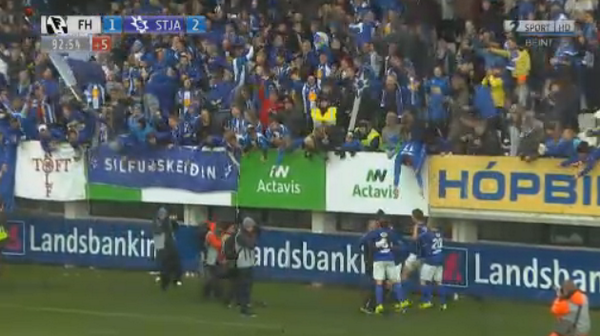 The Icelandic top flight had an pic conclusion today.
Stjarnan, previously known for their wacky and humorous celebrations, took on FH in the final game of the Kaplakrikavöllur season.
FH were at home and had a points advantage over Stjarnan that meant the hosts could draw the game and still win the Icelandic title.
In the final seconds of second half injury time, the score was 1-1 with the title heading to FH. Stjarnan were down to 10 men and FH were widely considered to already be champions.
Cue a ball through into the box and a tussle in the box, the referee pointed to the spot and Olafur Finsen produced a calm spot kick to win the league title for Stjarnan.
So incensed was the FH defender, Kassim Doumbia, one of the finest defenders in Iceland this season, that he threatened the referee at full time!
The trophy had already been decorated with black and white FH ribbons, they were subsequently changed to blue for Stjarnan who won their first Icelandic title in dramatic circumstances.
The winning Stjarnan penalty, can be seen on the vine video below.
EXCLUSIVE OFFER: Back Chelsea at 6/1 or Arsenal at amazing 12/1 odds to win + Money Back If You Lose !
Click here for more Premier League betting tips
---