See it from a different angle! Pitch level video of Gareth Bale wonder goal v Barcelona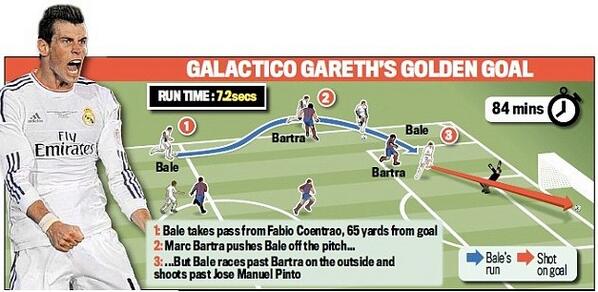 You have seen the TV version of the goal probably countless times now.
And, no doubt marvelled at the athleticism and raw speed shown by Gareth Bale to score Real Madrid's winner against Barcelona in the Copa del Rey final.
Now a new angle has emerged and it shows just how almost effortless it was for the Welsh wonder to score such a special goal.
And, you get some perspective on a number of facets of the goal.
First, the point from Bale, telling Fabio Coentrao where to play it, then the flick past Marc Bartra and the perspective that the pitch slopes so the Real Madrid forward has to go up a slight incline to get past the Barcelona defender.
Then there are the Bale touches in the box at high speed and if anyone needed showing again, just how badly Barcelona keeper Pinto did with his effort to stop the Welshman.
Quality goal though!
Finally, we see just how long the Real Madrid players took to get to Bale, how many of them were exhausted and wonder about how long Luka Modric embraced the Welshman…
Click here for more Premier League betting tips
---