Burn! Pep Guardiola blatantly ignored Cristiano Ronaldo at the Ballon d'Or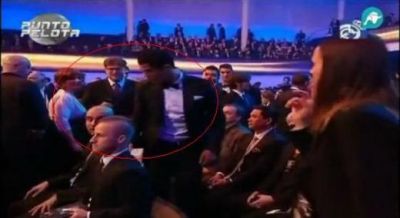 Did Pep Guardiola purposefully refuse to shake Cristiano Ronaldo's hand at the Ballon d'Or earlier this week?
New footage has been broadcast on Spanish TV showing a tense moment between the former Barcelona manager and the Real Madrid superstar in the auditorium in Zurich on Monday night.
As everybody was shuffling into their seats before the event kicked off, Cristiano Ronaldo walked behind Guardiola and the Portuguese forward put his hand on Pep's shoulder as if to engage a greeting from the Catalan legend.
Pep's reaction, however, was decidedly cold, as Guardiola turned his head backward to gaze up at Cristiano, only to quickly turn his head back again once he realised who had touched him.
Unsurprisingly the footage has been construed as Guardiola snubbing Ronaldo in public.
Watch the Guardiola-Ronaldo encounter below.
---
GAMBLING CAN BE ADDICTIVE, PLEASE PLAY RESPONSIBLY