Brazilian president Dilma booed before Brazil-Japan, Blatter calls for respect, booed as well!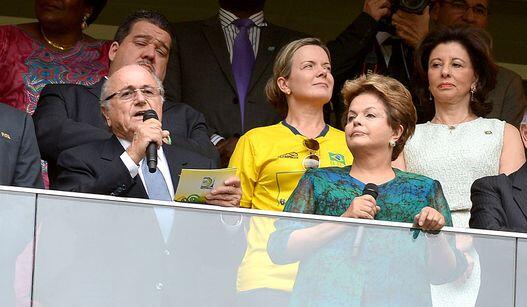 This, of course, was not the first time Sepp Blatter has been booed by a football stadium before, nevertheless it was pretty funny.
Before the Brazil-Japan opening Confederations Cup match on Saturday, Brazilian President Dilma Rousseff received the ire of the crowd just minutes before kick off.
Blatter chimed in with support of Dilma:  "Friends of Brazilian football, where is the respect and the fair play, please?"
Cue more booing towards the unpopular FIFA president.
It is believed the anger of the crowd in Brasilia was due to the recent protests over free public transportation.
Click here for more Premier League betting tips
---
Advertisement
Why you need a VPN?
Cut chords:
Watch everything (Netflix, BBC iPlayer, Hulu) online using a VPN.
Unlock geoblocking:
A VPN gives you access to the best content from anywhere in the world.
Privacy & security:
A VPN keeps your information private, activity encrypted & data anonymous.
Just $6.67 a month + 3 months free!