Jean-Paul Brigger, Sepp Blatter's aide, says FIFA president has same standing as Obama, Putin & Merkel [Blick]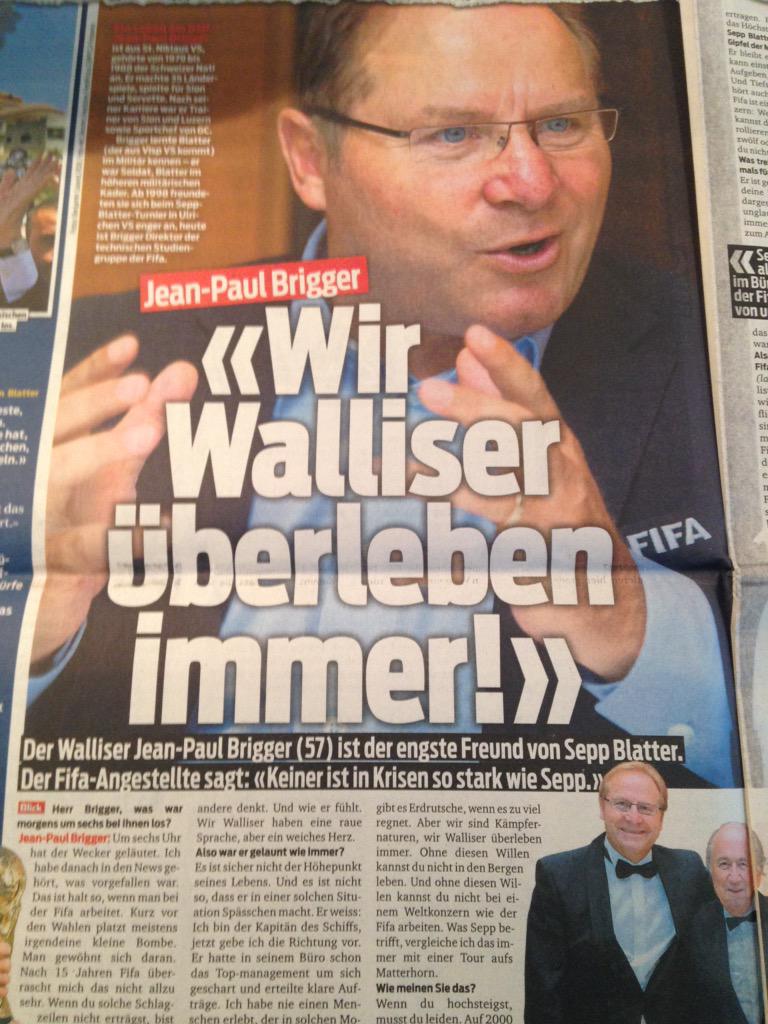 Sepp Blatter continues to hide away from the spotlight in the wake of the FIFA arrests, however the FIFA president's PR offensive against accusations of corruption has begun in earnest.
Swiss daily Blick have scooped an interview with Blatter's close aide and long-term buddy, Jean-Paul Brigger, the morning after the FIFA arrests went down.
Brigger comes across as the mouthpiece of Blatter, defending the FIFA president on all fronts, whilst disclosing details of his interactions with Blatter on Wednesday.
Below is a translation of the Q&A between Blick and Jean-Paul Brigger. Mr. Brigger, were you woken up at six in the morning [on Wednesday]?
At six, my alarm clock went off. I then heard the news of what had happened. That's the way when you work at Fifa. Shortly before the elections and small bomb can explode. You get used to it. After 15 years at Fifa, few things surprise me. If you can not stand the headlines, you are at the wrong place.
So you were not shocked?
It's shocking if a family member falls seriously ill. Or when someone dies.
When did you meet Sepp Blatter?
In the morning in the office. All we needed was a mutual glance. We know exactly how the other thinks and feels. We Valais have a rough language, but a soft heart.
So he was cheerful as ever?
It is certainly not the end of his life. But he's also not pulling your leg in such a situation. He knows that 'I am the captain of the ship, now I give the direction'. He had already gathered the top management to be in his office and issued clear orders. I have never seen a man who is so strong in such moments. We are mountain people, we are made ​​of different stuff. When the avalanche comes, you will not have to think twice if you are going to the left or to the right.
So this is purely a mental thing?
We live with the forces of nature in the Valais. In addition, there are avalanches, landslides if it rains too much. But we are fighters by nature, we always survive. Without this you will not live in the mountains. And without that, you will not like the Fifa work in a global corporation.
What do you mean?
At 2000 meters on an alp you can drink, have fun. At 4000 meters, the air is thinner, you need to exert yourself more. But if you're at the summit, whistles, winds and storms are there. The longer you stay at the top, the more you have to suffer. FIFA President: that is the highest position in football.
[Blatter] always remains calm. He can plug in like no other. Giving up is not for him. And to collect low blows, that's also part of his job. But FIFA is a worldwide concern: If you have two children, you can perhaps control them. But you have eight, ten, twelve or fourteen – then you can not always be in control.
What drives him to be elected at 79 for four years again?
He was born for this job. If your company is portrayed as corrupt, you need an incredible energy [to fight back]. He still has that. It's his life. And as to questions about his age, I want to say this: The painter Hans Erni worked until he was 106 years old. Should we have stopped him from painting when he turned 80? No one has the right to tell another person what to say, when to stop.
So Blatter could stay another 27 years as the FIFA President?
(laughs) Now that's a journalist's question! Look: If we are flying to Australia on a Friday evening and we return on Monday, Sepp is the first one back in the office at 7am. He is the fittest of all of us… And you want him to quit? Sorry, no. In Switzerland it's impossible to be too successful.
Does that mean?
Sepp is together with Barack Obama, Vladimir Putin or Angela Merkel. He has contacts that not even the highest Swiss politicians have. That does not fit into the Swiss scheme. And its shortcoming is that you do not know him really. He loves people.
Can you give an example?
Even if he has the greatest stress, he is always available for a photo in the lobby. Always. He walks around with Obama just like a regular man in the street. That impressed me. And I also appreciate him as a friend.
Why you need a VPN?
Cut chords:
Watch everything (Netflix, BBC iPlayer, Hulu) online using a VPN.
Unlock geoblocking:
A VPN gives you access to the best content from anywhere in the world.
Privacy & security:
A VPN keeps your information private, activity encrypted & data anonymous.
Just $6.67 a month + 3 months free!
Best football betting tips & free bet offers
Click here for more Premier League betting tips
---