Luis Suarez's move to Barcelona can work, with the help of Messi 2.0 [Article]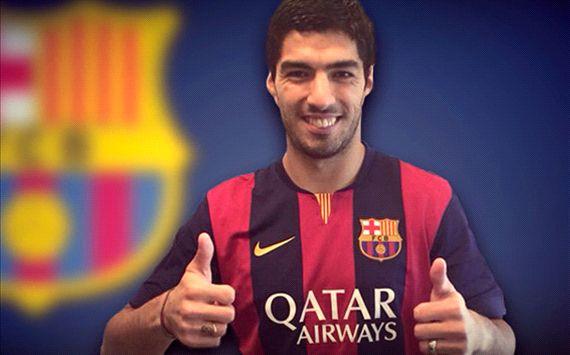 By Paul Morrissey, in Barcelona – Follow on Twitter here
Lionel Messi, Neymar Junior, and Luis Suarez all in the same team.
This isn't Championship Manager, a Pro Evolution Master Team, or the NBA All-Stars: this is Futbol Club Barcelona 2014-15.
A flawless formula in console format, but does it have practical footballing logic?
It has marketing logic, that's for sure.
Don't get it twisted: Suarez has a chequered image, and may have lost his 888 Poker deal as a result of his bite recidivism, but if anything it only increased the fascination around this complex character and pantomine villain.
There'll be no protests outside the Camp Nou to have this monster deported; once he scores his first goal the bite will be ancient history.
Los Galacticos de Barcelona?
According to FIFA, Neymar and Suarez were the most Retweeted players at the World Cup, and between them, the three social media moguls have 100 million+ Facebook fans.
Even if most of Suarez's were for his bite apology, it still shows the mass appeal he commands.
(In fact, a significant proportion of Suarez's followers and Facebook fans are actually haters who assiduously troll him, but hey, a 'like' is a 'like'.)
So is this all this is then, a glorified Galacticos project transposed to Catalonia?
Going out and buying the best attacking player in the world every year, foisting him into the team, and hoping everything will work itself out in perfect synergy?
Bringing in Neymar and Suarez in consecutive transfer windows does represent a pretty significant shift in direction for a club that not so long ago was vaunting the benefits of having an organic youth structure, La Masia, Barcelona's pride and joy.
But after bringing through a conveyor belt of players in one single generation, the well's suddenly run dry. And even in times of irretrievable debt and transfer embargoes, where there's a will there's always a way for Spain's Big Two (Spain is different).
No, unlike Florentino Perez's Galacticos project (2000 – 2005/6), which really did consist of…going out and buying the best (or most marketable, in Becks' case) every year, Suarez's arrival does have footballing logic.
Even if Johan Cruyff doesn't think so.
The architect of the Barcelona Dream Team sees it as a shift away from Barcelona's collective ethos, given its maximum expression under Pep Guardiola, to a more individualistic style.
Writing in De Telegraaf, Cruyff is baffled:
"I am happy that Germany won the World Cup. They are playing the kind of football that Barcelona are distancing themselves from. I don't know how they plan to play free-flowing attacking football with Messi, Neymar and Suarez in one team. They are all players who rely on their individual actions.
"Barcelona choose for individualism rather than a team playing good football. The style of play they developed under Frank Rijkaard and Pep Guardiola is being abandoned."
Yes and no, Sir Cruyff.
Though all three are soloists by nature, by the same token, all three have a selfless side that's borne out by their assist stats.
Even if Suarez's partnership with Sturridge was nicknamed the SAS, it was more Batman and Robin than Starsky and Hutch. Suarez was top dog, but he shared the spoils when the situation called for it.
Suarez and Sturridge's bickering over who started the no-passing game created the impression that the SAS was a split partnership, two strikers playing their own game who just happened to be next to each other. There was an element of truth to that, but Suarez still came second only to Steven Gerrard in the assists chart last season.
Neymar was knocked for only scoring 9 goals, but he got nearly as many assists (8).
And then there's Messi, one of the best exponents of the through ball around. La pase de la muerte.
His vision, awareness and speed of thought has seen him rack up 82 assists in all competitions in the past 4 seasons.
That ball to Neymar in last season's Clasico, that ball to Di Maria against Belgium. Both played from very deep……
And hey, speaking of Messi…
Messi, The Silent Assassin
Thierry Henry, Zlatan, David Villa, and Alexis Sanchez. The list of central attackers Messi has seen off is long enough to make the Jon Gotti blanche.
They came with dreams of being a legendary Barcelona number '9', and only David Villa achieved that (as number 7), the others all suffering to varying degrees the Pep Doctrine: 'Just make Messi happy; don't break his balls'.
So when he received a surreptitious text from a certain L. Messi…no wait that's too obvious – Lionel M, asking if Zlatan could be nudged out to the wing, Pep deferred.
The next game, lo and behold, Lionel Messi was restored to the middle.
But the Messi caveat is much less of an issue for Suarez; if anything, this time around Messi will be grateful for the extra hands. And feet.
Because this isn't the same Messi as the one who sent that text, or the one who (allegedly) admonished Alexis Sanchez in front of everyone.
Last season showed glimpses of it, and the World Cup confirmed it: the four-time Ballon D'Or is entering a new phase in his career; Messi 2.0.
No longer The Flea who scurries relentlessly around the pitch, now a lion, who lies in wait. Bides his time for that one moment, instead of gambling on every slim possibility.
During four years of nearly unbroken, injury-free football from 2008 – 2012, when Messi could do it all, and wanted do it all himself.
He can no longer do it all by himself. He's no longer that 'kid who just wants to dribble a football'.
He's become a professional.
Enter Suarez.
Messi 2.0: The New Xavi?
Despite being six months Messi's elder, Suarez is by far the younger man in football terms; while Messi enters a new phases as mentioned, Suarez has yet to hit his absolute peak.
Messi debuted in the Barcelona first team aged 17; Suarez really only got his career really kicked off aged 20 at Ajax.
And, with only a handful of Champions League games to his name, not to mention his regular breaks from football resulting from his periodic worldwide bans, Suarez still looks and plays like a wide-eyed pibe, contrasting with Messi's slightly world-weary, hangdog look of a man who's seen and done too much too soon.
So what if… what if the roles were reversed this time, and Messi was brought back into a deeper position to help dictate play and fill the Xavi void, with the prime goal threat centred around Suarez?
Not as deep into midfield as Xavi, naturally, but back far enough to be facing goal as much as having his back to it; maybe in a 4-2-1-3 formation, for example, with Messi in front of Mascherano and Busquets, and behind Neymar-Suarez-Pedro.
What's certain is, where Zlatan and Henry were scuppered by Messidependencia, conditions are ripe for Suarez to play his natural game at Barcelona, and hit new heights in his career.
In Messi, he has an ally.
---