Jose Mourinho tells "funny" Mario Balotelli story to Pedro Pinto of CNN
CNN and lead football presenter Pedro Pinto have been making a big play about their lengthy interview with Jose Mourinho.
And who can blame them, Mourinho must be one of the best raconteurs in the business.
CNN have already released a clip of "The Special One" defending John Terry with a new video now emerging surrounding Mario Balotelli.
Mourinho's comments on Manchester City striker Super Mario are already doing the rounds on the social networks and the video below is already gaining plenty of traction.
The Real Madrid boss recounts a story from a Champions League game in September 2009, when Mourinho and Balotelli travelled to Rubin Kazan with Inter Milan.
It certainly explains why Mario Balotelli was frozen out of Jose Mourinho's treble side at the end of 2009/2010.
Enjoy the video below. A picture of Jose Mourinho's story can be seen after the jump.
It should be pointed out that there is one tiny mistake in Mourinho's story – Balotelli was sent off in the 60th minute of the match in question not the 46th.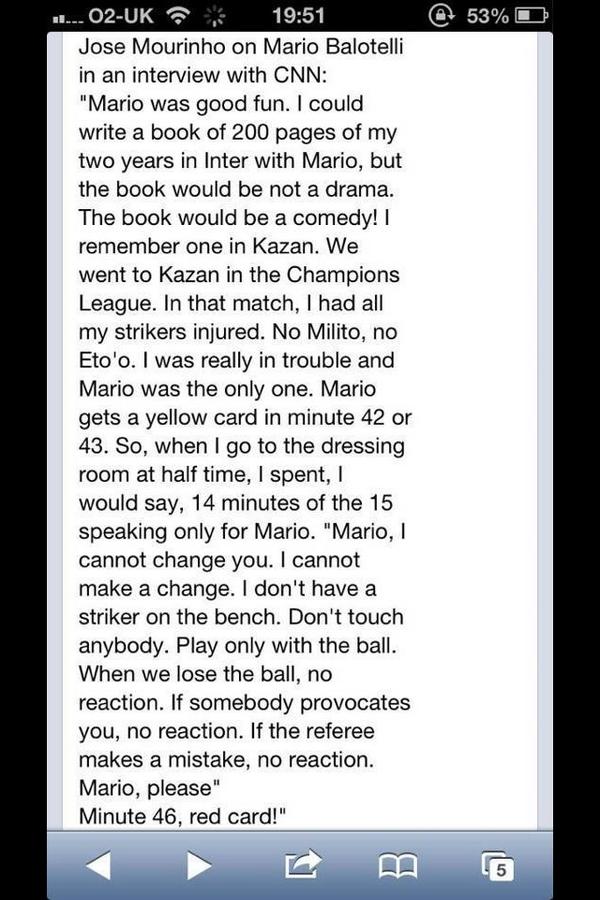 ---