An Arsenal fan has made a 24 foot by 8 banner calling for "Wenger Out" for the FA Cup semifinal at Wembley [Picture]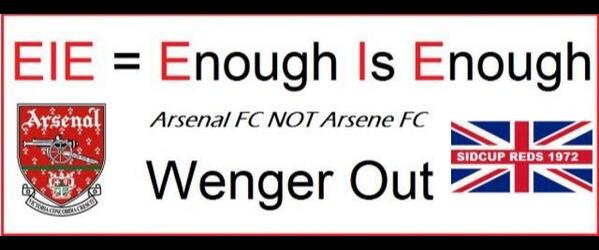 Arsenal fan @StuartSherry has whipped up a storm on Wednesday revealing his mock-up design for a massive 24 foot by 8 banner calling for "Wenger Out".
Stuart Sherry's banner has been made for the Gunners' FA Cup semifinal match against Wigan at Wembley on April 12th.
Whilst the banner may not be the most creative piece of work ever seen at a football match, the anti-Wenger banner makes it's message loud and clear.
The banner has three main slogans including "Enough is Enough", "Arsenal FC NOT Arsene FC", and "Wenger Out".
For the record, @StuartSherry has been receiving a fair bit of backlash from some fellow Arsenal supporters about his banner.
Keeping on the theme of "Wenger In", one Arsenal fan defended the Gunners boss on Tuesday night following the disappointing 2-2 draw with Swansea. That video can be seen below.
---
GAMBLING CAN BE ADDICTIVE, PLEASE PLAY RESPONSIBLY