Man United prepare €60m offer for Real Madrid defender Sergio Ramos [AS]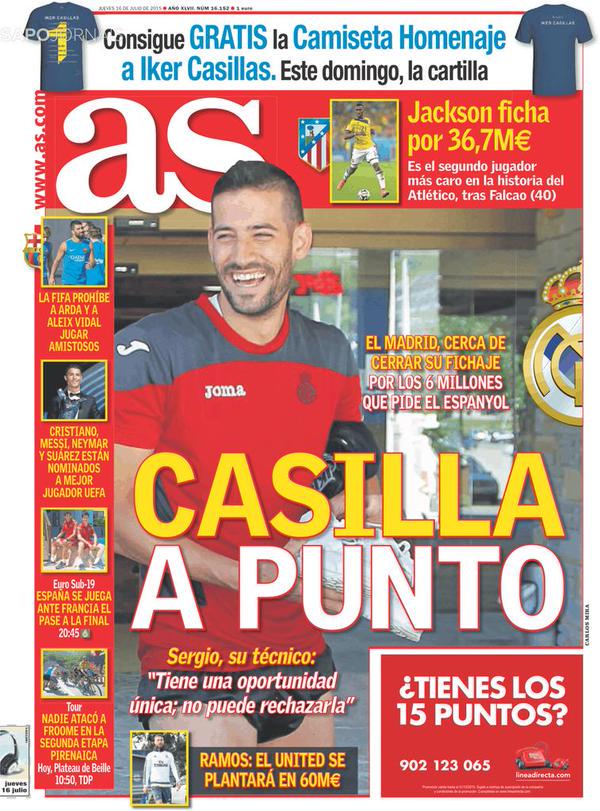 Sergio Ramos once again features on the front page of Madrid-based newspaper AS on Thursday as links with Manchester United continue.
United have already offered 45 million euros for Ramos and AS suggest that the Premier League giants are now preparing a 60 million euro offer.
Whilst this will be a significant raise on their original offer, AS claim that 60 million euros will be United's final offer for Ramos.
Real Madrid are loath to let Sergio Ramos depart the Bernabeu, especially as the defender is now the de facto captain at the club following the departure of Iker Casillas to FC Porto.
In positive news for United, AS confirm that Ramos is still keen to leave Real Madrid. The former Sevilla defender wants to be paid 10 million euros per season. He currently earns 6 million a year.
United and Ramos are believed to have agreed terms on a personal deal of 55 million euros over five years. This would put Ramos on similar wages to Wayne Rooney at Old Trafford.
Finally, AS add that United want to end this saga as soon as possible, and also close the future of David De Gea. The 60 million euro bid is expected in the coming days.
Were Ramos to move to Manchester United for 60 million euros, he would become the most expensive defender of all time. David Luiz currently holds this title having transferred from Chelsea to PSG for 50 million euros.
See the AS front page above – the Ramos story is at the very bottom.
101GG opinion: Whilst this looks like Manchester United are becoming more aggressive in their pursuit of Ramos, we suspect the Spanish defender will end up with a pay rise and Louis van Gaal will sign Nicolas Otamendi from Valencia, which is a much simpler operation.
---