Arsenal want Karim Benzema & the Gunners have €65m stashed away for the deal [AS]
Sunday starts with a bang for Arsenal fans, as Spanish daily AS claim on the front page of their paper that Arsenal are committed to trying to sign Real Madrid striker Karim Benzema before the transfer window closes.
AS make it appear like they've had a good look at Arsenal's financials too, as the Iberian paper claim inside knowledge that the Gunners have €65m in their war-chest to make the deal happen.
So will Arsenal get their man?
AS note that Arsene Wenger is "aware of the difficulties of the operation", while also stating the Frenchman is a priority for the North Londoners.
Using circumstantial evidence to try to convince Arsenal fans the deal could happen, AS seem to believe that just because Arsenal have a squad packed full of French players, while former Real Madrid man Mesut Ozil is already at the Emirates, the Benzema deal may come to fruition.
AS also consider whom Real Madrid may buy, were they to sell Benzema to Arsenal, with Alvaro Morata, Sergio Aguero, Fernando Llorente and Borja Mayoral all listed as possible targets for Los Blancos.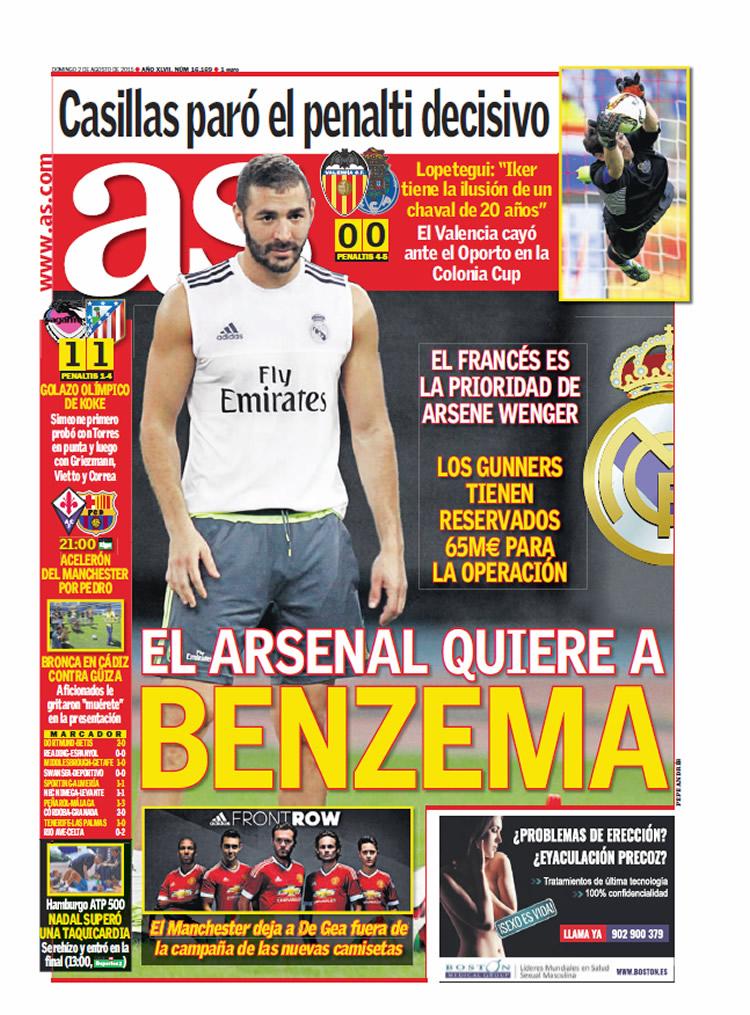 ---
GAMBLING CAN BE ADDICTIVE, PLEASE PLAY RESPONSIBLY