After calling Rafa Benitez fat, a new picture surfaces of Chelsea's Jose Mourinho with moobs & a belly
A new picture has come to light on Wednesday night, adding a fresh angle to the recent spat between Chelsea boss Jose Mourinho and Real Madrid coach Rafa Benitez.
A quick synopsis of what's happened.
Wednesday started with fresh quotes from the Special One, hitting back at accusations from Rafa Benitez's wife, Montserrat Seara, that her husband regularly cleans up Mou's managerial "messes".
The Blues boss told the press:
I think the lady needs to occupy her time and if she takes care of her husband's diet she will have less time to speak about me.
A fat joke. Seriously.
Benitez has since taken the moral high ground and decided to end this war of words by not addressing the jibe in his latest press conference. The Madrid boss was quoted by Sport saying:
I am the coach of Real Madrid. I love football. I understand football and, therefore, only talk about football.
Now an excellent new picture has come out from Chelsea's pre-season tour in the US, which captures a moment with Mourinho snarling, whilst it also reveals his man boobs and belly.
On that note, we're just waiting for Chelsea to draw Real Madrid in the Champions League this season!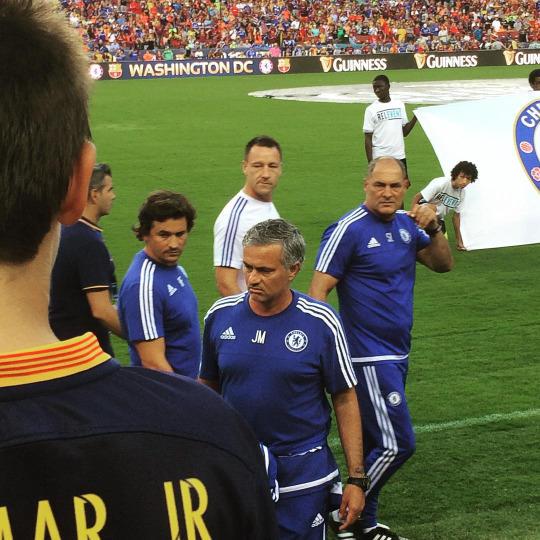 Why you need a VPN?
Cut chords:
Watch everything (Netflix, BBC iPlayer, Hulu) online using a VPN.
Unlock geoblocking:
A VPN gives you access to the best content from anywhere in the world.
Privacy & security:
A VPN keeps your information private, activity encrypted & data anonymous.
Just $6.67 a month + 3 months free!
---