The Top 10 Goals of the last six days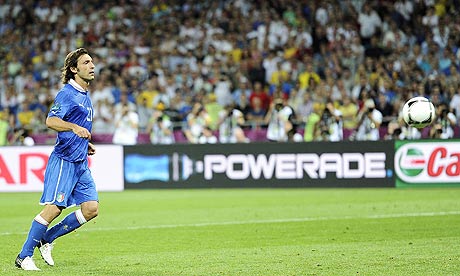 Once again an apology to you for failing to live up to our regular Monday afternoon slot for the top goals of the week.
England's departure from Euro 2012 kept us rather busy yesterday so we delayed the list until Tuesday afternoon but fear not, there are a fair few crackers to choose from.
We begin with an acrobatic volley from the MLS before the first clip of a famous South American striker with a wonder goal in a charity game.
UEFA will no doubt be chuffed we only have two clips from Euro 2012 in our top 10, starting with Sami Khedira's karate kick volley from a fine move against Greece in at three before a fine strike you probably wouldn't have seen from South Korea.
Proving he has still got it, as he helped River Plate to promotion, David Trezeguet volleys home the fifth goal of our top 10 before Lionel Messi and Luis Suarez get involved – well, there had to be a couple of Golazos in a 7-7 draw…
We close with another belter from the MLS, that penalty from Andrea Pirlo and then another terrific strike from the Under-20 Copa Libertadores.
Vote in our poll below. Leave anger, abuse and criticism in the comments.
1. Patrick Ianni (Seattle Sounders v Sporting KC, June 21, 2012)
2. Radamal Falcao (Messi & Friends v Rest of the World, charity match, Bogota, June 21, 2012)
3. Sami Khedira (Germany v Greece, June 22, 2012)
4. Hyung-Bum Kim (Seongnam v Daejon Citizen, June 23, 2012)
5. David Trezeguet (1) (River Plate v Almirante Brown, June 23, 2012)
6. Lionel Messi (1) (Red Stars v Black Masters, World Soccer Masters, June 23, 2012)
7. Luis Suarez (2) (Red Stars v Black Masters, World Soccer Masters, June 23, 2012)
8. Marco Pappa (Chicago Fire v Columbus Crew, June 24, 2012)
9. Andrea Pirlo penalty (Italy v England, June 24, 2012)
10. Wilder Cartagena (Alianza Lima v Union Espanola, Under-20 Copa Libertadores, June 25, 2012)
Narrowly missed: Wellington Paulista, Vegar Hedenstad,  Ola Kamara & Romarinho.
[poll id="157″]
Best football betting tips & free bet offers
Click here for more Premier League betting tips
---