Ronaldo's son Ronald (14) causes a storm kissing a 27-year-old kindergarten teacher [Pictures]
Ronaldo's 14-year-old son Ronald has caused an uproar this month in Brazil for his latest relationship.
Despite being a boy, Ronald is already 1.85m tall and he also has a job working as a DJ in a nightclub.
It was at that club that Ronald was recently pictured kissing a 27-year-old blonde kindergarten teacher, Lu Bernardi.
The story has caused a whirlwind of outrage, not helped by Lu Bernardi's confession that the love affair with Ronaldo's teenage son was real. She said:
I swear I did not know. When we met we were in an club, and he was taller than everyone there. How could you think that boy 1.85m tall was underage?
He lied and said he was 18. I swear his age did not cross my mind. He had good conversation, he was not immature.
The pictures doing the rounds on social networks are below.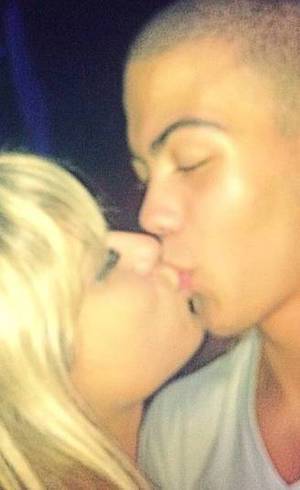 ---
Advertisement
Why you need a VPN?
Cut chords:
Watch everything (Netflix, BBC iPlayer, Hulu) online using a VPN.
Unlock geoblocking:
A VPN gives you access to the best content from anywhere in the world.
Privacy & security:
A VPN keeps your information private, activity encrypted & data anonymous.
Just $6.67 a month + 3 months free!