RUMOUR: Man United reach an agreement with Juventus' Arturo Vidal [Gazzetta Dello Sport]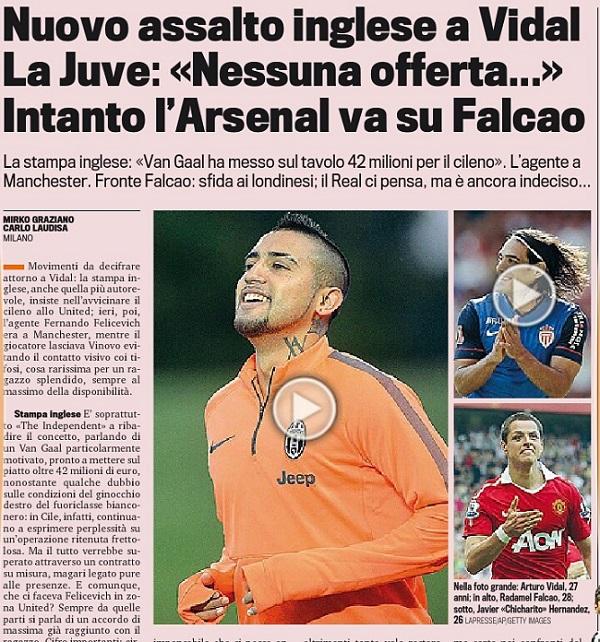 The morning after that 4-0 drumming at the MK Dons in the Capital One Cup, Manchester United fans have good reason to have a massive smile on their faces again.
According to reports coming out of Italy, after months and months of chasing, Manchester United seem closer than ever to signing Chilean star Arturo Vidal from Juventus.
Of course, should the deal come to fruition, the Red Devils will be buying one of the best midfielders in world football who should make a major difference to Louis van Gaal's flagging side.
Needless to say the Vidal rumours come with plenty of speculation.
According to Gazzetta Dello Sport, the word on the street is that Man United have reached an agreement with Vidal, after the player's agent was in Manchester on Tuesday.
Gazzetta also bring a huge dollop of circumstantial evidence to their story, reporting that  Vidal left Juve's training centre Vinovo yesterday by avoiding eye contact with the fans; seemingly an indication that he is off to Old Trafford.
As for Juventus, the Bianconeri are strongly denying rumours that any deal has been done, steadfastly claiming that United have yet to even lodge an official bid with the Turin giants.
Gazzetta end off by saying everything will be clear in the next 24-48 hours, with Juventus eyeing up Fredy Guarin as a possible replacement should United finally get their man.
Man United are set to spend €42 million on Vidal. 
(Credit to @Juventus__fan for the screengrab & updates)
---