Done Deal: Juventus complete the €32m signing of Paulo Dybala from Palermo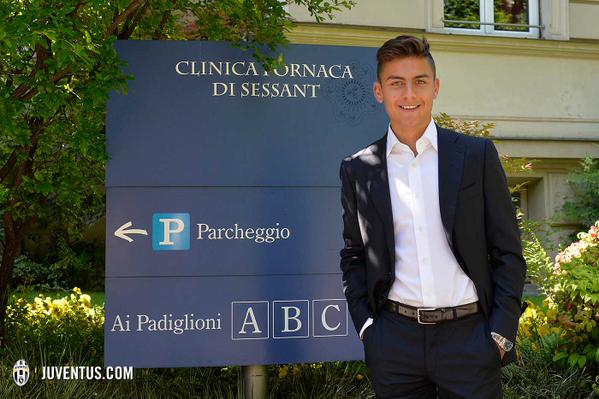 Juventus have announced on Thursday that they have bolstered their attack ahead of the 2015-16 season.
After months upon months of transfer speculation surrounding Argentine forward Paulo Dybala, the 21-year-old striker has finally chosen to move to Juventus.
Juventus have confirmed that Dybala cost €32 million, while the striker's fee could rise by another €8 million based on add-ons and contingencies.
Dybala has signed a five year contract with the Serie A champions.
The signing may spark alarm bells for Juve fans worried about the future of Carlos Tevez.
According to a report in Spanish daily Marca on Thursday, PSG are ready to make Carlos Tevez one of the world's best paid players on €12m a year, €230,000 per week.
Is it a case of Dybala in, Tevez out?
21-year-old Dybala was one of the breakout stars in Serie A last season, as he scored 13 goals for Palermo in 34 games.
Dybala cost Juve €32 million plus €8 million in bonuses, he's most expensive purchase of Marotta era

— David Amoyal (@DavidAmoyal) June 4, 2015
Dybala was expensive for sure but Juve is paying Palermo in 4 installments and his transfer fee will be amortized over a 5 year contract

— David Amoyal (@DavidAmoyal) June 4, 2015
Dybala's wages are relatively low (I believe around €2.5 million net) so overall he is much cheaper than say an Alexi Sanchez type deal

— David Amoyal (@DavidAmoyal) June 4, 2015
Congrats to Palermo, they invested €12 million in Dybala, developed him & got a huge return for a player with one year on his contract

— David Amoyal (@DavidAmoyal) June 4, 2015
Why you need a VPN?
Cut chords:
Watch everything (Netflix, BBC iPlayer, Hulu) online using a VPN.
Unlock geoblocking:
A VPN gives you access to the best content from anywhere in the world.
Privacy & security:
A VPN keeps your information private, activity encrypted & data anonymous.
Just $6.67 a month + 3 months free!
---