Done Deal: Former Everton man Tim Cahill joins Shanghai Shenhua after two years in America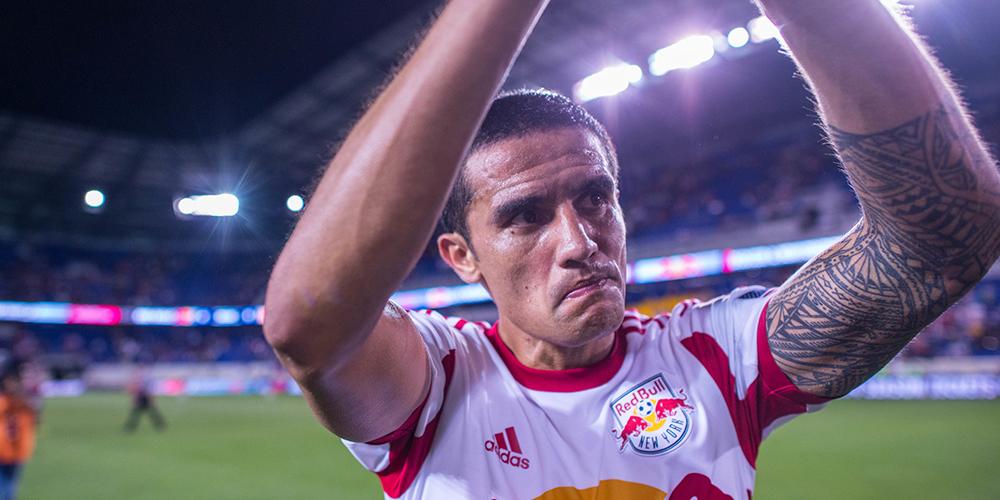 Australian football hero Tim Cahill has announced overnight the next stage in his incredible career.
Days after being part of the Socceroos squad that won the 2015 Asian Cup, Cahill left MLS franchise the New York Red Bulls in order to start a new challenge in his life.
The 35-year-old evergreen midfielder has now decided his next chapter will be in China, where he has agreed to play for Shanghai Shenhua after two years in America.
Shanghai Shenhua have a history of signing big name talent in the past, as Nicolas Anelka and Didier Drogba have both turned out for Shenhua in recent seasons.
Tim Cahill took to social media to give out his personal messages on his move to China, as well as telling the media:
I've done the Premier League, I've done America. New York was amazing for me.. [but] China is a growing market in football. You see in the [Asian Cup quarter-final] game that we played against China, millions of people watched it and I'm someone who is embracing culture and a different aspect of life.
I'm at an age where I want to give something back to football and still play at a high level… I think it's exciting. To still be in demand and have the offers I've had is special but this will be massive for me as a player on and off the park.
Read Tim Chaill's social media updates on his latest career move below.
Thank you @NewYorkRedBulls @MLS for being a great club and league. All the fans have been amazing and proud to have shared priceless moments

— Tim Cahill (@Tim_Cahill) February 3, 2015
Back Man United to beat Cambridge at 2/1!!
---
Live streaming: Featured matches on Thursday July 9, 2020
101 Great Goals provides ways to watch and bet on football matches. Purchases you make through our links may earn us a commission.