Bad news for Man United & Chelsea: Paul Pogba's agent says he's 99% staying in Italy [Tuttosport]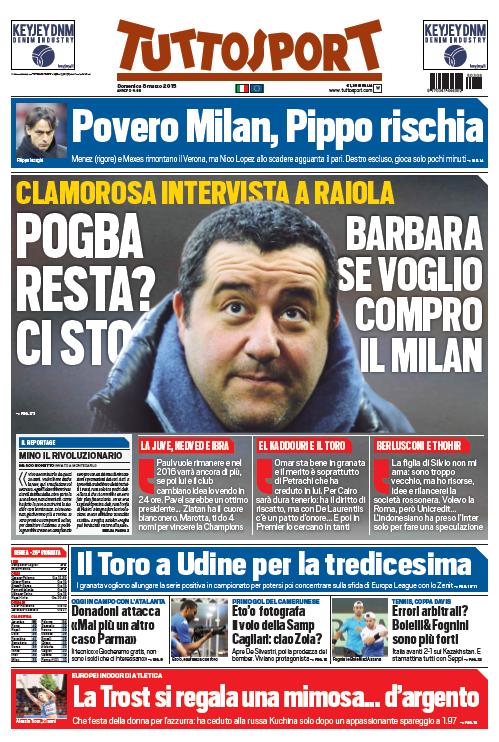 Back Liverpool to beat Blackburn at 3/1!!!
The front page of Italian daily Tuttosport on Sunday features quotes from Paul Pogba's agent, Mino Raiola.
Barely a week goes by without one of Europe's top club being linked with Juventus star Pogba, however it now seems likely that the French international will remain in Turin next season.
The splash of Tuttosport reads:
Shock interview with Raiola: Pogba stays? I'm ok with that.
Inside the paper, Mino Raiola says Paul Pogba will "99 per cent" stay at Juventus next season, despite bids from Real Madrid, Barcelona, PSG, Bayern Munich, Manchester United, Man City and Chelsea.
Raiola also revealed an agreement he and his client have made with the Juventus suits. Raiola told Tuttosport:
We made a pact with Juve: Paul doesn't have to leave.
I spoke to President Andrea Agnelli, directors Pavel Nedved, Beppe Marotta and Fabio Paratici, so they all agree. The club doesn't need the money.
At this moment the situation at Juve is ideal for Pogba. We would only leave if a situation emerged that was favourable for all concerned.
He is wanted by seven clubs and that is certain, because they all told me so. The ones that can afford him are Real Madrid, Barcelona, PSG, Bayern Munich, Manchester United, Manchester City and Chelsea.
If I just whistled, I'd sell Pogba tomorrow to PSG or City in a heartbeat. But Paul did not tell me to find him another club.
What are his chances of staying? As of today it's 99 per cent.
Raiola also revealed how Real Madrid tried to sign the 21-year-old Pogba in the past.
According to Raiola, 18 months ago Los Blancos approached Juventus about Pogba, at which point Real were quoted a transfer fee of 50 million euros for the midfielder.
Raiola claimed Real baulked at that sum, which the Spanish outfit called "ridiculous".
Less than two years later, Pogba is thought to command a transfer fee closer to 100 million euros.
---