Alan Hutton torn apart for his Aston Villa performance v Arsenal [Tweets]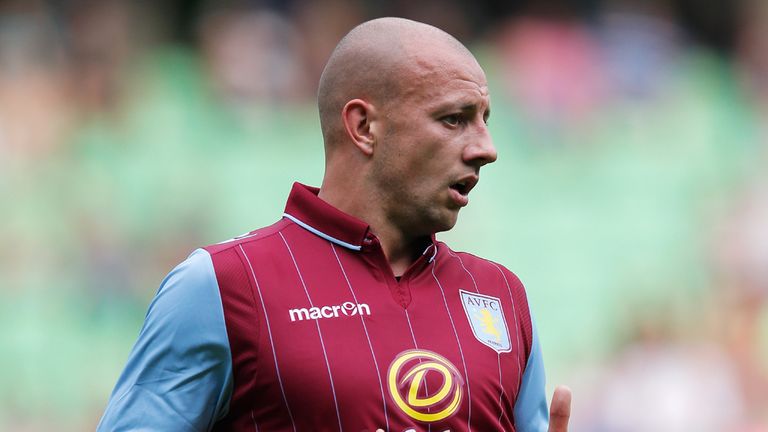 About a month ago, French daily L'Equipe put their minds at work thinking up the composition of the best Great Britain XI right now.
Breaking down the team by numbers, there were six Englishmen, four Welsh, one Scot and no-one from Northern Ireland.
Perhaps the most shocking decision made by L'Equipe was the inclusion of Alan Hutton at right back.
On Sunday in the Premier League, Aston Villa were torn apart by Arsenal in the first half at Villa Park, and Alan Hutton was horrendous.
Hutton gave away the ball at least six times in the opening forty five in a truly shameful performance, as well as hauling down Theo Walcott to hand the Gunners an opening penalty.
It took a lot to stand out from the crowd, but the 31-year-old defender was singled out on social media for his useless shift.
Aston Villa are rock bottom of the Premier League, and barring a miracle they'll be relegated to the Championship at the end of the season.
Tweets on Alan Hutton v Arsenal are below.
@JacobSteinberg poor Alan Hutton pic.twitter.com/H0oUF8fR40

— Jake (@jaketurbett) December 13, 2015
When you have a player as bad as Alan Hutton in that first half then you've got no hope

— Harry Russell (@Harry_Russell22) December 13, 2015
Villa have all the hallmarks of a doomed side. No player putting their foot on the ball, individual mistakes, Alan Hutton playing.

— Daniel Storey (@danielstorey85) December 13, 2015
Alan Hutton is trending on Twitter. He'll be delighted! pic.twitter.com/f109cgcMs7

— Michael MacLennan (@m_maclennan) December 13, 2015
How is Alan Hutton still being paid to play football? Genuine question!

— Pete Hirst (@pistolpeter82) December 13, 2015
Why is Alan Hutton wearing gold hypervenoms👀😂 #notgotthat

— Oscar Hall (@oschall) December 13, 2015
Rudy Gestede = lazy and shit. Alan Hutton = thick and shit. Sanchez = slow and shit. We need to replace these players quickly! @AVFCOfficial

— Ryan McClean (@ryan_mcs) December 13, 2015
I've said it before and I'll say it again. Watching Alan Hutton gives me hope that I could still become a pro! #worstplayerever

— Rich Tilling (@TilloTollo) December 13, 2015
---
GAMBLING CAN BE ADDICTIVE, PLEASE PLAY RESPONSIBLY