Jose Mourinho admits he can't force Arsenal target Petr Cech to stay at Chelsea [Video]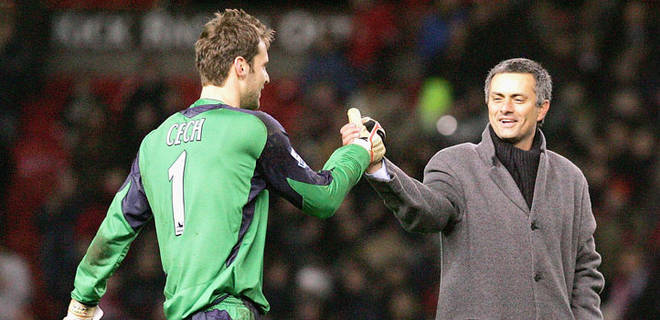 BT Sport presenter Jake Humphrey got to ask Jose Mourinho about Petr Cech's future this week, and the Special One's answer gave hope to Arsenal fans that the Czech keeper maybe moving to the Emirates.
Mourinho admitted that he cannot force Petr Cech to stay at Stamford Bridge.
Cech has been usurped by Thibaut Courtois at Stamford Bridge this season, and the keeper is understandably not yet ready to play second fiddle to anyone.
Mourinho said that if it were up to him he would keep Cech at the Blues, but the Portuguese boss revealed the decision ultimately lies with owner Roman Abramovich, and the indication is that the RUssian would sell the keeper to Arsenal for the right price.
Watch Jose Mourinho's chat below.
"I can't stop Petr Cech leaving." Mourinho speaks exclusively at the BT Sport @ChampionsLeague launch #BTSportEurope http://t.co/rdk1q5yzrw

— #BTSportEurope (@btsportfootball) June 9, 2015
---