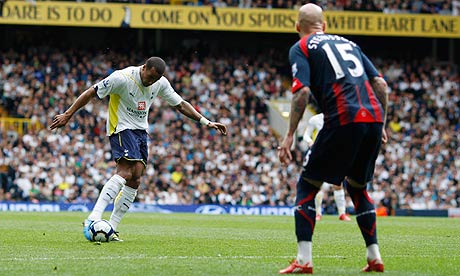 There is a definite end of season feel about this week's list, but, as usual, before we get there we have our bloopers to consider.
Last weekend we shed light on the mental celebration of Manchester United's Rafael da Silva after the Red Devils bagged their second against Spurs (see here). Well, this weekend it was the turn of an unnamed Chelsea fan to take plaudits for the funniest celebration of the week as the fan-in-black appeared to loose his mind after Didier Drogba had scored the first at Anfield.
Staying with the off-the-field jokes, special mention also has to be made for the bizarre press conference ahead of Barcelona's match with Villarreal on Saturday. With Pep Guardiola delivering his tête-à -tête with the press in Catalan, one Spanish journalist opted to speak in English when speaking to the Barca boss. Only it wasn't English, but gibberish, leaving Guardiola with his head in his hands and giggling like a school-kid!
Onto our two candidates for prat of the week, and both where located at the Stadium of Light on Sunday.
Manchester United's narrow 1-nil win at Sunderland was in no part due to the performance of Bulgarian forward Dimitar Berbatov. The beleaguered striker missed a hatful of chances in another appalling performance to add to his scrapbook since joining the Red Devils, and his miss from under the bar could be used as the footnote for a miserable season for Berba.
But while Berbatov was positioning himself as the scapegoat for United fans once again, the Black Cats had this week's schmuck of the week in their line up as right-back Phil Bardsley simulated a truly embarrassing dive when trying to win a penalty for his team. With Ryan Giggs a foot away and with a clear sight of goal, Bardsley made a complete prat of himself as he threw himself to the ground for the worst dive of the week.
Onto the list, where all we ask is that you sit back and enjoy 9 glorious goals, as follows:
1. Aleksandr Kerzhakov (CSKA Moscow v Zenit St. Petersburg, April 28, 2010)
2. Gerard Pique (Barcelona v Inter Milan, April 28, 2010)
3. Mladen Petric (Fulham v Hamburg, April 29, 2010)
4. Jorge Enriquez (Morelia v Chivas, May 1, 2010)
5. Xavi Hernandez (Villarreal v Barcelona, May 1, 2010)
6. Tom Huddlestone (Tottenham v Bolton, May 1, 2010)
7. Pablo Mouche (Independiente v Boca Juniors, May 2, 2010)
8. Fernando Belluschi (Porto v Benfica, May 2, 2010)
9. Miroslav Stoch (NAC Breda v FC Twente, May 2, 2010)
***
Narrowly missing the list were goals from Laurent Batlles, Kleber, Alberto Aquilani, Simon Davies, Jeffrey Bruma, Edin Dzeko, Raffael, Christian Fuchs, Mesut Ozil, Bojan Krkic, Craig Bellamy, Magnus Kihlberg, Francesco Totti and Cristiano Ronaldo.
Click here for more Premier League betting tips
---