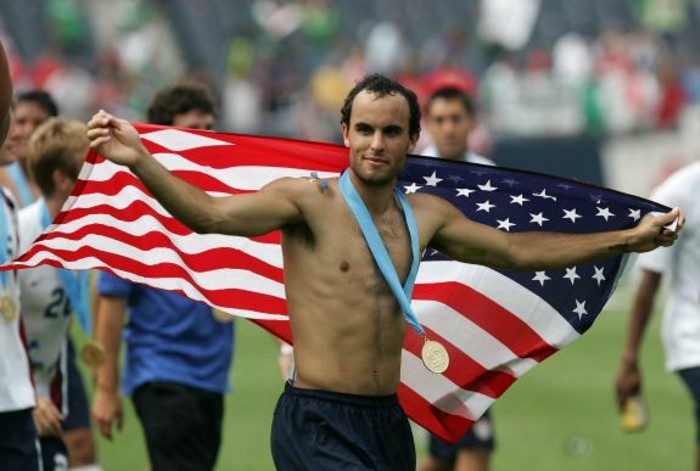 How do you say schmuck in Japanese?
Yokohama F. Marinos keeper Hiroki Iikura won this weeks plonker of the week award for a truly horrendous display of goalkeeping against Gamba Osaka last weekend in the J-League.
With the scores levelled at one-apiece at the start of the second half, Gamba broke in a two on three situation lead by Osaka's Brazilian forwards Leandro and Lucas Severino.
After picking up the ball in a wide left position, Lucas cut in on his right before slipping the ball into Leandro in a far more central position. The number nine took one touch before cushioning a pass back to Lucas and, having continued to drift into a more central role, Lucas immediately went for goal with a shot from 25-yards out. Sadly the ball took a hefty deflection off a Yokohama defender and the ball looped high towards exiting the pitch for a corner.
Miserly Yokohama keeper Hiroki Iikura had other ideas though on giving up a set-play so easily, and totally unnecessarily the shot-stopper flung himself to prevent the ball from crossing the out of bounds line. Unfortunately, what happened next was bed-wettingly humiliating.
Onto the list, where once again the general off-season has done little to stop a superb collection of goals from crashing into the back of the net.
Blistering free-kicks – goals 4, 5, 6 and 8 – accounted for four of the picks this week while a couple of wonder-strikes forced their way into positions 1 and 2.
The acrobatic effort is satisfied by goal 3, while a slinky solo goal is found at number 7, leaving an electric counter-attack to complete the list at position 9.
As always, all we ask is that you sit back and enjoy!
1. Alfredo Moreno (San Luis v Tigres, June 23, 2009) (1.20 minutes into the video)
2. Nondier Romero (Once Caldas v Atletico Junior, June 24, 2009)
3. Mads Stokkelien (Ik Start v Sandefjord, June 24, 2009)
4. Ki Sung-yong (Kashima Antlers v FC Seoul, June 24, 2009)
5. Dani Alves (South Africa v Brazil, June 25, 2009)
6. Ola Toivonen (England U21 v Sweden U21, June 26, 2009)
7. Travis Dodd (Adelaide United v Perth Glory, June 26, 2009)
8. Katlego Mphela (South Africa v Spain, June 28, 2009)
9. Landon Donovan (Brazil v United States, June 28, 2009) (pictured)
***
Narrowly missing out on this week's list were goals from Pedro Leon, Dani Guiza and Rade Prica.
Best football betting tips & free bet offers
Click here for more Premier League betting tips
---