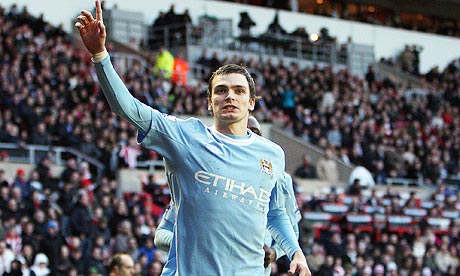 What a week. And it's only Monday.
Before we let you tuck into the ridiculously large goals of the week selection, several harebrained incidents over the last seven days need to be referenced before another jam-packed week of football starts.
Thursday night in South America witnessed the latest round of the Copa Libertadores, and an amazing incident played out in the seventh minute of the match between Deportivo Quito and Internacional. With the ball running through to visiting goalie Roberto Abbondanzieri, Internacional's number one found himself scythed down by home forward Marcos Pirchio as the number 11 executed a kung-fu kick in an effort to get a toe-poke on the ball. After clattering into the keeper the inexplicable then happened as the match referee blew his whistle for one of the worst penalty decisions your ever likely to see.
Immediately the entire Internacional team and management staff went bananas at the awful call, getting in the grill of referee Jose Buitrago and then later forcing the linesman to get involved in the incident too. And then came the twist, as after several minutes of mayhem the referee managed to reach the correct decision and overall his own ridiculous call.
The laughable non-penalty decision can be seen here.
Next, its time for some quick hits as we flag up this week's collection of goalies who refused to use their hands at precisely the wrong moments. Meet Universidad de Chile's Esteban Conde and ADO Den Haag's Barry Ditewig.
On a slightly different tangent, poor Napoli keeper Morgan De Sanctis showed why number one's should'nt play with their feet either.
But the prat of the week has to be St. Etienne forward Emmanuel Riviere who contrived to miss one of the misses of the season during Les Verts 1-all draw with Lyon on Saturday. The miss was epic as the 20-year-old French striker managed to slice his shot wide of an empty net from literally three yards out. Emmanuel Riviere's horrendous miss can be seen seconds into this video.
And after all that it's time for this week's list, which includes some of the best strikes seen all season with at least a couple of entries for the goal of the season. Accordingly we invite you to sit back and enjoy 15 glorious goals, as follows:
1. Guy Tzarfati (Hapoel Petah Tikva v Hapoel Tel Aviv, March 8, 2010)
2. Jonathan Azulay (IFK Gothenburg U19 vs Stabaek U19, March 8, 2010)
3. Samir Nasri (Arsenal v Porto, March 9, 2010)
4. Arjen Robben (Fiorentina v Bayern Munich, March 9, 2010)
5. Reece Connolly (Salisbury v York, March 9, 2010)
6. Neymar (Santos v Naviraiense, March 10, 2010)
7. Matt Moussilou (Nancy v Boulogne, March 13, 2010)
8. Baiano (Paulista v Prudente, March 13, 2010)
9. Roberto Carlos (Corinthians v Santo Andre, March 13, 2010)
10. Roy Beerens (Vitesse v Heerenveen, March 14, 2010)
11. Urby Emanuelson (Ajax v PSV, March 14, 2010)
12. Clarence Seedorf (AC Milan v Chievo, March 14, 2010)
13. Cristiano Ronaldo (Valladolid v Real Madrid, March 14, 2010)
14. Lionel Messi (Barcelona v Valencia, March 14, 2010)
15. Adam Johnson (Sunderland v Manchester City, March 14, 2010)
***
Narrowly missing this week's list were goals from Facundo Parra, Emmanuel Eboue, Wayne Rooney, Claudio Dadamo (27 secs in), Jonathan Zebina, Jonathan Legear, Zvjezdan Misimovic, Giuseppe Mascara, Gonzalo Vargas, Danny, Andrei Arshavin, Scott Parker, Robert and Edgar Alvarez.
Best football betting tips & free bet offers
Click here for more Premier League betting tips
---