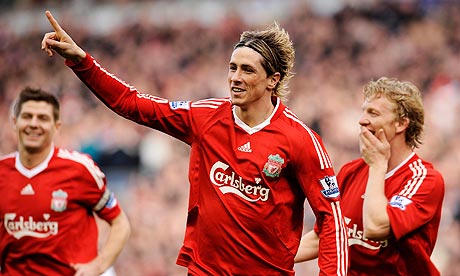 As usual, before we tuck into our main course of the best goals from the last seven days in world football, it's time to laugh at the biggest screw-ups of the week, and this week there have been plenty.
Things started going badly as early as last Monday night when West Ham's James Tomkins ballsed up his backpass, gifting Wolves' Kevin Doyle a goal to start yet another misery week for West Ham. But Tomkins didn't make the worst defensive mistake in the Premier League last week – Jlloyd Samuel scooped that honour by side-footing Manchester United into the lead at Bolton with a classy finish into his own net.
The continent's worst defender was located in Russia in the Samara-Tomsk match, as visiting centre-half Andrey Ivanov did fantastically badly to turn a cross into his own net when under no pressure whatsoever from any home players early doors.
On Friday night it was the turn of Den Haag keeper Robert Zwinkels to steal the limelight by pulling off the amazing feat of screwing up the simple task of rolling the ball out of his hands which resulted in NAC's Matthew Amoah netting his side's third of the match.
Zwinkels wasn't the only crap goalie on show last weekend. Haters of Arsenal keeper Manuel Almunia will have been loving the Spaniard's lame efforts to stop Kevin Phillip's last-gasp equaliser for Birmingham. And Almunia wasn't the only keeper who may have blown his side's title chances this season, as Argentine goalie Leo Franco made the calamity of calamities in the fever-pitch Galatasary-Ferenbahce match on Sunday night by forgetting how to dive on a ball which was right next to him.
Which leaves us with two.
All those previous goalie mistakes pail in comparison to that of Leicester's number one, Chris Weale. Playing away at Derby on Saturday Weale had a total brainmelt when collecting a gentle backpass from Andy King, as he appeared to confuse himself as to whether to hoof the ball forward or take a touch first – settling for option c, neither!
While Weale provided a bloopers' classic, our schmuk of the week is Egyptian fatso Mido. For all the good press Mido got when he joined the hopeless Hammers for only a grand a week at Christmas, the portly forward has been an almost total disaster since arriving at Upton Park. And the podgy striker embarrassed himself again on Saturday when, facing an almost open goal, he did this!
And after all that it's time for this week's list, and as usual we invite you to sit back and enjoy 12 glorious goals, as follows:
1. Ozan Ipek (Bursaspor v Denizlispor, March 22, 2010)
2. Ryan Boudebouz (Monaco v Sochaux, March 24, 2010)
3. Samuel Eto'o (Inter Milan v Livorno, March 24, 2010)
4. Arjen Robben (Schalke v Bayern Munich, March 24, 2010)
5. Adrian Peralta (Rosario Central v Huracan, March 26, 2010)
6. Javier Morales (San Jose Earthquakes v Real Salt Lake, March 27, 2010)
7. Serginho Greene & Santi Kolk (Vitesse v Willem II, March 27, 2010) (from 30 seconds in)
8. Zoran Tosic (Hannover v FC Cologne, March 27, 2010)
9. Ricardo Fuller (West Ham v Stoke, March 27, 2010)
10. Hulk (Belenenses v Porto, March 28, 2010)
11. Juan Manuel Vargas (Fiorentina v Udinese, March 28, 2010)
12. Fernando Torres (Liverpool v Sunderland, March 28, 2010)
***
Narrowly missing the list were goals from Lukman Haruna, Samuel Eto'o, Cristiano Ronaldo & Cristiano Ronaldo again, Keisuke Honda, Robbie Keane, Suso Santana, Carlos Diogo, Alessandro Del Piero, Steven Jovetic,
---