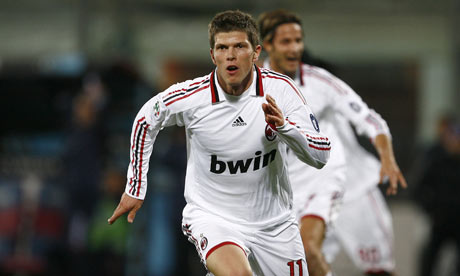 Before we get to the dummies of the week list, this week we begin with a review of a handful of corners over the weekend from around Europe. Every so often corner kicks fly into the back of the net, and this weekend their was a higher than usual percentage of dangerous moments all arriving from one of the most bread and butter parts of the game.
Late Sunday night in Italy, in the match between Catania and AC Milan, the bucked-toothed wonder Ronaldinho almost collected yet another sublime memory for his scrapbook when his inswinging corner rebounded off the apex of the goal. (Full Ronaldinho vs Catania highlights here.)
Where Dinho failed, several others succeeded. Over in the Ukraine, Saturday's match between the particularly unfashionable Dnipro D'petrovsk and Vorskla Poltava opened with Maxim Kalinichenko arching his set-play into the near post for the first goal in a 2-all thriller. And it was a similar state of affairs in the Eredivisie meeting between Heracles and Roda where the crowd were entertained to a 3-2 home victory in which the decisive goal came from Willie Overtoom's direct corner.
While some corners are undefendable, though, others definitely are, and Spartak Moscow midfielder Denis Boyarintsev was made to look a complete twat in the match with Zenit when the number seven appeared to fall asleep while holding up the upright only to let Nicolas Lombaerts' tame header roll under his foot as he got his coordination completely screwed up.
That brings us onto some of the other shmucks of the week, kicking off with Fenerbahce's butter-fingers goalie Volkan Demirel, who dropped a clanger after just 46 seconds of his side's match with Kasimpasa to hand-wrap the opener for Gokhan Gulec.
One footballer who constantly fills the backpage transfer rumours is Toulouse midfield starlet Moussa Sissoko. Recent months have seen the 20-year-old linked with moves to Tottenham, Arsenal, AC Milan, Juventus and Inter Milan to name but a few, but he did his reputation no help in the match with Boulonge at the weekend missing a complete open goal from 3-yards out. The horror miss can be seen 2.50 minutes into this video.
Yet, winner of the numpty of the week award is St. Mirren defender Chris Innes for his complete short term memory fail in not remembering that he had not been booked in the match against Celtic before collecting a second yellow card and marching off the pitch for an early bath. Innes did not bat an eyelid as the referee whipped out his red card as he sent the defender marching down the tunnel, only for the rest of the St. Mirren team to protest on behalf of the siv-for-brain Innes who was eventually called back on the pitch.
The bizarre incident can be seen towards the end of this video.
Onto the list, where it's simply a magnificent collection of ten wonder-strikes. Three terrific shots from distance begin this week's offering, and things are spiced up by a couple of brilliant solo efforts in positions 4 and 5.
The standard overhead volley is found at number 7, followed by a howitzer into the near post at goal 8. A sublime chip (goal 9) and a wonderfully skillful lob of the keeper (goal 10) close out the list.
That just leave goal 6, which is arguably the goal of the season.
As always, all we ask is that you sit back and enjoy!
1. Denilson (Arsenal v Standard Liege, Nov. 24, 2009)
2. Edison Mendez (LDU de Quito v Fluminense, Nov. 25, 2009)
3. Milos Krasic (CSKA Moscow v Wolfsburg, Nov. 25, 2009)
4. Edin Dzeko (Werder Bremen v Wolfsburg, Nov. 28, 2009)
5. Gervinho (Lille v Valenciennes, Nov. 28, 2009)
6. Diego Souza (Palmeiras v Atletico Mineiro, Nov. 29, 2009)
7. Kostas Mitroglou (Olympiakos v Panathinaikos, Nov. 29, 2009)
8. Nene (Cagliari v Juventus, Nov. 29, 2009)
9. Klaas-Jan Huntelaar (Catania v AC Milan, Nov. 29, 2009)
10. Serkan Balci (Trabzonspor v Eskisehirspor, Nov. 29, 2009)
***
Narrowly missing the list were goals from Antonio Di Natale, Patryk Malecki, Przemyslaw Ludzinski, Cleo and Didier Drogba.
---
GAMBLING CAN BE ADDICTIVE, PLEASE PLAY RESPONSIBLY