Zlatan says Messi shouldn't win the Ballon d'Or, Man United's defence slammed as Tom Ince is targetted & the Sun focus on Arsenal's salaries
Comment & analysis round-up
Quote of the day: "Messi had a fantastic season but he has not won that much and he has already won the Ballon d'Or three times. It depends whether you reward an individual or a collective work.  Xavi is still playing at a high level, Iniesta also had a great season, they won the Euro while Messi has not won anything, just the King's Cup. Messi has won the Ballon d'Or three times, it's now someone else's turn to win it." – Zlatan Ibrahimovic.
Runner-up: "Our last campaign was a disaster. We want to change that. Look at our rivals, Chelsea and Manchester United, they have appeared in a final and this year I hope we can go far and even win it. It can be massive for us to get to the second round — we have to get through but we know we have to get a good result. Is it a must-win game? Yes, it's a massive one for us." – Yaya Toure.
Cluj 1 – Manchester United 2
RVP drives 'em bats (Sun) Alex Ferguson's Vanpire killer thrust a stake through Cluj's heart. Robin van Persie struck twice in Dracula country to fire United to the top of Champions League Group H. Boss Fergie was equally delighted to see Wayne Rooney set up both goals.
Ferguson 'shocked' by defence as Van Persie saves United (Ian Herbert, Independent) At the King Matthias statue in the main square here, a tinny version of the song about the visitors had blared out on continuous loop all yesterday. "Strong in defence, united in attack, United are the greatest football team…" The team fulfilled that prophecy only in small parts last night, as the immediate benefits of an attacking partnership to-die-for masked the dysfunctionality of a defence which is anything but strong.
United in Europe: Five things we learned last night… (Independent) Patrice Evra and Rio Ferdinand used to form half of one of the best defences in modern English football history. But the two are on the down-slope of their careers now.
'An absolute shocker!' Evra in line for Fergie hairdryer after United concede another early goal (Mirror) Ferguson laid into his defence – particularly Patrice Evra – and said: "Losing that goal the way we did is a shocker. An absolute shocker."
It's Robin reliable to the rescue for Fergie's men (Mail) When Manchester United prised Robin van Persie away from Arsenal in the summer, some questioned whether the Dutchman was capable of producing another  phenomenal season like the last one. Thirty-seven goals is a hard act to follow but after seven in eight games, the striker certainly looks like £22million well spent.
Nordsjaelland 0 – Chelsea 4
Special Juans (Sun) Asked if Chelsea can be the first-ever team to retain the Champions League, midfielder Lampard said: "It's a huge ask but we have got a real chance."
Roberto Di Matteo: Chelsea face battle to progress in Champions League (Guardian) The Danes may have been unfancied on their home debut in this competition but this was only Chelsea's second away win in Europe in nine attempts – the penalty shoot-out success in Munich last May aside – and provided a timely boost following last month's draw with Juventus in London.
Late gains calm defending champions' jitters (Mail) The scoreboard may have read 4-0 to Chelsea but that was not the full story —and if the European champions knew little about Nordsjaelland before Tuesday night, they certainly do now. The Danes made life hugely uncomfortable for Chelsea on a night when the visitors were expected to win comfortably. In the end they did so, thanks to a flurry of late goals from David Luiz, Juan Mata and Ramires. But those strikes put gloss on a less-than-emphatic Chelsea performance.
Other Champions League Stories
'Magnificent' away win for Celtic (Independent) Neil Lennon described himself as "probably the proudest man in Europe" after Celtic's historic 3-2 Champions League victory over Spartak Moscow in the Luzhniki Stadium last night.
Bate Borisov stun Bayern Munich in second successive victory (Guardian)
Big-spending Zenit face Milan under strain of divisions and defeats (Jonathan Wilson, Guardian) A month ago, [Zenit] seemed a side ready to scale new heights; now, they're desperately scrabbling to get back to where they were before they spent €80m. Both they and Milan will look at out of form opponents with some hope. "Spalletti has called this the match of the year," said Fayzulin. "If we win the mood and atmosphere in the team will improve and it will be a psychological turning point."
John Terry: What's The Punishment?
FA can ask for bigger JT ban (Rob Beasley, Sun) FA chiefs may look to increase John Terry's punishment for racially abusing Anton Ferdinand. They can appeal the decision of last week's Independent Commission in exactly the same way as the Chelsea skipper can challenge the findings.
Questions On Arsenal's Finances & Fitness
£2.1million – Arsenal chief's shock salary (Sun) Arsenal chief Ivan Gazidis raked in £2.1million last season. It is one of the highest sums ever paid to an English football executive. While the Arsenal failed to win a trophy for the seventh season in a row, the Gunners' chief executive saw his pay package swell by 24 per cent to £2.15m in 2011-12.
Sprint legend Johnson tries to speed up young Gunners (Independent) [Michael] Johnson was a guest of the club at the training session before tonight's Champions League game against Olympiakos, the Greek champions, who lost their first game to Schalke. Arsène Wenger has started sending some of his young players to Johnson's athletic performance school just outside Dallas, Texas, during the summer to improve their strength and power with a view to breaking into the first team.
Injury Watch: Barcelona & Arsenal
Carlos Puyol sustains dislocated elbow in Barcalona's 2-0 Champions League victory over Benfica (Telegraph) Barca have six points from two games and although their confidence is high heading into 'El Clasico', they now have problems at the back with Puyol's defensive partner Gerard Pique also sidelined by injury.
Abou-hoo! Diaby KO a big blow for Arsene (Sun) Arsene Wenger admitted losing Abou Diaby is a massive blow for Arsenal… Arsenal could also be missing midfield mastermind Mikel Arteta, who is a major doubt with an ankle problem and will have a fitness test this morning.
Hacking Hell! 
Football League referee arrested on suspicion of computer hacking (Anna Kessel, Guardian) A senior member of the Football Association's referee department and football league referee has been arrested on suspicion of computer hacking and the dissemination of private information. Dean Mohareb, 29, was due to take charge of the Championship match between Barnsley and Peterborough on Tuesday night but following his arrest he has now been removed from the fixture. Mohareb, the FA's national referee development manager, who is responsible for handling sensitive data, including child protection issues, was arrested at his home on Sunday. It is unknown whether Mohareb has been suspended from his role beyond no longer overseeing the match at Oakwell.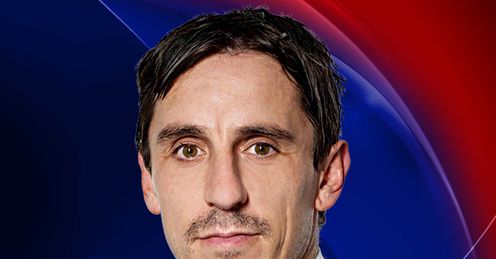 Wednesday's Op-Eds: Gary Neville, West Ham & Blackburn
Why Gary Neville is out on his own when it comes to TV punditry (Daniel Taylor, Guardian) Presumably now those people who threatened to cancel their subscriptions when Gary Neville was appointed as Sky Sports's main pundit have come to realise, whether they like to admit it or not, that if they can just detach themselves from the endless slog of club allegiances for a few moments and listen, without prejudice, there is a good chance they might actually learn something.
Allardyce's Hammers play just like Real Madrid and Barcelona… but not how you think (Neil Ashton, Mail) Take a look at these statistics and see whether you can spot a trend: Real Madrid 67. West Ham 65. Barcelona 59. At first glance it is difficult to think of a single reason why Sam Allardyce's team could possibly be mentioned in the same sentence as two of the biggest clubs in world football. Some would even say it is deeply offensive for Sam Allardyce's long-ball merchants to even be mentioned in the same breath as Jose Mourinho or Tito Vilanova's eye-catching teams… [But] the figures above for the three teams represent the average number of long balls that the teams have played in their respective leagues this season.
Blackburn Rovers crop Steve Kean from the picture to start afresh (David Conn, Guardian) For the first time since Venky's takeover, the club's owners are acting in a coherent manner to rebuild trust with the supporters.
Transfer Lies
Bring Him In (Sun) Tom Ince is set to follow in his father's footsteps and sign for Manchester United in a £4million January deal.
Fergie's in Pole position for Lew (Sun) Manchester United will keep tabs on one-time target Robert Lewandowski as he arrives in town today. The Red Devils told Borussia Dortmund they were willing to pay £16million for the Polish forward in the summer.
Ancelotti heaps praise on Cole, increasing speculation PSG boss will make swoop (Mail) Carlo Ancelotti has hailed Ashley Cole as 'the best left back in the world' amid increasing speculation that the Paris Saint-Germain manager will make a move for the Chelsea defender.
Kean out, Keane in? Roy fancies the Blackburn job over an offer from Turkey (Mirror) Roy Keane is interested in succeeding Steve Kean as Blackburn boss. Keane has already been offered the manager's job at Kasimpasa, a club in the Turkish capital istanbul, but is delaying accepting the £1.4million-a-year post while sounding out Rovers.
---
GAMBLING CAN BE ADDICTIVE, PLEASE PLAY RESPONSIBLY