Zlatan overhead billed as the greatest goal ever scored, Man City move for Luis Suarez & Cantona wants to manage Man United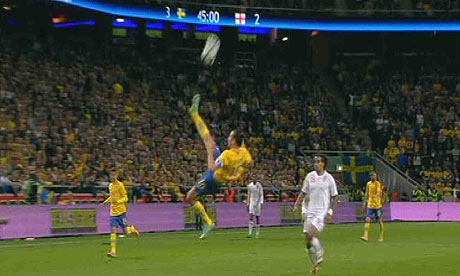 Comment & analyis round-up
Quote of the day: "I saw him come out and had to decide whether I should go in a duel [in the air] or wait for him to head it out. When he headed it I had it in my mind to try to score. I hit it in mid-air and, when I landed, saw their defender [Ryan Shawcross] running back to try to clear but it bounced over him. It was a good try, that is all. When it comes off it looks fantastic but, for me, I liked the first goal more because it was history: the first in the new arena." – Zlatan Ibrahimovic.
Runner-up: "Sometimes you have to hold your hands up to an individual special performance and this was a world-class performance from a world-class player. It is the best goal I have seen live. I think the best I have seen before that was Wayne Rooney's. Everyone knows how special that was, but this one – an overhead kick from 25 yards when the ball is six feet in the air – only certain players can do that. And he is a special player. I congratulated him after that. He said some nice things about me before the game, which was really nice, and if I could return the compliment – that was one of the best individual performances I have seen. He is not everyone's cup of tea but he is certainly mine. I have mixed emotions. Obviously I am very proud for myself, getting to 100 and really pleased with the lads for large parts of the game. I think it was a nice goal, one I enjoyed very much, even in a friendly. I've scored a couple of nice goals in my career, but I've not scored four goals before in the national team. When I saw the long ball, I saw the goalkeeper come out. I was thinking, 'Should I go in the duel or should I wait for him to put it out?' When he put it out I had it in my mind that I would try to score." – Steven Gerrard.
The Zlatan wonder goal & super Swede's glorious performance v England
The greatest goal ever scored: Swedish striker's stunning propeller kick leaves even defeated England's fans applauding (Neil Ashton & Matt Barlow, Daily Mail) Sweden striker Zlatan Ibrahimovic last night scored the 'greatest goal ever' to round off a crushing victory over England in the first match at his national stadium. The talented footballer's remarkable overhead kick came when he was 30 yards from goal. He sprang six feet into the air to arch the ball over the helpless goalkeeper and into the net. The world's biggest football names are already queuing up to praise the goal, with even England's gobsmacked stars hailing his achievement as 'extraordinary' and 'world class'.
The pitch wasn't great, but nothing could stop the mighty Zlatan (Jamie Redknapp, Daily Mail) Kids will often head for the playground to emulate their heroes – I know I did. When Lionel Messi conjures something amazing, kids rush to get a ball or turn on their computer games. But how do you replicate that Ibrahimovic goal. Don't try it at home, unless you're on a bouncy castle. I wish he was English, but we don't have a single player like him. He's been called the Swedish Cantona for his swagger, but he's quicker than the former Manchester United striker and last night the world woke up to the mighty Zlatan.
England's young cubs given a lesson by a Nordic warrior (Paul Hayward, Daily Telegraph) What they all need to do now is study the tapes of Ibrahimovic, who spoiled Gerrard's big day and took England apart. They must not tell themselves they just ran into a virtuoso on one of his good days. The group available to Hodgson is expanding nicely. But time is always short, except to geniuses, as Ibrahimovic demonstrated, with his transcendent show of skill.
Zlatan Ibrahimovic makes his critics in England eat their words with sublime four-goal show for Sweden (Paul Kelso, Daily Telegraph) Ibrahimovic marked the opening of the new ground in the most emphatic style, scoring all four of Sweden's goals, the last of them a remarkable overhead kick from 30 yards, wide on the right, that sailed over a desperately back-pedalling Joe Hart. It was a strike so skilful, spontaneous and imaginative that it prompted the almost unprecedented sight of England fans applauding an opposition goal. An hour earlier they had chanted "You're just a s— Andy Carroll." If only. After this, Carroll should be pleased to be mentioned in the same breath. It may not happen again. This was only a friendly but Zlatan — his forename is enough to identify him here — turned it into an exhibition. Ibrahimovic has often been derided for failing to produce against English opposition. Despite a career that reads like a grand tour of Europe's greatest clubs — Ajax, Juventus, Inter Milan, Barcelona, AC Milan and now Paris St-Germain — some judges have failed to be convinced. On Wednesday night he dismantled their argument. Swedish substitute Tobias Sana neatly summed up the evening: "It was the perfect game. It was Zlatan against children. He has been criticised in England and this proves them all wrong."
Rest of the Sweden 4 – England 2 talking points
It was short and sweet, but Jack's back: Wilshere's cameo offers Hodgson hope (Neil Ashton, Daily Mail) After that length of time, it was just good to see him back. His first touch was a cushioned header to his feet and his next was a simple double-tap with his left foot before he was taken out on the touchline. Hodgson spent some time with Wilshere at Arsenal's training ground last month, talking him through his future plans for his evolving England team. Wilshere wanted to be a part of it, given the incentive to play international football again as he came to the end of his exhaustive rehabilitation programme. Even Hodgson believed a friendly with Sweden would be too soon but Wilshere responded and was rewarded for his efforts in Stockholm's Friends Arena.
Steven Caulker gives hope to an eager cast of England debutants (Jamie Jackson, Guardian) After this jittery, unconvincing start Caulker was in dreamland on 38 minutes with the strike from Gerrard's free-kick from close range. Before and after this he was guilty of allowing Ibrahimovic too much space in dangerous areas. After he lost the striker in front of Joe Hart, Caulker recovered to block the initial shot but when he returned to his feet Ibrahimovic had slammed home a 36th international goal. Later, he was embarrassed by a clumsy touch near halfway that allowed Ibrahimovic to swarm over him: from the ensuing throw-in and attack Ranegie should have scored. After the break he was again left trailing by Ibrahimovic as the forward swept along the right.
It's too easy to win a cap (Ian Wright, Sun) I heard Trevor Francis talking the other day and he said that he had played around 200 games in the top flight before he became an England regular. That's 200 games! Now players can have a few good matches in the Championship and suddenly they are in the squad. It just highlights the predicament facing Hodgson and the fact we no longer have enough quality English players to select from. It means that when it comes to winning England caps these days, the bar is not as high as it used to be.
Manchester City prepare £50m move for Luis Suarez
Manchester City want £50m Suarez as Mancini prepares to offload Balotelli (Dominic King, Daily Mail) Manchester City are considering a sensational January move for Luis Suarez. Roberto Mancini has grown weary of errant forward Mario Balotelli and wants to offload the Italian to make room for the hottest striker in the Barclays Premier League. Suarez has carried Liverpool this season, scoring 11 goals, but his form has not gone unnoticed and Mancini would like to recruit the Uruguay international
Get Suarez! City WILL bid for the Liverpool star in the winter window (David Maddock, Daily Mirror) Manchester City will launch an audacious £40million bid for Luis Suarez in January. Premier League champions City are ready to offer a massive show of strength in the title race with a stunning attempt to prise away Liverpool's main asset. They will, of course, face stiff resistance from the Reds, who know that losing their talismanic striker would be a body blow. But City manager Roberto Mancini wants to make a statement of intent as he looks to reinforce his position at the club, amid suggestions that he now needs to win the title again to keep his job. Mancini will start that process by allowing controversial striker Mario Balotelli to leave when the transfer window opens in January, and he will immediately attempt to invest those funds in Suarez.
Manchester City may make January bid for Liverpool's Luis Suárez (Jamie Jackson, Guardian) Manchester City may be considering a bid for Liverpool's Luis Suárez in the January transfer window. The Uruguayan has enjoyed a standout season having scored 11 goals in 16 appearances for Brendan Rodgers' side and Roberto Mancini is considering whether to sell Mario Balotelli in the winter window to help finance the deal, according to reports. In the light of Suárez's form and he being Rodgers' only recognised striker, the Liverpool manager and the club's American owners would not wish to sell him should any bid from City be lodged. The price Suárez would command could prove a major stumbling block. The 25-year-old recently signed a new contract with Liverpool that is worth around £120,000 a week and runs until 2016. This means they are likely to demand a price beyond the club record £50m that Chelsea paid for Fernando Torres.
Manchester City prepare January bid for Liverpool's Luis Suarez(Chris Bascombe, Daily Telegraph) The Merseyside club will fiercely resist any attempt to lure their star player from Anfield, but Mancini has made the South American his No 1 target after being rebuffed in attempts to lure Atlético Madrid's Falcao to the Etihad Stadium. Falcao is instead likely to move to Chelsea and Mancini, with his new management structure in place, wants the club to show their intent by attempting to prise Suárez from Anfield. Having recently secured the Uruguayan international on a new contract, Liverpool are in a position to put off bidders with a price tag well in excess of the club record £50 million they received for Fernando Torres two years ago. Even a bid that would shatter British transfer records would not be welcomed by the Anfield hierarchy who recognise the importance of Suárez to Brendan Rodgers's rebuilding plans.
Eric Cantona the next Manchester United boss?!
Cantona exclusive: 'Succeed Fergie? Why not? Like diving into the sea, speaking to octopus, crabs, journalists' (Simon Bird, Daily Mirror) Eric Cantona has urged Sir Alex Ferguson to stay on as Manchester United boss "for ever". The Reds legend has insisted such is Fergie's stamina and ­enthusiasm for the job, he cannot see the day coming soon when he will step down – even if he deposes Manchester City as champions next summer. With United now clear at the top of the Premier League, Ferguson, 71 in December, needs his players to re-establish their dominance, and Cantona is backing his former boss against Roberto Mancini's ­challenge. The mercurial former star, admits one day he would love to take the hot-seat at Old ­Trafford – a job he reckons no one could turn down. But Cantona, who won four Premier League titles in five years at United, including two league and FA Cup doubles, said: "Alex Ferguson is young, has so much energy, so much love of the game, so many things to give, more and more and more. "And I love to watch them winning things and I want Ferguson to be manager for ever."
Glazers in Utd cash shock (David Facey, Sun)  A Sshock  report shows the mind-boggling extent the Glazer family have profiteered as owners of Manchester United. Documents disclosed by US financial watchdog SEC show owner Malcolm Glazer kept more than half of the £140million generated by their shares issue in the States. They also revealed how Glazer repaid £10m he borrowed from the club by taking the same amount from the Red Devils' coffers as a "dividend payment". No fewer than six other members of the Glazer family have strong financial links with United and, between them, they were paid more than £16m in "consultancy fees" over two years. Those revelations were contained in correspondence between United and the SEC — and published by Bloomberg.
Is Klaas-Jan Huntelaar coming to the Premier League?
Klaas act set for Prem (Charlie Wyett, Sun) Klaas Jan Huntelaar is deciding whether to join a Premier League club. Schalke's £7million-rated Dutch striker, 29, is out of contract at the end of the season and is wanted by Arsenal, Chelsea and Liverpool. Huntelaar's agent Arnold Oosterveer said: "Klaas has not decided. "He's had offers from England, Italy and Spain. It's also possible he could stay in Germany. "He wants his future planned by the winter.
Best football betting tips & free bet offers
Click here for more Premier League betting tips
---