"You would be hard pushed to find a Premier League club without a better keeper than the four at Arsenal" – Steven Howard
Comment & analysis round-up
Quote of the day: "You want them [the players] to play in the important international games, it's important to them and I want them to play, it's the friendly matches that are the problem. It's a coach's nightmare, especially if you are in the middle of a European campaign and going for cups and titles. You have all these fixtures and you have the intrusion of a friendly game in some unknown country, so that is a definite thorn in everyone's flesh… friendly games are a different matter. I don't think that anyone agrees with them if you're a football coach, a league coach, whereas international managers have a situation that they find themselves in. I think that some of them actually could do without the friendly games themselves, but the FAs from every country warn them that sometimes it's a nice day for them, a nice trip for them, a sunny day, and in some cases it creates good revenue for them. So you can understand it… I no longer worry about it, I accept it as part of the international scene. I no longer focus on every match that is going on because there are so many players all over the world. I no longer get myself in a twist about it." – Sir Alex Ferguson.
Runner-up: "When I come to the stadium, for me it was a special game because you're playing against your former team and was coming up against people who were like brothers. When I get to the tunnel and see my friends, I try to shake their hands … but they don't want to shake my hand and it was a shock. I was like a shock: what is going on? What am I? You know what I mean? I felt very hurt. After that I thought – OK, that's part of life and just have to deal with it. After that, when I get on the pitch and when I hear some singing insulting my dad, insulting my mum, I think, we can't take everything. We are only human beings and I think that is something that you cannot take. We've all got our limit." – Emmanuel Adebayor on facing Arsenal earlier this season.
Today's overview: No clear theme dominates this Friday morning but there are no shortage of charachters shooting their mouths off. 
The lead story in The Sun this morning is about Marlon King's 18-month prison sentence for sexual assault and ABH. Wigan chairman Dave Whelan: "The moment I heard he'd got 18 months, I said 'That's it, he's out. Sacked. Completely finished'. I always questioned whether he put his heart and soul into being a professional footballer. I regret the day we ever signed him. We sent him out on loan and tried to off-load him – which tells you what I thought of him." The Sun also reveal that King had been in two other bust-ups with women.
The rumours may not have turned out to be accurate, but George Caulkin feels Phil Brown will leave Hull soon. "For much of the past three years, Phil Brown has been the ideal manager for the city's football club, quirky and cocksure, idiosyncratic and very visible. Different, in other words. Whether he likes it or not, he can no longer escape from his difference… Hull play away to Burnley tomorrow. Brown must be yearning for one of those rare Saturdays when his players do the talking. There were few quips at his press conference yesterday. Is his difference no longer the story and simply the problem?"
Sam Wallace also pens a football obituary for Phil Brown. "Yet for all the errors, he did have the endearing qualities of a Geordie electrician who had made it all the way to the top. He had run a restaurant in a Yorkshire village and worked as the maître d', a role you might argue he is more cut out for than football management. His suits were the kind preferred by the successful local businessman. But that was not the root of the problem. The root of it was that as soon as Brown stopped taking himself seriously it was hard for the rest of us not to do the same. No doubt he will be back at some point if it does all end with Hull next week. Hopefully minus the earpiece."
According to Michael Morgan in The Sun, "Hull manager Phil Brown has just two games to save his job. The under-fire Tigers boss has been told he will be out of work if his Premier League strugglers are still in the drop zone a week on Sunday. Brown was given the ultimatum in crunch talks with Hull owner Russell Bartlett on Tuesday." Jason Mellor in The Independent however believes "Phil Brown will be sacked by Hull City early next week unless he can engineer a comprehensive victory for his side in tomorrow's league match at Burnley."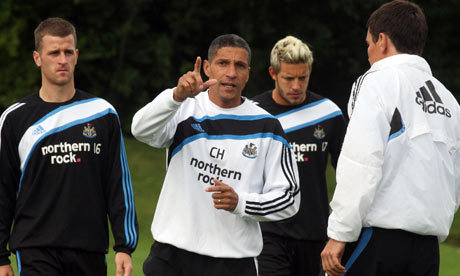 Louise Taylor analyses how Chris Hughton secured the position of Newcastle manager. "While there are legitimate doubts about Hughton's long-term ability to succeed, no one should underestimate his accomplishments since becoming caretaker four months ago. Newly relegated, Newcastle were a mess when the club's owner, Mike Ashley, made it clear Alan Shearer was no longer wanted as manager and Hughton would have to hold the fort while he tried, forlornly, to sell the club. The one-time Spurs and Ireland full-back is frequently described as 'not a political animal' but even Peter Mandelson might acknowledge that Hughton has played a blinder in winning over a cynical and divided dressing room."
Following Gordon Strachan's apointment as Middlesbrough boss, Harry Pearson spreads a comedic eye over the "project." "In the last year or so Projects have been springing up in the smouldering financial ashes of the English game like those Ray Harryhausen skeleton warriors in Jason and the Argonauts. Manchester City are a Project, Notts County are a Project, Birmingham City are on the cusp of becoming a Project, Portsmouth stand on the threshold of Projecthood and QPR have Project potential written across them as plainly as the word 'nob' on the forehead of some bloke who fell asleep during a stag weekend in Tallinn."
Ahead of the North London derby Harry Redknapp uses his column in The Sun to back David Bentley. "If anyone needed proof that football is a game played in your head as well as with your feet then David Bentley has provided it. Plenty of questions have been asked about Bentley but he gave some of the answers against Everton and I'm hoping there will be more answers in tomorrow's North London derby at Arsenal. There's no doubt Bentley has balls – plenty of 'em – and his performance during our 2-0 Carling Cup win on Tuesday night was worth its weight in gold. What Tottenham need now is more of the same from Bentley and I can't think of a better place for him to do it than at one of his former clubs." Tottenham defender Sebastien Bassong describes his year of changes in The Guardian. 
Steven Howard in The Sun analyses the goalkeeping situation at Arsenal. "It's a strange situation for a club that down the years had huge characters like Jack Kelsey, Bob Wilson, Pat Jennings, David Seaman and Jens Lehmann between the posts. Even Jimmy Rimmer and John Lukic were a rung above anything they have now. Keepers remain Arsene Wenger's blind spot – remember Richard Wright and Rami Shaaban? A situation even more worrying for Arsenal fans than his failure to replace Sol Campbell. Look at their rivals and there's no comparison – Petr Cech (Chelsea), Edwin van der Sar (Man Utd), Pepe Reina (Liverpool) and Shay Given (Man City). In fact, you would be hard pushed to find a Premier League club WITHOUT a better keeper than the four at Arsenal." Jamie Redknapp & Andy Townsend give their thoughts on the North London derby in the Daily Mail.
Arsenal captain Cesc Fabregas speaks yet again of his belief that the Gunners can win trophies playing stylish football. "I know we are capable of winning things, I can never accept that we must change our style to win. Trophies are important, but so too is the style in which you play the game. I disagree with the argument that good football can't win trophies. We are desperate to please the fans with success, but we also want to make them happy with the way we play."
The Daily Mail reveal that Steven Gerrard may have to go under the knife to solve his long standing groin problem. Simon Jones: "Liverpool fear Steven Gerrard may require an operation to solve his troublesome groin injury. Gerrard will be absent for Liverpool again tomorrow as he struggles to recover from the problem he suffered in England's World Cup qualifying defeat by Ukraine almost three weeks ago."
There is lots of chat today from various football personalities. Danny Mills gives his most "explosive interview ever." "I've done some daft things and been outspoken. Probably the biggest thing I spoke out about was in 2003 and the fiasco about Rio Ferdinand missing a drugs test. Some of the England players wanted to go on strike and I put my hand up and said I wouldn't strike for England. It didn't go down particularly well. The player ballot was apparently unanimous in favour of a strike but my definition of unanimous was different to other people's as there was at least one person who did not vote to strike. Gary Neville was clearly not happy with me, as he later told me during a game. Maybe it was a coincidence but I wasn't selected many times for England again."
Chris Sutton, now the manager of Lincoln City, tells Lee Clayton in the Mail what its like to be a gaffer. Â 
Although not strictly only on football, Simon Barnes in The Times describes "ten things that sport is all about, not counting winning." "8. Transcendent moments There are times in sport, sometimes almost imperceptibly brief ones, when a player will do something utterly stunning, something of startling perfection, finding something that is apparently far beyond the normal capacity of that performer. You can find it in Shane Warne and the Gatting ball, in Beckham's free kick against Greece, in Jonny's dropped goal: moments when a player is utterly, perfectly inspired. It happens at every level of every game — everyone who has ever played any sport can remember moments of stepping beyond normal limitations, if only for a fleeting instant. These moments light up sport with something that looks and often feels like magic."
Will Buckley in The Guardian provides the forgotten story of the first ever FA Cup winners. "After what can only be described as a sustained break of a little over a hundred years, the first FA Cup winners return to action this Saturday. That's right, the Wanderers are coming out to play again, lining up against Oxford University Old Boys this Saturday at 2.30pm at Iffley Rd (Free entry!) in order to raise funds for Unicef."
And now for the transfer fluff.
The Sun claim that Atletico Madrid will bid 10 million pounds for Arsenal starlet Fran Merida, also on the Gunners the tabloid add that "Arsenal are poised to swoop for Torino's highly-rated defender Angelo Ogbonna." And the Currant Bun suggest Birmingham want Sevilla striker Arouna Kone.
The Daily Mail go with the seriously unlikely double of Tottenham's summer swoop for Rio Ferdinand with United replacing the England central defender with Jack Rodwell of Everton.
---