Yaya wants a new City deal (by Saturday), Carrick to play in England's defence & Juventus chase Suarez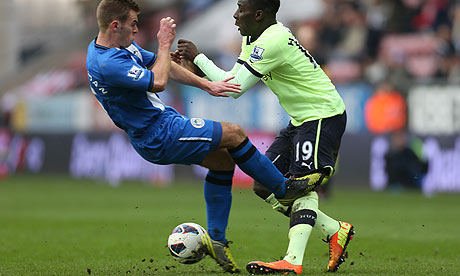 Comment & analysis round-up
Quote of the day:  "We are disappointed to learn that the FA is not going to charge the Wigan player. We were first notified of this decision by a national media outlet who received notification from the FA confirming the decision. This was prior to anyone from the FA having the courtesy to contact the club to let us know. It is clear from this decision that the current disciplinary procedures are not fit for purpose. Newcastle United, along with other clubs, have had players suspended for incidents reviewed after the game. Whilst not trivialising these incidents, they were not, in our opinion, of the seriousness of Callum McManaman's tackle on Haïdara. Whilst we understand that the current procedures give the FA limited options, it cannot be correct that the most serious offences – those which have the potential to cause another player serious harm – can go unpunished, even if the original incident was seen by match officials. We will now be making a strong representation to the FA and the Premier League to see how a more appropriate, fair and even-handed disciplinary process can be introduced at the earliest opportunity to prevent incidents of this nature going unpunished in the future." – Derek Llambias, Newcastle's managing director, on the Callum McManaman verdict.
Runner-up: "I'm overwhelmed. So many nice messages. Having known it for a while I thought I would be ok….(instead) reduced to tears." – Michael Owen.
Yaya Toure: Give me new deal by Saturday or I'm off
Ta ta, Yaya (Antony Kastrinakis, Sun) Yaya Toure has stunned Manchester City by demanding: Give me a new contract by Saturday — or I am off.  The Ivorian midfielder is fuming that talks over a new deal have stalled for SIX months. And Toure's agent, Dimitri Seluk, last night admitted: "If he signs a contract in the next three or four days, OK. If not, we will not wait any longer and will start negotiations with different clubs. "Today is Tuesday, so it means by Saturday. We will say 'Thank you. OK, Yaya will leave in May.' "I do not feel he will stay at City. This is not about money. He wants to leave because of many reasons. "He is one of the best players at Manchester City but does not feel the respect of the staff. Only Roberto Mancini respects Yaya." The former Barcelona ace, 29, is City's top earner on £220,000 a week.
The impotent FA
Failure to charge Wigan's Callum McManaman over tackle on Newcastle's Massadio Haidara makes the FA look daft (Henry Winter, Daily Telegraph) Skilful medical people will do their best to ensure Newcastle United's stricken Massadio Haïdara plays again but what will he think of the FA, of English "justice", when he re-emerges from hospital? His employers, Newcastle, will gently inform their defender that the opponent whose studs connected with his knee was not charged with any offence by the FA. In fact, the man who stood up most for him, John Carver, was upbraided by the authorities for confronting the perpetrator, Callum McManaman, of Wigan Athletic. Some observers bemoan a witch-hunt against McManaman but really, seriously, sensibly let us focus on the victim, on Haïdara. McManaman, still learning his trade, and certainly still learning how to tackle, may well have psychological scars but they have fade into insignificance compared to the potential physical scars on Haïdara's knee.
England v San Marino & Montenegro
England may use Michael Carrick in defence in San Marino qualifier (Jamie Jackson, Guardian) Roy Hodgson is considering using Michael Carrick as a centre-back during England's World Cup qualifier against San Marino. Carrick has featured in the position for Manchester United on an auxiliary basis this season when Sir Alex Ferguson has been short of defensive cover. Although Carrick is expected to start in his usual midfield berth on Friday at the Serravalle Stadium, Hodgson may move him back into central defence if San Marino prove difficult to break down. The thinking is that the manager may wish to utilise Carrick's range of short and long passing while freeing up a position further upfield if San Marino defend deep inside their half for long periods.
What happened to picking a team and playing a game of football? (Martin Samuel, Daily Mail) He should have been cuter, shrewder, a player of politics, a foot in both camps. We wanted Capello to be a brute, now Hodgson is pilloried for not checking in with Ferdinand on a monthly basis just in case he loses five central defenders to injury and his best one retires. He probably isn't touching base with Peter Crouch much these days either, but if a similar crisis occurred — Wayne Rooney, Danny Welbeck, Jermain Defoe, Daniel Sturridge and Andy  Carroll all out — he may well receive a call. Precisely how many players should the England manager be kidding to at any one time? On the basis of this injury list, one would imagine about 50: eight goalkeepers, 16 defenders, 16 midfield players, maybe 10 strikers. Neglect any from this number at your peril. Come on, Roy, make the effort. Not that they'll call you back, of course.
Frank Lampard on Rio Ferdinand
Lamps: Rio still in love with England (Shaun Custis, Sun) Frank Lampard says his pal Rio Ferdinand loves England as much as ever. Three Lions ace Lamps said: "Rio hasn't become unpatriotic overnight. "He is a very driven man and player. Anything he does in life, he is like that." The Manchester United defender, 34, pulled out of the squad because a pre-planned medical programme did not allow him to play in the World Cup qualifiers. But Lampard, 34, added: "Rio will want to carry on playing good football and giving his best whether it be for Manchester United or England in the future.
Juventus want Luis Suarez
Juventus keen to revive £26m summer mega move for Liverpool star Suarez (Declan Warrington, Daily Mail) Juventus have renewed their efforts to sign Liverpool forward Luis Suarez. The Italian giants, who were interested in recruiting Suarez and Robin van Persie last summer, are in discussions with the Uruguayan's agent about a possible €30m (£25.6m) transfer after their previous efforts ended when he extended his Liverpool contract until 2018. Juve manager Antonio Conte, according to Sportmediaset, is thought to see Suarez as the ideal strike partner for the incoming Fernando Llorente and given the Spaniard is arriving for free has money to spend.
Arsenal alerted to Alexis Sanchez availability
Arsenal on alert as Barcelona forward Sanchez edges closer to summer exit (Simon Jones, Daily Mail) Arsenal are among clubs to have expressed interest in Barcelona forward Alexis Sanchez. The 24-year-old Chile international has endured an indifferent season at the Camp Nou and Barcelona are understood to be willing to listen to offers in the summer. Inter Milan have already made contact with the player's representatives and Barcelona anticipate Arsenal will follow up their longheld interest.
Arsenal & Chelsea battle for West Brom wonderkid
Arsenal 'n Chelsea to fight over Brown (Sun) Arsene Wenger is primed for a major power struggle with Chelsea for West Brom wonder kid Isaiah Brown. The Arsenal boss has been tracking Brown, 16, and is ready to test Albion's resolve with a £1million bid in the summer. But Chelsea are set to flex their muscles after watching Brown in action for West Brom's Under-21s and offer £2m. The Blues are hoping their relationship with Baggies boss Steve Clarke — plus the success of their loan arrangement with Romelu Lukaku this season — will help swing a deal in their favour. Wenger has been given glowing reports on the England Under-17 striker by Arsenal's head of development and former Albion coach Terry Burton.
Blackburn eye Benitez!
Rafa's Rovers? Blackburn eye Chelsea's Benitez as their next manager after sacking Michael Appleton (Alan Nixon, Daily Mirror) Michael Appleton found out he was sacked as Blackburn manager by watching TV – before being handed a letter by… a club receptionist. Appleton's shock axeing, after just 67 days in charge, came in a typically shambolic way – at a club which has specialised in that department recently – when global advisor Shebby Singh arrived at the training ground to leave the note. Singh, who has made a grab for power behind the scenes, had not been near Rovers' Brockhall base for over two months. Former TV pundit Singh did not pick Appleton, who was hired away from Championship rivals Blackpool, as manager and now wants Rovers to go for a big-name manager – paying the right man around £50,000-a-week, and with Rafa Benitez as a dream candidate.
Hailing Michael Owen, now he has retired…
Taking the Michael: Hate aimed at Owen says more about those spewing it than about him (Ollie Holt, Daily Mirror) But still, I don't get all the hate for Owen. I don't get the ­disillusion about the idea he never fulfilled his potential. Didn't fulfil his potential? So scoring one of England's most memorable World Cup goals against Argentina in 1998 doesn't count? So scoring a hat-trick against Germany in Germany in a 5-1 win, one of England's most iconic results, doesn't count? So scoring against Brazil in a World Cup quarter-final in 2002 when he could barely walk, let alone run, doesn't count? So playing a crucial role in Liverpool's League Cup, FA Cup, UEFA Cup treble in 2001 doesn't count?
Michael Owen's retirement deprives us of a misunderstood footballer (Louise Taylor, Guardian) Plenty of people have fixed preconceptions about Michael Owen. Selfish, cold, detached and robotic are frequent descriptions from those who have viewed the former England striker from afar and struggled to warm to his clinically matter-of-fact public persona. Those who have worked with Owen tend to buy into a very different narrative. This, after all, is a man who, minutes after being told he had ruptured the cruciate ligament in his right knee during the opening minutes of the 2006 World Cup match against Sweden, texted Glenn Roeder, then his club manager at Newcastle United, to apologise for the inconvenience. As appointments were made with Richard Steadman, the celebrated lower limb surgeon, in the United States and Owen was told his knee would be reconstructed using an allograft – namely a cadaver's tendon – as opposed to an autograft from his own hamstring, the striker could have been forgiven for thinking purely about himself. Instead he kept telling Roeder he was sorry for somehow letting Newcastle down.
Michael Owen – a penalty-box predator who became a victim of his success with Liverpool and England (Paul Hayward, Daily Telegraph) At 17 Owen was a diagram of speed and exuberance whose prolific goalscoring carried him into the Liverpool starting XI and to world renown with England at the 1998 World Cup. From the playing fields of North Wales (where he scored 92 times one year) he transferred a firefly quality to his work at the highest level and dashed across the ground with an angelic face and lethal intent. Sixteen years later he announced an end to his career, at direct and muscular Stoke City, where his final move has not worked out. A three-year stop at Manchester United placed him back in the club elite without restoring him to the front rank of strikers. Ever-decreasing circles would be a fair description of his career from the time he left Real Madrid, where he played alongside Ronaldo, Zinedine Zidane and Raul and scored 16 times in 45 appearances (26 of them starts).
---