Woy out, Dalglish in at Liverpool, Was Rooney "out of this world" v WBA & Beckham to be highest paid player at Spurs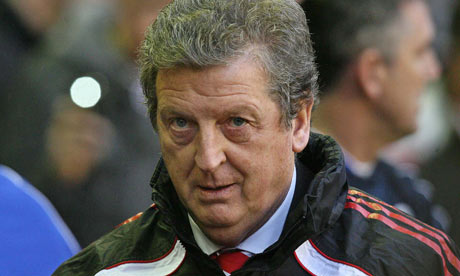 Comment & analysis round-up
Quote of the day:Â "I know when players are behind a club and behind their manager and when they are not, anyone who seriously suggests that after watching us play in these six months [of his tenure] that there are any problems on this front is being dishonest. I am satisfied that the team gave the performance that they want, that I want and the fans want. I do not know if this was a game we had to win [to keep his job] but we certainly had to play well. I know all about the negativity that has surrounded me, but it does not affect me. If we had won on Wednesday night, we would be right up there towards the top of the table and I would be asked about the Champions League… The Fernando Torres you saw today and the Fernando Torres you saw against Wolves were two completely different players, front players survive on very small margins. But, if we can get Fernando in this type of form between now and the end of the season, we will be a force. His discipline and work rate were first class… In truth, 2010 has been a disastrous year for the club in terms of away wins, and we have to break that pattern, my job is to create teams that give performances like you saw today against Bolton. I have a happy evening ahead but I have to make sure that the mood holds." – Roy Hodgson.
Runner-up:Â "We've got to get him quickly if it's going to happen as he's only available until March, it's out of may hands now, I've passed it on to [Tottenham director of football administration] Darren Eales and I think he's talking to whoever he has to talk to at LA Galaxy. It's down to whether they'd let him come or not… David just said he'd like to come and play at Tottenham. He told me that… Other than Aaron [Lennon] we've got no one who can play wide on the right because David Bentley keeps picking up injuries and wants to go out on loan anyway. I've got Niko Kranjcar but he hates playing there, he wants to come in off the left so it's a problem. You need a squad. [Beckham] is not going to play every game but I still think he could play a big part for us. He could have come on [against Fulham] and help us keep the ball… [Beckham] would be a great influence. When I took Teddy to Portsmouth, I said to the others 'watch him train, watch his technique and how he takes pride in everything he does.' Watching how top players practice is better than all the coaching in the world. If it's doable, it's a no-brainer."
Today's overview: Joe Cole's late winner for Liverpool against Bolton does not appear to have saved Roy Hodgson with a host of Sunday papers claiming Kenny Dalglish will be appointed until the end of the season. There are plenty of articles on Woy and Jim White hails Fernando Torres' display against the Trotters yesterday.
Manchester United's victory at WBA is also dissected. Paul Wilson points out that the Baggies deserved to win and both Mark Ryan and Piers Morgan question Sir Alex Ferguson's post match comments that Wayne Rooney was "out of this world."
David Beckham's move to Spurs is also chewed over with Steve Stammers outlining the financial parts of the deal and Jason Burt arguing Tottenham and Goldenballs are a perfect fit.
There is also an interview with Mario Balotelli in the Mail on Sunday, analysis on Chelsea and Aston Villa ahead of their match this afternoon and a large dose of transfer gossip.
Woy out, Dalglish in at Liverpool: Simon Mullock ignores the win over Bolton and claims King Kenny will make a sensational return. "Liverpool are ready to turn to Kenny Dalglish as their emergency managerial appointment. Yesterday's 2-1 victory over Bolton will help beleaguered boss Roy Hodgson hang onto his job in the short term. But Hodgson still appears to be doomed. The Anfield hierarchy are searching for a long term successor. At the moment it seems the men they want are not available. So an SOS to King Kenny, the Liverpool legend, to take over with his old assistant-manager Phil Thompson is seen as the smartest stop-gap move."
Ian Herbert also reports that King Kenny will return. "Liverpool's owners are weighing up appointing a temporary manager to see the club through to the end of the season, a move which appears to open the door to Kenny Dalglish fulfilling his desire to return to the helm of the club where he remains a legend. The injury-time winner by Joe Cole – Roy Hodgson's late substitute – which sealed a 2-1 win over Bolton Wanderers yesterday is unlikely to convince Liverpool's main owner, John W Henry, that Hodgson should see the club through to May, and it is with a growing awareness that the right permanent manager cannot be found in mid-season that he and Fenway Sports Group appear ready to appoint on an interim basis. Precisely who they might be considering remains unclear, though Dalglish would enable the club to reconnect with supporters whose disenchantment contributed to Liverpool's lowest League crowd since the visit of Portsmouth in 2004: just 35,400 turned up yesterday. The owners may also feel that Dalglish is the man to bring the full potential out of Fernando Torres who, despite a far better display yesterday, has not delivered consistently for Hodgson."
Rory Smith sings from the same hymn sheet. "Despite Saturday's last-gasp win against Bolton, Hodgson's persistent failure to elicit consistent results and performances from his team, as well as the breakdown of his relationship with the club's fans, has convinced Fenway Sports Group to bring forward their initial plan to review his position in the summer. Even after deciding they must act swiftly to replace the 63 year-old, the group's principal backers, John W Henry and Tom Werner, had hoped to make the first managerial appointment of their reign a permanent one. They are believed to have examined the credentials of a number of candidates, including the Porto manager Andre Villas Boas and Marseille's Didier Deschamps. The difficulty and cost associated with enticing the right long-term appointment midway through the season, however, has now forced FSG to rethink their strategy, with the group now thought to favour introducing an interim manager before installing their preferred candidate in June."
Tim Rich concentrates on Woy. "At Anfield you are supposed never to walk alone, but Roy Hodgson's isolation seems almost painful. As with all managers on the brink, the television cameras monitored his every reaction with a stalker's eye. As the club's battle hymn played across the old stadium before kick-off and the banners fluttered in the Kop, they caught him mouthing the words and humming along with the tune. His backroom staff were all around him but the 63-year-old in his tracksuit seemed dreadfully alone, a republic of one. When the final whistle sounded, the Kop sang again and Hodgson was embraced by every one of his players as they walked off the pitch after a victory that was snatched at the death by his first Liverpool signing. Joe Cole's intervention, which consisted of nothing more than sliding a ball over the line, will only have bought Hodgson the short term but, with today'sheadlines proclaiming him a "dead man walking", he would have settled for that."
Jim White praises Fernando Torres for his performance yesterday. "For once, his players looked as if they were prepared to play for him. Fernando Torres in particular, for so long so listless, performed as if he at last appreciated the responsibility he had for jeopardising another man's livelihood. He drove the line with effect, ran with intelligence, showed a fiery resolve as he wrestled with Gary Cahill. His finish, from Steven Gerrard's exquisite pass, to equalise Bolton's opening goal transported the Kop en masse back to the days when he did such things for fun, days many thought may never return under Hodgson. Indeed there was a nice irony in that goal-scoring move: all season long Hodgson's complaint has been that this was not his team, that he was suffering from the mistakes of the Rafael Benítez reign."
Manchester United's victory at WBA: Paul Wilson:Â "This was only Manchester United's second away win of the season yet it probably means they will win the title. If you can be outplayed to this extent and still take home all three points it can only mean luck is on your side. An extraordinary game also exploded the old myth that matches are won and lost in midfield. Were that the case West Brom would have been easy victors. Instead their inability to turn superiority into goals allowed their opponents to demonstrate something they have shown a few times over the years, the knack of imposing themselves even when playing below their best."
Mark Ryan questions Fergie's post match comments on Wayne Rooney. "Sir Alex Ferguson hailed Wayne Rooney's performance as 'out of this world' after Manchester United's troubled striker scored his first goal from open play for nine months in his side's 2-1 win at West Bromwich Albion. But the United manager's extravagant praise for Rooney's first strike in 277 days and after more than 1,417 minutes of football glossed over what had been an ordinary performance. And it smacked of an attempt to lift the confidence of a man who has endured a turbulent time on and off the field since he was scoring goals for fun last season."
Piers Morgan also wonders about Rooney's form. "Aside from his goal, Rooney hustled and bustled but seems to have lost all the pace and ferocity that made him such a menace. And there was a desperation in his insistence on coming back on for the last few minutes which could have risked a lengthy lay-off again. It was a big mistake for Sir Alex Ferguson to reward Rooney's chronic misbehaviour with a fat new contract. For him, Rooney, United and England. I think it would be in all their interests to sell him in January."
Goldenballs at Spurs: Malcolm Folley gets a little giddy:Â "David Beckham could make his astonishing return to English football against Manchester United, the club where he made his name. When Beckham left Old Trafford seven and a half years ago, he vowed never to play for another club in the Premier League. But Beckham's return to the English game has edged closer after Tottenham manager Harry Redknapp revealed: 'David has let me know that he'd like to come here.' And to deepen the massive interest that would surround Beckham's reintroduction to the Premier League, his Spurs debut in the competition could be made in a fortnight when United meet Tottenham at White Hart Lane in a game that will have a bearing on the title race."
Steve Stammers adds: "David Beckham will become Tottenham's highest-paid player with a £1.5 million deal for his three-month loan spell. Beckham earns around £200,000 a-week at LA Galaxy but is willing to take a pay cut during the break in the MLS season. At White Hart Lane, he will be on £120,000 a week – the top earner at the club. But Tottenham chairman Daniel Levy views the move as a shrewd investment because of the income that Beckham will generate for Tottenham."
Jason Burt feels Beckham and Spurs are a perfect fit. "Spurs have come a long way since they 'almost' signed Rivaldo, 'almost' acquired Ronaldinho — and did sign Edgar Davids even though he was, like the other big-name targets, living on memory muscle and little else. Beckham, perhaps counter-intuitively, is different. He is aged 35, his best days are far behind him but there is a logic in the terms under which Spurs are proposing signing the former England captain. He can still offer a different dimension on the field of play — as a substitute, either wide or centrally. Indeed Spurs's motives possess more logic than the likes of West Ham United in that as they attempt to compete on all fronts there is still an argument that, on the right occasion, Beckham can prove to be a game-breaker rather than a player to rely on."
A Super Mario exclusive: Mark Ryan has a rare interview with Mario Balotelli. "Balotelli, left out of yesterday's Premier League clash with Blackpool because of a knee injury, is adamant that his desire for City to succeed should not be questioned. 'I want City's supporters to know this,' he says. 'When I heard them chant my name the other night, as I scored those three goals, it gave me a really warm feeling inside. Sometimes I don't smile outwardly but I am smiling inside and that is how it was when I heard them.'"
Ian Holloway mulls over Blackpool's defeat at City yesterday. "Manchester City are a great club and they are doing everything right as they try to make themselves one of the best in English football. I hadn't been to Eastlands before yesterday and I was blown away. They had blue-and-white Man City rock upstairs in the lounges and even the barriers outside the stadium are emblazoned with the club badge. They are the real deal, and that's before you start looking at the quality they have in their team. And that is why I was once again very proud of how my Blackpool did. I don't think we were too far away from them and that result, despite the fact we lost 1-0, will give us great belief going in to what is a very busy few weeks. I just wish we had been beaten by two or three goals rather than one because I wasn't happy at all with the way we conceded what turned out to be the winner. Normally when we head away a corner, we have someone in a tangerine shirt on the edge of the box to clear it or get a block in."
Chelsea: Henry Winter rounds up the issues at hand at Stamford Bridge. "For all the joy spreading through the Bridge after last Wednesday's narrow victory over Bolton, Ancelotti is no fool. He knows that concerns endure, that the absence of Wilkins is an issue, that his squad is not deep enough. When fit and in form, Chelsea's first XI is a match for anyone in the Premier League but injuries or suspensions instantly highlight the depleted resources. Josh McEachran is a potential class act but the teenager remains a work in progress, needing time to bed in and mature."
Nick Szczepanik speaks with Chelsea legend John Hollins. "Wednesday's 1-0 win over Bolton Wanderers was Chelsea's first in seven League games. John Hollins, the former Chelsea manager and FA Cup-winning midfield player, believes that the champions' slump has no single cause. Injuries, and the sacking of Ray Wilkins, the assistant manager, have played a part, but so has the increasing competitiveness of the division this season. 'Chelsea scraped through against Bolton, but all the clubs in the top five that you think should win every game have dropped points recently,' he said. 'It's good for the game. Chelsea were only six points ahead of Blackpool before they beat Bolton. Blackpool are playing with no fear, and I think Chelsea have been playing with a little bit of doubt and anxiety about what they're doing.'"
Aston Villa's woes: Ahead of their game at Chelsea today, Kenny Dalglish calls on the Villa players to stand up and be counted. "Who is to blame if there is a disagreement between a manager and his players? It always seems to be the manager at fault if results are going badly – and the players who are praised when things are going well. Aston Villa's recent run of one win in eight matches is poor so, not surprisingly, Gerard Houllier is the one being put under the microscope for reported fall-outs behind the scenes. That's the way of the world, but it's too simplistic in my view. It's not always the manager who is in the wrong … even if the team are losing."
Alan Smith adds on Villa: "Villa are leaking goals at an alarming rate. Their organisation and discipline have disappeared out the window and a lot of confidence has inevitably followed. You only had to see how the visitors conceded four goals to Manchester City on Tuesday to realise the extent of the team's troubles. With Dunne out of favour and the inexperienced Eric Lichaj trying to learn his trade at right-back under difficult circumstances, the defensive unit is showing several cracks. Not only that, it's getting very little protection from the midfield. If that trend continues on Sunday, Chelsea will surely be given a helping hand in their efforts to find some kind of form."
Newcastle set Twitter guidelines: Louise Taylor reports: "Newcastle United's players will shortly be given guidelines about their tweeting habits. Alan Pardew was annoyed last Tuesday when José Enrique, his Spanish left-back, informed Twitter followers he would miss the team's game at Tottenham through injury. As Enrique, happily restored to fitness for tomorrow's trip to Wigan, is a key player, Pardew had intended keeping his absence quiet until the teamsheets appeared."
The FA Cup: Paul Wilson looks forward to the third round next weekend. "Some lively FA Cup ties to look forward to, in a third round that traditionally provides a welcome break from the toil of the league. Except that this is 2011, not 1951, so don't go hunting out the wooden rattle just yet. Now that the status of the FA Cup has been diminished to something of roughly the size and importance of a passport stamp, it is necessary to ask oneself how many people will turn up to watch Blackburn v QPR. What sort of a side will Warnock send out, given that promotion is so obviously the priority? Come to that, what sort of a side will Arsène Wenger send out against Leeds, given that he made eight changes for the league game against Wigan the other night? There are no reasons for supposing that any of the managers involved will view the FA Cup games as must-win fixtures."
Transfer gossip: Chelsea might join Birmingham and West Ham in the race for Jay Bothroyd, according to the Mail on Sunday who add David Bentley will join Newcastle to make way for David Beckham and Ronaldinho is heading home to Gremio.
The Sunday Mirror go a little transfer crazy, saying Manchester City are plotting a new bid for Real Madrid's Kaka and that "Chairman Khaldoon Al Mubarak has stepped in to prevent the collapse of Edin Dzeko's £30 million transfer to Manchester City." And that Liverpool are leading the race for Werder Bremen's World Cup star Per Mertesacker. Regardless of whether Hodgson stays the Anfield giants will move for Ryan Shawcross and Ashley Young. There are also further stories suggesting Carlos Vela will join Bolton on loan and Aston Villa and Wigan want Federico Macheda.
The People don't like to be left behind and they claim the New York Cosmos want Ryan Giggs, Chelsea are after Bolton's Gary Cahill and Newcastle will not sell Andy Carroll, even for mega money.
Smut: Pictures have emerged of a glum looking Roman Abramovich at his lavish New Year's Party attended by Hollywood's finest.
Click here for more Premier League betting tips
---