"Without the matchwinning magic of Cristiano Ronaldo and the goals he and Carlos Tevez used to score, Manchester United are not as good as they were. Chelsea kept their best players last summer and are about to reap the rewards" – Joe Lovejoy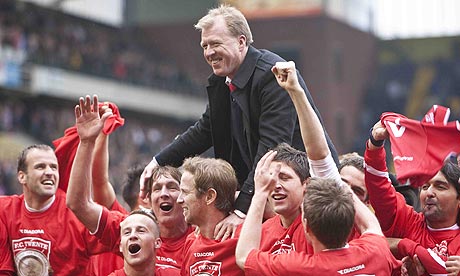 Comment & analysis round-up
Quote of the day: "I hope Bobby [Robson is] looking down. He told me to come here and to come alone. He told me I'd love it. I know he'd be pleased and proud. People keep saying I've been in rehab. I've never taken drugs but I might have a drink problem in the next few days. People say that to achieve this with Twente is a miracle but it's more than a miracle. I must admit I'm pretty pleased with myself." – Steve McClaren.
Runner-up: "I thought Liverpool could do something. It's hard to expect them to win against Chelsea. The first goal? It can happen and I'm sure Gerrard will regret it, but it's happened. Listen, we're clutching at straws a bit but you never know in football. It's a crazy game." – Sir Alex Ferguson.
Today's overview: After Chelsea and Manchester UNited both won on Sunday, the title seems destined for Stamford Bridge his season.
The Title Race & Lowly Liverpool: Joe Lovejoy kicks off the reaction by arguing how last summer's transfer dealings settled this year's title race. "Without the matchwinning magic of Cristiano Ronaldo and the goals he and Carlos Tevez used to score, they are not as good as they were. Chelsea kept their best players last summer and are about to reap the rewards."
Following a similar track, Ian Herbert claims Manchester United will lose this season's title because of their over-reliance on Wayne Rooney. "The underlying truth is that the title is all but Chelsea's because United couldn't live without Wayne Rooney for much of the decisive past month and most especially when Chelsea arrived at Old Trafford last month for a win which seems to have proved so decisive in the final reckoning. When Rooney returned yesterday to the best form he has shown since United sent Liverpool packing from Old Trafford on 21 March, United also happened to put in their most convincing display since that day. Too late.
Keeping focus on Manchester United's squad Daniel Taylor believes that Dimitar Berbatov hasn't been the only under-performer this term. "Berbatov is not the only player who has failed to excel. You look through United's squad to identify which players can legitimately be described as having brilliant seasons and the only ones who stand out are Rooney, Darren Fletcher and Patrice Evra. Too many have scored six or seven, but not eight or nine, out of 10. Last season, when the Professional Footballers' Association announced the shortlist for player-of-the-year, five of the six names came from Old Trafford. This year, Rooney was the club's only representative."
Jason Burt, though, flags up another awful weekend for United's Bulgarian forward. "Three chances were wasted by the Bulgarian which were so convertible that the failure to take them can only be ascribed to a crisis of confidence which is gripping the striker… Inevitably Berbatov, who looked haunted, was goaded with chants that he was a waste of money. He has heard that before, all too often, in United colours. The return from him has been disproportionate, to say the least, and a hard question has to be asked by Ferguson this summer. What next?"
Flipping focus to the Pensioners, Oliver Kay struck up the chorus in celebration of Chelsea. "The most impressive thing about Chelsea this season — in addition to the 95 goals they have scored in 37 league matches — is that they have gone to the Emirates Stadium, Old Trafford and now Anfield and won."
For Sam Wallace, Frank Lampard is the key to Chelsea's successes this season. "For many, Lampard is the difference between United and Chelsea this season, especially now that United are without Cristiano Ronaldo. As for Liverpool, Gerrard has 12 goals this term and he did not look like adding another yesterday. You can only wonder how pessimistic he must feel about the next campaign and whether the thought has again crossed his mind that it might be time to try somewhere else."
Richard Williams predicts a changing of the guard at Chelsea in the near future. "Joe Cole, unable to agree a new deal, looks likely to depart, along with Juliano Belletti and possibly Deco. Gossip suggests that if Mourinho takes over at Real Madrid in the summer, he will come calling for Frank Lampard and perhaps Ricardo Carvalho. But the presence of Frank Arnesen, the club's somewhat shadowy director of football, in the directors' box provided a reminder that finally Chelsea are ready to see some tangible reward from their expensive academy programme. At the bottom of their lengthy first‑team squad list are the unfamiliar names of 10 young players, including the Italian forward Fabio Borini, the Dutch defender Jeffrey Bruma, the French midfielder Gael Kakuta and the extremely gifted 17-year-old Joshua McEachran, an English playmaker, who are considered ready for gradual assimiliation into the senior line-up."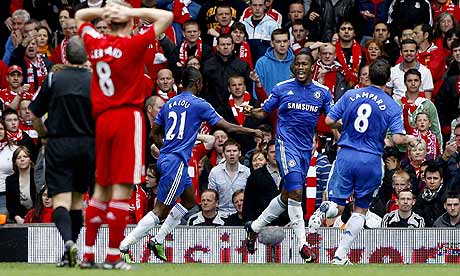 Turning focus to Liverpool, Andy Hunter argues that Rafa Benitez has been hamstrung by an inadequate squad. "Without Carragher, Liverpool finished with a back four of, from left to right, Javier Mascherano, Daniel Ayala, Sotirios Kyrgiakos and Daniel Agger. It was a defence that doubled as the prosecution for the club's many ills, comprising a central midfielder priced out of Barcelona's grasp last summer played out of position due to the inadequacy of replacements, a raw Spaniard parachuted into the club's youth academy due to the lack of graduates in recent years, the cut-price option when Benítez could not afford Matthew Upson or Michael Turner last summer… These are deep-rooted flaws and an imbalanced squad."
More excuses for Rafa Benitez were served up by Oliver Kay. "The failures of the past two decades cannot be laid at Benítez's doorstep. Nor, to any great extent, can this season's abject struggle, the roots of which lay in a summer in which money was not made available to strengthen a squad that had overachieved in finishing runners-up last season. But none of that can disguise the fact that Anfield is in the grip of a malaise. Some prefer to call it a cancer — a cancer that started in the boardroom and has spread — but, whatever it is, it has had the team in its grip since last August."
Bucking the trend Alan Hansen takes the role of Nostradamus to argue that the end maybe nigh for the Scousers. "The worry now that their exclusion from next season's Champions League has been confirmed is whether they will be able to attract the right players to help rebuild the club. Liverpool's supporters are the best in the world, but players do not join clubs because of the fans. They come first for money, and then for what is on offer. Without the lure of the world's biggest club competition, Liverpool simply cannot compete."
Celebrating Schteeve: Finally Steve McClaren has his redemption. After leading FC Twente to their first ever Eredivisie title the English press salutes the former England manager this Monday.
Picking up on the Dutch reaction the McClaren's achievements, Louise Taylor noted that "his chairman, Joop Munsterman, says that a manager likely to be widely courted this summer is 'as important to Enschede as Eric Cantona was to Manchester United.'"
Matt Dickinson continued the applause for McClaren. "English football can be proud (and who would have thought that possible two years ago?) as McClaren became the first Englishman to win a leading European league since Robson at Porto in 1996… McClaren's stock will soar, inevitably bringing job offers. Hamburg and Wolfsburg, the German clubs, are the latest said to be sniffing around and part of him will want to work in a bigger, richer, more prestigious league."
Blaming Portsmouth: After Portsmouth's final home game on the season on Saturday against Wolves, manager Avram Grant took the mic to tell his supporters "They will never destroy our spirit — never!"
That spurned Patrick Barclay into a surly critique of the south coasters. "The football authorities, notably the Premier League, bent over backwards to help Portsmouth — indeed were far too lenient with successive owners — and for Grant to imply that "they" were in any way to blame for the supporters' travails was an insult to his audience's intelligence. No one outside the club has done Portsmouth a disfavour. Quite the opposite."
The World Cup: Kevin Gardside spends his Monday morning trying to come up with a logic to explain how Fabio Capello can lead the Three Lions to World Cup glory. "For too long we have been handicapped at international level by low self-esteem. Years of lumbering failure, characterised by the upfield punt of last resort when under pressure, forced too readily on the players the idea of the inherent superiority of high-end continental opposition and South Americans in yellow and blue. Capello spotted this mental flaw quickly and is incrementally stripping it away. He is lucky. His best player, Rooney, has the psyche of Zeus and bows to none."
Sweet FA: Martin Samuel goes off on a tangent to berate the Football Association for their policy on punishing footballers when they injury others away from the glare of the referee. "Whenever an outrage occurs in English football, when a striker gets brain damage from a flying elbow or a player delivers a tackle that could end a career, the Football Association invariably announce that nothing can be done because FIFA do not allow further punishment if a referee has seen and acted on an incident… We cannot trust the professional game to self-regulate. Too much vested interest. That is why it is absolutely essential that there is a strong, independent, governing body prepared to make the difficult calls to protect players from potentially career-threatening injury. Instead, what do we have? The FA hiding behind bureaucracy, when UEFA's treatment of Ribery shows what can be done.
Transfer Lies: We begin with one deal that isn't gonna happen, as Jeremy Wilson announces "Arsenal manager Arsène Wenger has ruled out a move for Blackburn centre-back Phil Jones. Wenger has been monitoring the 18 year-old's progress but has decided to prioritise more experienced targets."
Alan Nixon chugs "Wolves boss Mick McCarthy is ready to make a £2million-plus bid for Aruna Dindane – and beat off Blackburn Rovers for his signature." The Mirror hack then continues to barf "Sunderland boss Steve Bruce will have to pay a staggering £8million to make old club Wigan part with Honduras World Cup left back Figueroa Maynor."
The Mirror close out the rumours farting "Birmingham City have re-opened transfer talks with the Rangers striker Kris Boyd."
The Daily Express report "Roy Hodgson dismissed speculation linking him with Liverpool after watching his side beat struggling London rivals West Ham 3-2 at Craven Cottage."
Click here for more Premier League betting tips
---