With Torres on the brink of £50m Chelsea move, Liverpool eye Adam, Carroll & Young
Comment & analysis round-up
Quote of the day:Â "It was a complete misunderstanding – 10 Huddersfield players asked me for my shirt. But I only have two match shirts, which I happily handed out. I am sorry the other eight didn't get a shirt but I physically didn't have any others to give away. What more could I do?" – Cesc Fabregas.
Runner-up:Â "We made an incredibly bad start. Everything that could have gone wrong did. Dawson gave two horrendous goals away and you can't keep on coming back from those starts. Michael started sloppy and gave two goals away. It's not like him. I thought the second penalty and the sending off was harsh. Michael feels the same because Dembele had the shot. But if he tugged his shirt… I can't say." – Harry Redknapp.
Today's overview:Â Welcome to the traditional last day of the transfer window frenzy in the papers this morning and one name still dominates: Fernando Torres.
All the papers agree, El Nino is off to Stamford Bridge. The Daily Mail inflate the fees by labelling it a £95million transfer package whilst both the Independent and Guardian say the actual transfer fee is 50 million pounds. The Daily Mirror chip in with the news that Torres trained on his own yesterday with the Kop board resigned to his departure.
Alan Hansen still calls the decision 50/50 for the Merseyside giants whilst Martin Samuel explains why Torres wants to leave. On Chelsea, Andy Hunter provides evidence of why the Blues need the Spanish striker and Sam Wallace wonders what the transfer tells us about Roman Abramovich.
Probably the most intriguing stories of the day come with who Liverpool will spend their cash on. Rob Beasley pinpoints Ashley Young, Charlie Adam and Andy Carroll.
The Newcastle striker is also being tracked by Spurs with the north London club tipped to snap up a big name striker before the end of the day. Adam Johnson's injury means Manchester City are also expected to get involved today and Arsenal are also linked again with Alex Chamberlain.
There are also articles on Manchester United-Crawley, Richard Keys and how Leroy Lita filled his diesel car with petrol.
Fernando Torres will join Chelsea today: Matt Lawton and John Edwards detail the full financials of the deal. "Chelsea will try to push through the signing of Fernando Torres on Monday with a stunning £95million transfer package they believe will trigger an escape clause in the Liverpool striker's contract. Roman Abramovich is ready to commit the staggering sum to secure the service of Torres, with £50m needed to activate the clause they are now confident exists. A further £45m will be guaranteed to the 26-year-old in a five-year deal that would see him earn £175,000 a week."
Mark Fleming and Ian Herbert also add that "Chelsea are prepared to meet Liverpool's £50m valuation of Fernando Torres before the transfer window closes at 11pm tonight but the Premier League champions are hopeful they will not have to pay so much for the striker. Chelsea owner Roman Abramovich is personally overseeing the club's aggressive pursuit of Torres, whose official transfer request was rejected by Liverpool on Friday. The London team are so far understood to have made two bids, of £28m and £35m, for Torres (right), both of which were turned down by Liverpool who then issued a statement that the 26-year-old was 'not for sale'. Since Friday, both clubs have been jockeying for position ahead of today's deadline. Chelsea have proposed including Daniel Sturridge in part-exchange, a move rejected by Liverpool, who would prefer to see Frenchman Nicolas Anelka move to Anfield."
Andy Hunter and Dominic Fifield join forces in The Guardian. "Liverpool have lined up a remarkable £50m worth of transfers for deadline day as they prepare for life without Fernando Torres. The plan includes moves for Ashley Young, Charlie Adam and Luis Suárez. Chelsea are willing to pay cash to bring the disaffected Torres to Stamford Bridge in what would be a record transfer between two British clubs, although not the £50m that Liverpool are seeking, which equates to the release clause in the 26-year-old's contract should the Anfield club fail to qualify for the Champions League this season. The Premier League champions are reluctant to lose Nicolas Anelka as part of the Torres transfer and the former France international does not wish to return to Anfield. Liverpool are not keen to have the young Chelsea striker Daniel Sturridge included in the deal."
The Daily Mirror say "Fernando Torres was last night on the brink of a British record £50million move to Chelsea as Roman Abramovich proved his renewed commitment to Stamford Bridge. With Carlo Ancelotti convinced Torres can be the missing piece in the Chelsea jigsaw to give him a "dream team" front-line, Abramovich sanctioned a final assault on Liverpool to sign the Spaniard before the transfer window shuts this evening. Liverpool reluctantly accept there is no point in keeping Torres against his will, with the only question now being the size of the fee Chelsea will have to pay to land their long-term prize transfer target." Also in The Mirror we learn that Fernando Torres trained alone yesterday and the Kop boartd have given up hope of keeping him.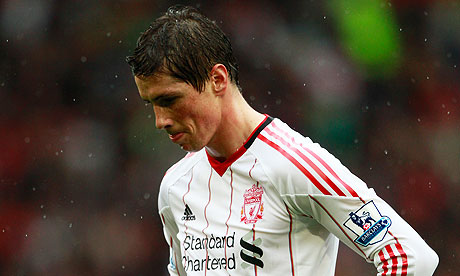 Liverpool losing Torres: Alan Hansen dissects the decision being made at Liverpool. "The Spanish striker seems likely to jump ship after 18 months in which he has looked a shadow of the player he once was. He is leaving just when Kenny Dalglish seems to have galvanised the team into some sort of revival. He is turning his back on a popularity he won more quickly than any player in Liverpool's history. That is why his transfer request hurt so much. It did not hurt as much as it might have done two years ago, of course. Then, any suggestion that Liverpool would be better off without Torres, that they might be best served by cashing in on the striker, would have been met with derision. This deal, carried out in 2009, the year when he twice destroyed Nemanja Vidic, would have been a massive boost to Chelsea and a major blow to Liverpool. Now, it is nothing like as clear cut. Yes, Liverpool have been a two-man team for a long time. Yes, you should not sell your best players. But with Torres's form this season and last, with the injuries he has had, it is a 50-50 decision."
Martin Samuel explains why El Nino is heading to London. "So how long was Fernando Torres to wait, then? He has given Liverpool a raw deal for the best part of a year now and this does him no credit. Yet look at the seemingly inevitable transfer request from his point of view. He is 26. The ensuing four years could be as good as it gets for him. Can he really afford to gamble on Liverpool's next roll of the dice coming up aces? The restoration of Kenny Dalglish? It is meaningless to Torres right now. Dalglish might be an excellent influence, but Liverpool's hierarchy cannot even guarantee that he will be manager beyond May because they are yet to back him with a permanent role. We all think he will get the job and most hope so. He seems the right fit.Yet the initial intention of New England Sports Ventures was to appoint a younger man, long term, and there has so far been no announcement to the contrary. Torres is currently being asked to throw in his lot with a caretaker. Liverpool are not yet a stable club."
Chelsea gaining Torres: Andy Hunter explains why Chelsea need Fernando Torres. "Only one convincing answer to the Fernando Torres question was to be found at Goodison Park. Carlo Ancelotti would only discuss Chelsea's fortuitous draw while his team showed that if it is trophies Torres craves, Stamford Bridge may not be the guaranteed source it once was. Amid Saturday's ordinariness, however, was the reason Roman Abramovich must acquire something special. Chelsea were clinical when they had to be against Everton, resilient at critical moments and yet fortunate to escape with a replay and their proud record of almost three years unbeaten in the FA Cup, intact. It would be hyperbole to claim mediocrity has taken root at the home of the Cup holders and Premier League champions, as Bolton could have testified only five days earlier, but Chelsea are Double winners minus the swagger, the authority and the vibrancy that mantle should entail. Goodison Park was vexed more by the visit of West Ham a week previously."
Sam Wallace wonders about how Roman Abramovich is working now. "The mysterious Mr Abramovich might no longer be the richest man in possession of an English football club but he retains the capacity to surprise us all in the way that no other owner does. A British world record transfer fee for Fernando Torres in the last week of the January transfer window? This time he really has outdone himself… Yet amid the frenzy that has accompanied a £35m bid for Torres – with the potential it may rise today – and another £26m on David Luiz from Benfica one major question is unanswered. How does the acquisition of Torres and Luiz – a throwback to the days of August 2003 when Abramovich spent millions the way most of us use our Oyster cards – square with Chelsea's plans to keep themselves the right side of Uefa's Financial Fair Play legislation?"
Dalglish to splash the Torres cash: The lead story in The Sun, by Rob Beasley, reveals "Liverpool want England striker Andy Carroll to replace Fernando Torres. Kenny Dalglish's Reds are set to make a £30million move for the Newcastle No9 if Torres joins Chelsea today. And that is not all, with Liverpool also plotting a £15m swoop for Aston Villa winger Ashley Young plus an improved £8m bid for Blackpool's Charlie Adam. Carroll, 22, will TRIPLE his £30,000-a-week wages by signing on at Anfield. Kop director of football Damien Comolli has made Toon hero Carroll his No1 target and has spent the last 72 hours lining up his man. It is a clear sign that the Merseysiders are already planning for life after Spaniard Torres, 26, despite officially insisting last week that the World Cup winner is not for sale." In a seperate article Rob Beasley lists what Liverpool's team could look like with Charlie Adam, Luis Suarez and Andy Carroll.
Spurs: It wouldn't be transfer deadline day without Tottenham getting involved. Jamie Jackson brings news of an audacious failed bid. "Tottenham Hotspur have had a bid for Sergio Agüero of 45m euros (£38m) rejected by Atlético Madrid. The offered fee meets the striker's buyout clause but that does not oblige the Spanish club to sell and their president said last night that the Argentina international would not be leaving. Tottenham's offer for Agüero is understood to have followed a failed £25m bid for Athletic Bilbao's Fernando Llorente as Harry Redknapp attempts to add a striker before tonight's 11pm transfer deadline. Newcastle United's Andy Carroll is another target, as are Sevilla's Luís Fabiano and Agüero's team-mate Diego Forlán."
Sam Wallace stokes up excitement among Spurs fans. "Tottenham Hotspur may yet stage the biggest surprise of the transfer window today with the club still in the market for a £20m-plus big-name striker that would break their transfer record. Harry Redknapp played down the possibility of a signing yesterday but Spurs have retained an interest in the Villarreal striker Giuseppe Rossi, who scored the winner against Espanyol yesterday, as well as Sergio Aguero (Atletico Madrid) and Fernando Llorente (Athletic Bilbao)."
The Daily Telegraph add "The departure of Robbie Keane to West Ham has opened up a space in Spurs' 25-man squad that could be filled by the 22 year-old Argentinian. Tottenham's lack of firepower was exposed on Sunday as they crashed out of the FA Cup at the fourth round stage with a shock 4-0 defeat at London rivals Fulham. Carroll, meanwhile, is said to have been on Redknapp's radar for some time now and the Spurs boss admitted that Tottenham chairman Daniel Levy could have made a fresh bid for the Newcastle striker."
Will Manchester City also get involved?: Daniel Taylor writes "Roberto Mancini is exploring his options in the transfer window after discovering that Adam Johnson will miss the next three months, and possibly the rest of the season, with an ankle injury. The diagnosis will have ramifications for the England team, with the Manchester City winger out of the Euro 2012 qualifier against Wales in March, and also for Shaun Wright-Phillips, who has handed in a transfer request. The club have turned it down and Mancini said it would be 'difficult' to let the 29-year-old leave in light of Johnson's absence and with Mario Balotelli missing because of knee issues. Johnson was hurt in training on Thursday and a second scan has shown that the injury is worse than first anticipated, meaning he will probably need an operation to repair his ankle ligaments."
Samir Nasri out of Barcelona first leg: John Cross writes: "Samir Nasri is a major doubt for Arsenal's Champions League showdown with Barcelona. Arsenal boss Arsene Wenger admitted he regrets risking Nasri for yesterday's FA Cup tie after the in-form midfielder suffered a hamstring injury which could rule him out for three weeks. Wenger could now recall midfielder Henri Lansbury from his loan spell at Norwich while Sebastien Squillaci's red card against Huddersfield also deepens their defensive injury crisis."
Other transfer gossip: In the Sun we learn that Sven Goran Eriksson wants Diniyar Bilyaletdinov, Birmingham are set to sign Obafemi Martins on loan and Ian Holloway wants Andy Reid if Charlie Adam leaves. The Daily Mail say Arsenal will continue their pursuit of Alex Chamberlain, Tottenham will make one last bid for Phil Neville and Chelsea could move for Dmitri Payet.  
Completed deals: Robbie Keane has joined West Ham on loan and Jamie O'Hara has also left Spurs for Wolves on loan.
Crawley v Manchester United: Dan Sales bigs up the 5th round draw's most glamourous tie. "The Red Devils of tiny Crawley Town were in football heaven last night after drawing soccer's OTHER Red Devils – mighty Man United – in the FA Cup. The Sun-sponsored team became the first non-league club in 17 years to reach the competition's fifth round. And fans were ecstatic after the televised draw set up a dream tie against their illustrious nick-namesakes at Old Trafford next month."
Sam Mokbel adds "Crawley Town are in line for a £1million pay-out after landing an FA Cup fifth-round tie against Manchester United. The Blue Square Bet Premier club have been rewarded for their heroic run to the last 16 with a visit to Old Trafford, while League One side Leyton Orient face Arsenal at home."
Smut: The Sun take a few low blows at Richard Keys, who insists his marriage is not in crisis. "Keys – believed to have been in Qatar for talks with Al-Jazeera TV – returned to his mansion in Chobham, Surrey, just before 10.30pm yesterday." In further woe for Keys though, Louise Glass, the victim of the "Smash it" video is to sue Sky.
The Currant Bun also have the comedy story of the day: "Leroy Lita felt a right fuel – after filling his diesel motor with £80 worth of PETROL."
Best football betting tips & free bet offers
Click here for more Premier League betting tips
---