"With Thomas Vermaelen, Arsene Wenger seems to have struck gold… He is uncompromising, aggressive and about £14m cheaper than Joleon Lescott. What's not to like?" – Sam Wallace
Comment & analysis round-up
Quote of the day: "One day, I will play in La Liga. Believe me, if I had really wanted to go [this summer], I would have done it and you would have heard me. But my intention has never been to have an arm wrestling contest with Bayern… I want to play with the best possible team to win titles. That's what motivates me. At Bayern today, and maybe elsewhere tomorrow… It is the first time in my career that contact with the coach is not positive. I have no trust now and that makes everything much more complicated. I have no feelings with Van Gaal." – Franck Ribery.
Runner-up: "Eduardo didn't fall theatrically. There was some contact at first and he fell afterwards. Eduardo has such a light constitution that a strong gust of wind could knock him over. But Eduardo is not the type of man or player who would simulate." – President of the Croatian football federation, Vlatko Markovic.
Today's overview: If you thought the Eduardo diving incident was last weeks news, think again. After Uefa handed the "Cro-zilian" a two match ban yesterday, Arsenal's PR machine has begun putting out the Gunners' side of the story.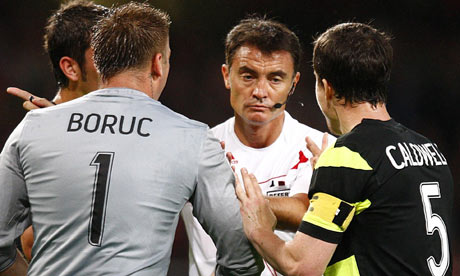 David Hytner gets to the root of the Gunners ire. "The irony for Arsenal is that if [referee] Gonzalez felt that he had been deceived at the time and booked Eduardo, Uefa would have been satisfied and left it at that. The apparent discrepancy between a booking on the pitch and a retrospective two-game ban for the same offence appears to be an anomaly in the rule book."
Arsenal's gripes continue, Matt Hughes detailing that "senior figures at the club believe that they are being victimised, because it is unusual for video evidence to be used retrospectively to punish a player for diving… Arsenal believe that they are the victims of flawed decision-making processes at Uefa, which they consider to be random and arbitrary."
Countering Arsenal's upset, Matthew Syed highlights the hypocritical nature in which most discuss the issue of diving. "Diving in football is socially acceptable whenever it is perpetrated by one's own team, which is half the time. There is no sense of shame, no moral guilt, no proper consideration of its insidious impact on the wider integrity of the sport. It is something to get away with; something to be nodded and winked at. It is something with which we all connive — players, managers and fans."
The Daily Mail try to ramp up the diving controversy in an open letter in the pseudo-tabloid. "This newspaper believes this should only be the beginning in the war against cheating. Every player guilty of diving should receive the same punishment. If Eduardo is banned for two games, then Emmanuel Eboue's yellow card for a similar offence does not fit. A booking for one, a two game ban for another? Double standards."
The transfer window has finally slammed shut, and it seems that a host of Premier League clubs were left unsatisfied by their purchases.
For Jason Burt, "David Bentley stayed at Tottenham Hotspur; Anton Ferdinand stayed at Sunderland; David James stayed at Portsmouth. It was a transfer deadline day of what nearly happened in the Premier League." Jim White was left to draw comparisons with this time last year. "Last year, the deadline day of all deadline days, when Sir Alex Ferguson was chauffeuring Dimitar Berbatov from Manchester airport even as Manchester City were swishing Robinho from under the snouts of Chelsea. Compared to that, David James not going to Spurs and Nicky Shorey having difficulty with his personal terms was hardly the material for a Bafta winning effort."
Despite the lack of excitement on the final day of the window, Nick Harris is quick to detail the vast sums of cash which has been spent by Premier League clubs over the summer. "Premier League clubs spent around £477m during the transfer window, according to calculations by The Independent. That figure has only ever been topped in one window, summer 2008, when the elite spent £500m. So much for the recession.
Jeremy Wilson looks for reasons as to why the transfer window was less active this summer than in days previous. "Industry analysts have also broadly explained the summer trends with reference to the prevailing economic climate in England, specifically the weakened value of the pound and the introduction of the 50p tax rate next year… it is easier for Spanish clubs to pay high salaries and this is reflected by the fact that La Liga now contains four of the world's five best-paid players in Kaka, Ronaldo, Messi and Zlatan Ibrahimovic."
Arsenal's lack of spending is chastised by Neil Custis in The Sun. "Nowhere among the Big Four has the investment been lower than at Arsenal. And it is surely no coincidence that Wenger's side have won no trophies during that time, as the Gunners strive to cope with the massive costs incurred by their switch from Highbury to the Emirates."
Wheeler-dealer Harry Redknapp was left frustrated by the final day of the transfer window, according to Mike Stafford. "Niko Kranjcar did join but Redknapp missed out on another Portsmouth player, David James, as well as the Sunderland central defender Anton Ferdinand, the West Ham United centre-half Matthew Upson and the Manchester City midfielder Martin Petrov. Redknapp had hoped to swap David Bentley for the Bulgarian."
Similarly, Russell Kempson explains how Portsmouth were left disappointed by their failure to attract all their targets. "Hart had hoped to add Amr Zaki… and Nicky Shorey, the Aston Villa left back, to his collection. However, Zamalek, the Egyptian club, would not release Zaki and the deal for Shorey fell through." That said, Simon Cass still makes the point that "in the six days since Sulaiman Al Fahim's proclamation that he had taken control of the club, Portsmouth have signed no fewer than eight players."
In the standout article of the day, The Independent put their neck on the line by predicting which of the summer sales will prove the best pieces of business. Sam Wallace writes, "with Thomas Vermaelen, Arsene Wenger seems to have struck gold. At £10m from Ajax he looks great value: a tough centre-half who also scores goals. He is uncompromising, aggressive and about £14m cheaper than Joleon Lescott. What's not to like?"
In an offbeat article, Rob Bagchi explains the lure of laughing at own goals following Abou Diaby's on Saturday. "Lapses make it easier to identify with players… [Frank Sinclair's] greatest effort, for Leicester against Middlesbrough in 2002, was a 35-yard blast past his own goalkeeper that put even Lee Dixon's long-range chip over David Seaman in the shade. Both were the equivalent of watching someone walk straight into a plate-glass door – the look of perplexity that precedes embarrassment, and the loss of dignity, is the root of slapstick comedy."
Lastly, we end with Neil Syson's EXCLUSIVE scandal in the The Sun which reveals that "Dimitar Berbatov has been threatened by a gangster for sending flirty texts to his lover, it was claimed last night. The £30million Manchester United striker allegedly made a series of great passes to model Nikoleta Lozanova, who was Playmate of the Year in his Bulgarian homeland in 2006."
---
GAMBLING CAN BE ADDICTIVE, PLEASE PLAY RESPONSIBLY