"With Rio Ferdinand's present groin injury physiologically linked to his longstanding back complaint, Ledley King is actually beginning to look the lesser risk for South Africa" – Ian Herbert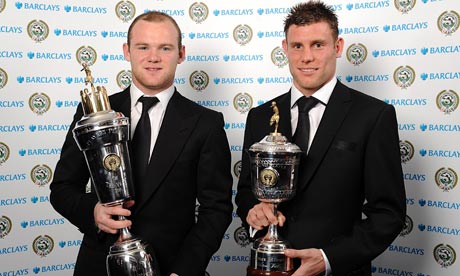 Comment & analysis round-up
Quote of the day: "The groin will be fine for the World Cup, there are no worries about that. I'm hoping to play for United in the last game of the season… It's a great feeling to win the player of the year award because it's voted for by the players. It's something I'm really proud of and it's a great honour. I remember coming here in 2005 and 2006 to win the young player of the year. I saw the players winning the main one and it's something I've aimed for since. Sir Alex is a great manager who has really brought me on as a player since I joined United. His hunger passes through to the players. It's great to see that he's pushing 70 and hasn't changed a bit. I'm sure he'll be here for a long time yet." – Wayne Rooney.
Runner-up: "The title is in our hands. Our destiny is in our hands, so now I am quiet and calm. Before every game you have pressure. That is normal, it is our job… I agree, it's ours to lose. But that's a good thing. To have a title in our own hands is a good thing. I think they [United] will be able to win their games. They have Sunderland and Stoke, and every game is a different story, but our aim is to win two games. I know that, if we win two games, we are champions." – Carlo Ancelotti.
Today's overview: Take that Manchester United! After the Red Devils saw off Spurs on Saturday, Chelsea regained the spotlight on Sunday with an incredible 7-nil thrashing of Stoke that has left no-one in doubt who this year's championship favourites are.
Seventh Heaven & the title race: Leading the Chelsea celebrations was Dominic Fifield. "Chelsea were utterly irresistible against Stoke, who wilted badly under a wave of home attacks. Frank Lampard swelled his tally for the season to 25 in all competitions with a brace, Kalou pilfered a hat-trick and there were further rewards for Florent Malouda and Daniel Sturridge. Ashley Cole completed 90 minutes in front of the England coach, Fabio Capello, with the splendour of the victory – Chelsea have scored 33 times in eight home matches in 2010 – banishing the memory of recent toils against Bolton Wanderers and Spurs."
James Lawton was the next to sing the Pensioners' praises. "Chelsea could hardly have done more to reassert their status as favourites. It was not just a matter of overwhelming a Stoke City team who had won much praise for their belligerence, their long throws and their undoubted fortitude away from their own ground. Such qualities shrivelled in the heat of Chelsea's effort, inevitably, because what we saw here was not merely a division of class but another concept, and another set of means, applied to the question of how you play the game."
With the World Cup very much in focus, Richard Williams cast his eye over the performances of Chelsea's Coles. "[Ashley] Cole's physical fitness was much in evidence in yesterday's first half, when he made several eager box-to-box runs and was always looking for opportunities in the inside-left position… On yesterday's evidence England will have a fully functional first-choice left-back in time for the opening fixture in South Africa… Chelsea's other Cole is a different matter. Ancelotti left his No10 on the bench until the 71st minute yesterday and Joe Cole's cameo appearance in Kalou's place on the right side of the attacking trio left mixed impressions."
Shifting conversation onto Manchester United, James Ducker praised Dimitar Berbatov's performance against Spurs but acknowledges that the striker may be sold this summer. "With Rooney's absence again in danger of being magnified, Berbatov decided to take it upon himself to impersonate the England striker… It may be too little, too late, of course. United are exploring the feasibility of offloading the player, ideally as part of a swap deal. Bayern Munich are said to be interested, while the prospect of Berbatov going to AC Milan and Klaas-Jan Huntelaar, the Holland striker, coming the other way cannot be discounted. "
Henry Winter tries to look at the big picture of the title race as a whole. "Hollywood would struggle to script a denouement like this Premier League title challenge. Showing next Sunday will be an action double bill: at 1.30pm Chelsea must hold their nerve at Anfield and then at 4pm Manchester United visit Sunderland. With two games remaining, Ancelotti's side are a point and a plus-eight goal difference ahead of Sir Alex Ferguson's. This is an epic race of Ben Hur proportions."
Race for Fourth: Alan Hansen argues that Tottenham should claim the final Champions League berth in the league. "Though both Spurs and Manchester City, their closest challengers, have the look of sides who could become realistic, regular challengers for both the top four and even the Premier League title over the next few seasons, at the moment it is Harry Redknapp's side who are the more impressive. They have the better players, the better team and their strength in depth is as good as there is in the league, Manchester United, Chelsea and Arsenal included. City have spent a significant sum to build a side, but they still seem a mishmash of talented players with not many who would qualify for inclusion in the very top bracket in world football."
Flipping to Liverpool, Kevin Gardside writes off the Merseysiders season and makes that case for Torres and Gerrard to jump ship. "Benítez is whistling in the graveyard with his claim that Torres is happy. He is 26, approaching his peak and not interested in pursuing the Europa League at a club for sale. His moment is now… Gerrard ran into United during an unprecedented period of plunder at Old Trafford, reprising in reverse the experience of his predecessor in the England boiler room, Bryan Robson, whose career crashed against the Liverpool rock two decades ago. Robson turned down Barcelona in 1983 and hung on for a championship medal 10 years later. Gerrard can't wait that long. It's time for Stevie G to bail out."
England's defensive problems: Should Ledley King make England's World Cup squad?
Giving the case for King's inclusion was Louise Taylor. "Capello would not normally contemplate taking such a crock to a World Cup but, with one good leg, King's peerless positional sense and ability to snuff out danger before others realise its existence might make him an exception… Should Capello's side reach the tournament's latter stages matches will begin arriving at more frequent intervals but, if King managed to propel England beyond the quarter-finals, his inclusion could arguably be deemed worthwhile. By then he might be considered as important to Capello's cause as the similarly weak-kneed defensive genius Paul McGrath once was to the Republic of Ireland's."
Sticking with the King debate, Ian Herbert reasons why the Spurs centre-half is perhaps a better option than Rio Ferdinand. "With Ferdinand's present groin injury physiologically linked to his longstanding back complaint, King is actually beginning to look the lesser risk for South Africa, given that a player who cannot train is a better option than one who cannot play. With breaks between fixtures, King can at least contribute to the group stage of the tournament."
Patrick Barclay also delves into the debate, wondering what England's defence should be in South Africa. "Let us assume that he envisages James in goal, Johnson at right back and a refreshed Ashley Cole at left back, flanking Terry. Who is the back-up for Ferdinand? Ledley King is so accomplished that he would probably have been in the side all along but for the knee problem that generally restricts him to one match a week with Tottenham Hotspur. So take him, you might say — to play once a week. The trouble is that World Cups, once you get past the group stage, are all about playing twice a week. Capello does have Matthew Upson, from whom a respectable performance is usually forthcoming. From Ferdinand or King he could get true class. So does he take both, with the option of alternating? Again, it is a matter of weighing risks, with the ideal of near-certainty conspicuous by its absence."
Sideways: After a weekend in which the internet was flooded by scurrilous and baseless rumours about Steven Gerrard's family life, Oliver Kay lets rip this Monday. "It seems that the English public is more than happy to believe anything about footballers these days. Perhaps that is the consequence of the John Terry affair, in which the kind of improbable scandal dreamt up by the scriptwriters of Footballers' Wives turned out to be true, but the most sickening thing about this latest sadistic rumour about another player is the unbelievable number of people on internet message boards writing things such as: "Please let this be true! LOL!" Please let this be true? Please let this decent man see his family life ripped apart because he happens to be a footballer playing for a club other than your own? Is that how far we have sunk? As a football-loving nation, have we actually reached the stage where we hate footballers?"
On a completely different tangent, Gabriele Marcotti details how Real Madrid's Kaka recently came under pressure for his absence due to a groin injury. "Rarely has a groin injury been subjected to so much scrutiny. Some suggested that Kaká, who is an evangelical Christian, refused treatment for religious reasons, thereby delaying his return… But that's the trouble with groin injuries. There are no X-rays or outward signs to serve as battle scars… Until science develops some kind of infallible diagnostic device, like the tricorder on Star Trek, we'll never feel fully comfortable when star players with no visible damage tell us they are unable to play. And we'll probably continue to employ a double standard in judging their honesty."
Managers on the move: Swimming against the tide, Martin Samuel makes the case why Jose Mourinho should avoid becoming Ferguson's successor at Old Trafford. "Ferguson's legacy in this instance must be daunting, even for Mourinho. No manager can trump the size of this creation, and Mourinho moulds dynasties as well as teams. He turned Porto into the greatest force in Portuguese football (frittered away in his absence), made Chelsea Manchester United's only viable opponents and should leave Inter Milan as a force in Europe once again. Clubs invariably become greater and more powerful for his presence, but what can he bring to Manchester United?"
Elsewhere, after months of speculation over his future the Daily Express today announce that "West Ham co-chairman David Gold wants Gianfranco Zola to continue as manager."
Recruitment Drive: Kicking off the transfer rumours is James Ducker, who gossips that "Harry Redknapp, the Tottenham Hotspur manager, wants to sign Craig Bellamy and Micah Richards from Manchester City and is preparing to make bids for both players this summer."
Next, the Daily Mail chug " West Ham defender Herita Ilunga is a £2m target for French side Paris St Germain," before also claiming that "Manchester United and Everton are monitoring highly-rated teenage Dutch winger Bob Schepers." The Daily Mail close their lies out with the news that "Liverpool are ready to pip Chelsea, Tottenham  and Arsenal  to the signing of Charlton teenager Jonjo Shelvey."
Lastly, Jeremy Cross delivers a scary article for Hull fans explaining why the club cannot sell Jimmy Bullard. "Hull's financial crisis is so bad that the relegated outfit cannot sell record signing Jimmy Bullard – because they haven't paid for him yet. The Tigers have debts of £36m and face financial meltdown in the wake of their pending relegation to the Championship."

Best football betting tips & free bet offers
Click here for more Premier League betting tips
---