"With his hunch-shouldered, scurrying style Tevez is the Latin Darren Huckerby. And that's an intoxicating prospect in any language" – Harry Pearson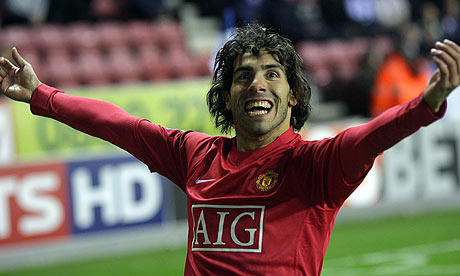 Comment & analysis round-up
Quote of the day: "It is easy to sit in the stand and say that they are not up for the fight, what they have done in this season in a negative environment shows what they can do. There is a massive difference between the away fans, who are absolutely fantastic, and the home ones. It is always that negative way of thinking, that the players do not care. If we do not get there next year then I am responsible and will stand up for it. But what this team needs is people who are fans of the club." – Arsene Wenger turns on his club's fans at the AGM yesterday.
Runner-up: "United have a strong team and a strong squad, which is important, but imagine if Gerrard and Torres had been fit all season. Where would we be now? It has been a good season, but you know it could be better." – Rafa Benitez.
Today's overview: As ever on a Friday it is a mixed bag with articles on Manchester United's title charge, the future of Carlos Tevez, Chelsea's new manager, the future of Anfield and Michael Owen's current dire form.
With Manchester United one point away from securing the title Oliver Kay pinpoints Federico Macheda's winner against Aston Villa and how that evoked memories of Matt Busby. "It was a goal that said much about United under Ferguson and, long before that, under Sir Matt Busby: a tendency to do things the hard way, a willingness to give youth its head and, above all, a commitment to attacking football that would often overwhelm opponents in the final moments of matches."
The Carlos Tevez saga continues, today The Sun wheel out Chris Heaton-Harris, president of the EU's powerful Sports Intergroup to urge the Argentinean to "Fight for freedom!" Daniel Taylor in The Guardian claims "Manchester United have told Carlos Tevez's advisers they still want to sign the Argentinian but that it might depend on them bringing down his valuation to a more affordable fee."
Whilst the Daily Mail exclusively report that "A formal offer for Carlos Tevez of £40million from Real Madrid has been rejected by the player. It proves how determined he is to stay in the Barclays Premier League. Last night, his owner Kia Joorabchian told Sportsmail: 'Carlos will decide on his future. Carlos Tevez will decide where Carlos Tevez will play.'" In a separate article the Mail feature Kia Joorabchian.
Harry Pearson attempts to describe the fascination with Carlos Tevez. "With his hunch-shouldered, scurrying style Tevez is the Latin Darren Huckerby. And that's an intoxicating prospect in any language. Somehow, though, you know that the more insistently United fans clamour 'Can we keep him, can we keep him, please, please, please!' and the more Tevez capers about trying his best to look like he won't pee on the best rug and dig up the prize pelargoniums, the more Sir Alex Ferguson will set his stony heart against the perky little scamp."
On Chelsea's search for a new manager, Oliver Kay writes "Chelsea are approaching D-Day in their attempt to make Carlo Ancelotti their next manager. The AC Milan coach will hold discussions over his future with Silvio Berlusconi, the Milan owner, on Sunday, with Chelsea preparing to turn to Frank Rijkaard as a fall-back option." Ian McGarry in The Sun is confident over Ancelotti, who "is expected to confirm tomorrow that he will take over at Chelsea in the summer."
Could Anfield be renamed? The lead article in the Independent suggests it could be, Ian Herbert writes: "Liverpool's main sponsor, Carlsberg, is ready to discuss the idea of a naming rights deal for the proposed new stadium at Anfield, as part of a renewed deal with the club. The Danish beer company, whose 18-year deal with Liverpool is the longest running in the Premier League, has offered the first indication that its widely known dismay at the in-fighting between club owners Tom Hicks and George Gillett has receded."
Gabby Logan writes of Michael Owen's struggles, "Watching Michael Owen make his way to the subs' bench on Monday night at St James' Park was a reminder of our mortality. His body is failing him, his ravaged hamstrings have left him unable to make the same dinky, darting runs and he's a bundle of frustration; he's not being given the service he'd like. Where does he go from here? Allegedly he would like it to be Manchester City, but he has played fewer games for Newcastle United than any club in his career, averaging 19 a season. Surely any prospective buyer would ask if he can get back to 40 games a season and give value for money."
Steven Howard in The Sun is also pessimistic about Owen's future. "Time appears to have caught up with Michael Owen — at just 29. One of the saddest sights in football has been the decline of a player who once seemed certain to break Bobby Charlton's England scoring record. As Newcastle continue their relegation fight against Fulham tomorrow, Owen cuts an increasingly peripheral and forlorn figure. A man without a smile, seemingly no longer enjoying the game and playing purely on memory."
Jim White hails Roy Hodgson as the real Premier League manager of the year. "The mark of a good manager is how he husbands his resources, and, gifted a budget about the size of the bill for car valeting at Old Trafford, Hodgson has been unimpeachable: his signing of Brede Hangeland and Mark Schwarzer has provided Fulham with the best value double act since Morecambe and Wise. And offloading Jimmy Bullard to Hull 45 minutes before he crocked himself must rank as the sale of the century." Duncan White in the Telegraph lists the 11 outfield players who have played every game this season. "Maynor Figueroa (Wigan) Another superb find for Wigan's scouting system – the Honduran has been the most consistent left-back in the league."
The main transfer gossip stories today, besides Carlos Tevez's future, include Didier Drogba to Manchester City, Emmanuel Adebayor to Chelsea, "the new Cesc Fabregas" joining Liverpool and that Manchester United are to see off Arsenal in the race for 16-year-old Le Havre starlet Paul Pogba.
Whilst the Daily Mail report that Martin Laursen will announce early retirement today.
There is also reaction to the European action in midweek. Barcelona's Copa del Rey win is heralded, Patrick Nathanson: "It wasn't just the scoreline that will have made an impression on Manchester United's watching scouts. El Mundo Deportivo wrote of a Barca display that left those present at the Mestalla Stadium 'open-mouthed' in amazement at a 'spectacular demonstration of just what this team can do'." In the Guardian, Raf Honigstein looks at the refereeing howlers that aided Bayern Munich and Ben Lyttleton looks at an intriguing week in Ligue 1.
Finally, from nowhere, Jonathan Wilson details the "forgotten story of England's first defeat on the continent."
Click here for more Premier League betting tips
---