Wishful Wednesday: Liverpool close in on Shelvey (Charlton), Wilson (Rangers) & Jovanovic (Liege) as Wolves target Spurs' Keane, Man City set for clear-out, Barca want Toon's Taylor & Real eye £30m Evra
Comment & analysis round-up
Quote of the day: "I'm not in favour of the big liberalism of what has happened with the English clubs. I'm not an expert of finance, but it was easy to understand that clubs like Portsmouth would be in big danger of going bankrupt and going down. We have to protect them. Why was this club winning [the FA Cup in 2008] with losses of £50 million? When I was younger, I remember seeing people with no money buy Ferraris — and then, because of the Ferrari, they would get the best girls! That's not correct, but it's what has happened in football: you don't have the money to buy the players, but you get the players and in the end you cheat and win the competition. That's not correct." – Michel Plantini.
Runner-up:  "For Inter it is a dream; for Barcelona it's an obsession. There is a difference. A dream is more pure than an obsession. For Barcelona it is an obsession called Madrid and Santiago Bernabéu. You can see it and feel it. I was here in 1997 and I lived a cup final at the Bernabéu between Betis and Barcelona. I understood it all. It seemed like we won the World Cup. To have a Catalan flag in the Bernabéu.. it's anti-Madridismo." – Jose Mourinho.
Today's overview: Once again there is plenty to gnaw on in the backpages today with reaction to Bayern's win over Lyon, assessments of Barcelona's match-up with Inter, and a long list of transfer stories with questionable evidential support.
Bayern win, Rangers celebrate: Bayern Munich's 3-nil humiliation of Lyon on Tuesday night had ramifications in Great Britain, as explained by James Callow. "Rangers will be granted a place in the Champions League group stages next season following Bayern Munich's aggregate win over Lyon. Uefa had reserved a berth in the group stages for the winner of next month's final, which neither Bayern nor the remaining semi-finalists, Barcelona and Internazionale, require as they have already qualified for next year's competition through their domestic league.  That place has now been passed to the Scottish Premier League… Bayern's victory is a significant boost for Rangers, whose parlous financial position could be eased by the guaranteed revenue from a minimum six televised games."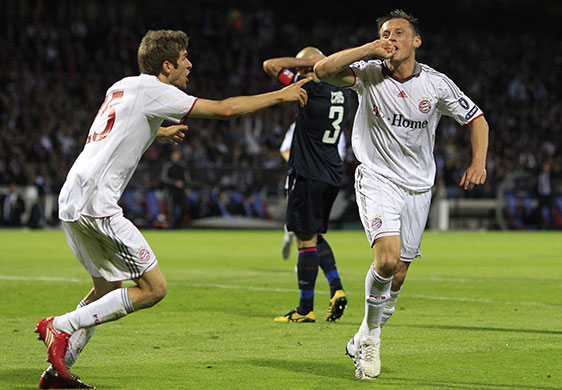 On Bayern's victory itself, Matt Hughes praised Munich's hitman Olic. "With their proud history, the magnificent Allianz Arena and domestic dominance, Bayern consider themselves one of the world's leading clubs, and they have the chance to prove it after a stunning hat-trick from Ivica Olic, whose bustling style encapsulates many of their better qualities. With his stocky frame, work ethic and rough-and-ready looks Olic is the Carlos Tévez of the Balkans, but he can also play, as he demonstrated with his clever build-up play and magnificent finishing. His first goal killed off the tie and he then showed a sadistic pleasure in twisting the knife."
Mark Fleming also jumped on the Olic bandwagon. "The gulf in the sides was represented by Olic's goals – with his right foot, his left foot and his head. His ungainly style belies a wicked eye for goal, as his return of seven goals in the Champions League this season testifies. Quite a record for a player signed on a free transfer from Hamburg last summer."
Barcelona vs Inter: Setting the scene ahead of Wednesday night's mouthwatering Champions League semi-final was Richard Williams. "A feeling that nothing is beyond Guardiola's ensemble of artists is balanced by the knowledge of Mourinho's approach to matches of such intensity."
The feeling that Barcelona have enough in their locker to overturn their 3-1 deficit is continued by Matthew Syed. "The question is whether Guardiola can find a way to puncture Inter. Will Messi and Co be able to evoke the aesthetic dimensions that thrilled so many of us during the destruction of Arsenal? Or will they be nullified by another swashbuckling performance by an Inter side moulded into a European force by Mourinho? These questions are urgent and, even for neutrals, intriguing.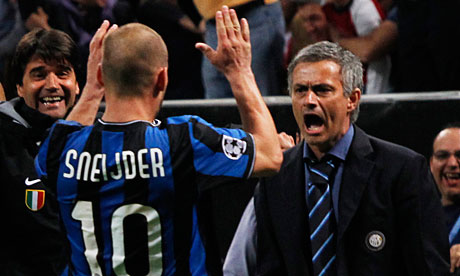 Greatness is already a term that is aptly justified in relation to this Barcelona team, but a victory against Inter, against the odds and the evidence of the first leg, would grant them — and their coach — a new kind of immortality."
Widening the discussion, Matt Dickinson explores how Mourinho's mind games has Barcelona in a bind. "It is a nightmare scenario for Barcelona, where they are still stewing over the first-leg defeat. Mourinho's tendency to Machiavellian antics has provoked all kinds of rumours. Attention has been drawn to the unusual appearance of Luís Figo on the bench at San Siro — on a night when the match officials happened to be Portuguese. Rather more far-fetched was the allegation in one Catalan paper that Mourinho co-owns a restaurant with Olegário Benquerença, the referee from that first game. "Where is this restaurant?" Mourinho asked yesterday, although he cannot deny that his team did well out of the big decisions in Milan."
How will Inter Milan deal with Leo Messi?
Alan Smith delivers his tactical assessment. "Messi might begin in a central position but if he starts on the right, as he did at the San Siro, then Inter's left-back, the ageless Javier Zanetti, will be keen to prevent his compatriot from turning. And on the occasions that he can't, Zanetti is likely to show Messi inside. That might sound suicidal given the devastating power of Messi's left foot, but it isn't so stupid if everyone else is prepared for the move."
Finally on this topic, Martin Samuel swims against the tide by arguing that Barcelona are not all that special. "Barcelona are a fine football team, but that is all they are. The club are no better than a great many of the wealthy and powerful, and a lot worse than some. They are not so high-minded that they desire an even playing field. Give them a trophy, yes, but not a halo. Yet already, Inter's win in the first leg has been reinvented as a triumph of brawn and intellectual pragmatism over beauty and high ideals. It is forgotten that the Italians were the better side, Barcelona scored against the run of play and only got into the game when chasing it, desperately, in the last 15 minutes."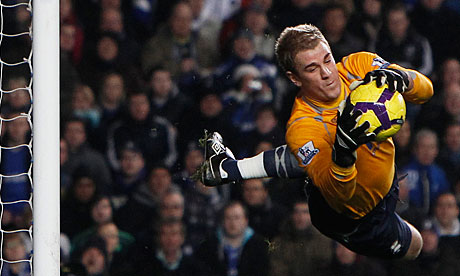 The Hart Bypass: So, with Shay Given out with a dislocated shoulder, Manchester City have been refused permission to recall Joe Hart for Birmingham. But they have nevertheless brought in a new shotstopper (even though they have four available keepers on their books).
Surveying the latest developments is Paul Wilson. "Manchester City were left seething after a late Premier League ruling left them unable to call back their own player as an emergency goalkeeper. The league, while sympathetic to City's plight, felt too many complications and unwanted precedents would arise were Joe Hart to be allowed straight back to Eastlands from his season's loan at Birmingham City. Sunderland's Marton Fulop will commence training with Manchester City this morning after Sunderland and the league acquiesced to Roberto Mancini's appeal for an emergency goalkeeper."
According to James Ducker though, the decision of Joe Hart to stay in Birmingham was a financial one and not related to any FA policy. "With Birmingham understood to have been demanding a compensation package that could ultimately have totalled close to £3 million, City pulled the plug after hours of talks between Garry Cook, their chief executive, and Peter Pannu, the Midlands club's vice-president."
Fleshing out the story further is Sam Wallace. "Hart is understood to be disappointed that he will not have the chance to play in three high-profile games against Aston Villa, Tottenham and West Ham in place of Shay Given, who undergoes surgery on his damaged shoulder in London today and faces four months on the sidelines. The Birmingham manager, Alex McLeish, who was aware of Hart's desire to compete for a place in Fabio Capello's World Cup squad, is understood to have softened in his stance on the issue."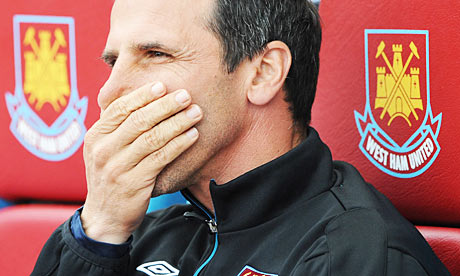 Zola Bursts Bubbles: For months now we've read stories about how West Ham's owners planned to get rid of Gianfranco Zola at the season's end, but now it seems that the tables have turned.
As reported by Dominic Fifield, "Zola is set to leave West Ham United at the end of the season but intends to sit down with the owners to secure a dignified, negotiated exit with a payoff rather than quitting as manager… [Zola] is deeply frustrated by Sullivan's comments that all of the squad, bar the midfielder Scott Parker, will be available for sale this summer."
Muddying the West Ham waters is Jason Burt, who outlines a bitter breakdown between Zola and owner David Sullivan. "Zola has long grown tired of Sullivan's apparent interference and is certainly assessing his options. He considered quitting once West Ham were safe but there now appears to be a stand-off developing between the two men with Zola understood to believe that if he does simply walk – as his instinct has told him to do – he may be doing what Sullivan wants… It means that Zola may now stay and force Sullivan to pay up the remainder of his £1.9million-a-year contract which has two years to run."
Paying for Transfers: In response to the terrible financial problems football has witnessed in the last 12 months in England, new measures are now being considered for how transfers are to be conducted in England.
Jamie Jackson reports that "transfer payments are currently scheduled over the course of a player's contract, which usually ranges from three to five years, in line with practice across Europe. The proposal on the table for discussion at the AGM, which will be held in the first week of June, will suggest that 50% of the fee must be paid on the player signing with the remainder due within 12 months."
Transfer News: We end off with the latest transfer gossip.
Liverpool's recruitment drive is now in full swing, Oliver Kay detailing that "Liverpool secured a projected £3 million deal to sign Jonjo Shelvey, the Charlton Athletic and England Under-18 midfield player… The club are also in advanced discussions over Danny Wilson, the highly rated 18-year-old Rangers central defender, and are expected to proceed with the deal they have agreed to sign Milan Jovanovic, the Serbia forward, on a free transfer when his contract with Standard Liège expires at the end of June."
Staying with Liverpool, Sam Wallace updates the Benitez-to-Juventus situation. "The attitude of the Liverpool hierarchy towards Rafael Benitez is that they will not stand in his way if the well-trailed offer from Juventus is finally put to their Spanish manager, but both parties regard that situation as still a long way off."
According to Simon Cass, David James is set to be axed from Portsmouth because they cant afford to keep him. "West Bromwich are keen on signing him, while Birmingham could also make a move. And there could be a vacancy at his former club West Ham if James's rival for the England jersey, Robert Green, is sold."
The Daily Mail continue their evidence-less gossiping today with a heap of transfer toss.
After announcing that Wolves hope to secure a year long loan deal for Tottenham's Robbie Keane, we also are told that Everton have emerged as favourites to beat Fulham to the signature of Paul Scharner, while "Manchester City and Aston Villa are competing to sign £5m PSV Eindhoven defender Stanislav Manolev."
Not done, the Daily Mail continue to report "Kasper Schmeichel has agreed terms to tear up his contract at Notts County at the end of the season sparking a transfer scramble including Birmingham and Tottenham… Tottenham, meanwhile, are also showing interest in Genoa's £4m-rated Italy goalkeeper Marco Amelia." While in a never-gonna-happen story they end off farting "Luca Toni has put Manchester City and West Ham United on alert by admitting he is likely to be looking for a new club in the summer."
The Sun also get in on the act, with Neil Custis splashing with news that Manchester City "boss Mancini wants to sell Emmanuel Adebayor, Shaun Wright-Phillips, Wayne Bridge and Stephen Ireland."While those players are deemed surplus at Eastlands, almost crazily Mark Irwin farts "Patrick Vieira is staying at Manchester City. The Frenchman's attitude and professionalism have convinced boss Roberto Mancini to take up the option of an extra 12 months on his £140,000-a-week contract."
Elsewhere, Shaun Custis claims "Birmingham will make a £5million move for Ben Foster – if they cannot get Joe Hart back next season," while it is also reported that Stephen Hunt will swap Hull for Wolves in a £4m deal.
Rounding off the lies are the Daily Mirror, for whom Simon Bird crashes in with sensational news that "Steven Taylor has caught the eye of Barcelona who are ready to make a summer move for the England Under-21 defender…Newcastle will reject the chance to take Carles Puyol as part of any deal because of his age and wages."
Overpriced, Alan Nixon claims "Sunderland boss Steve Bruce is ready to make a £5million bid to make Alan Hutton's move to Tottenham a full-time stay." And David Anderson ends with news that "Real Madrid are lining up a £30million summer swoop for Patrice Evra."
Click here for more Premier League betting tips
---