Wilshere injured, Modric eyes Man United move & can Barcelona turn it round v AC Milan?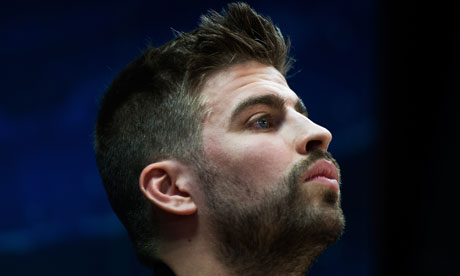 Comment & analysis round-up
Quote of the day: "If anyone doesn't think we can win, they should give their membership card to a friend who will come and support us. I was looking at the league table earlier and we've scored more goals than anyone else, something like 20 more than the team in second place. If there is one thing that this team does not lack it is goals. We know it is Milan that stand before us, a great side, and small details may decide the tie, but I am convinced that we will have chances. If the fans do not believe in us, I would say to them: look at the last four or five years, or even the last 20 or so. For 90 years this was a club that never won anything, then Johan Cruyff arrived [in 1988] and changed our history. Then [Franck] Rijkaard, then [Pep] Guardiola and Tito [Vilanova]. You have to have faith in this team. People seem to have short memories, they don't seem to realise that we can do this … and more." – Gerard Pique.
Runner-up: "The difference between the clubs was enormous. Arsenal were not brilliant because they never had chances. Bayern was the owner of the game and the first goal changed the situation. Now Arsenal will have to show a strong reaction and, even though we are very confident, we know they will try to show some pride and play well. But if we don't obtain qualification it will be a disaster. That would be the biggest failure of the season." – Phillip Lahm.
Can Barcelona turn it round?
Barcelona need a comeback of Pichi Alonso proportions against Milan (Sid Lowe, Guardian) In the aftermath of Barcelona's 2-0 defeat at Milan, Xavi Hernández was putting on a brave face. "The one thing that is missing for this generation of players is an historic remontada," he said. A remontada is a comeback; the trouble is, it's not really Barcelona's thing. It is Real Madrid who have made a very public virtue out of the remontada, starting when they beat Derby County 5-1 back in 1976, having lost 4-1 in the first leg, and becoming a regular occurrence during the mid-1980s. And yet the task before Barcelona on Tuesday night has been achieved before. They have never overturned a 2-0 first-leg lead, as they must do now, but they have gone one better and come back from 3-0 down three times: in the 1977-78 Uefa Cup against Ipswich, in the 1978-79 Cup-Winners' Cup against Anderlecht and most famously and dramatically of all in the European Cup in 1985-86.
La Liga: When does this Barça dip turn to crisis? (Pete Jenson, Independent) Tito Vilanova's absence through illness has coincided with the relatively poor recent run of form with six wins, three draws and four defeats in the last 13 games. There are good intentions in the home dugout as every match-day they leave the recuperating coach's seat free. But the unoccupied place next to stand-in Jordi Roura (below) has also served to reinforce the idea that the coaching team is weakened; that no one has stepped in to replace the temporarily unavailable Vilanova; and that the side is missing a leader.
Barcelona defender Gerard Pique insists team will turn it around against AC Milan and urges fans to keep faith (Ian Chadband, Daily Telegraph) When a potential calamity beckons – and Barcelona failing to overturn Milan's 2-0 advantage would be considered nothing less here — it is time for leaders to front up. That is exactly what Piqué did as he cut through the gloom that has been pervading Barcelona and declared his conviction that the team would achieve a historic comeback triumph for the supporters, for the city and for an absent friend, manager Tito Vilanova, who is seriously ill with a tumour. And if anyone did not believe, the defender wanted them to know where they could go. "Any fan who doesn't think we can turn it around should give his ticket to someone who does," boomed Piqué.
Modric eyes Manchester United move
Modric eyes move to Manchester United… just days after sending them packing in the Champions League (Ian Ladyman, Daily Mail) Manchester United's Champions League heartbreaker Luka Modric still has his heart set on a move to Old Trafford.
Real Madrid star Modric smashed in a wonder goal to help the Spanish champions beat United on a controversial night of European drama in Manchester a week ago. Now it has emerged that the 27-year-old Croatian midfielder still harbours dreams of a move back to the Barclays Premier League with United. Modric was high on the wishlist of United boss Sir Alex Ferguson two summers ago as he tried to replace Paul Scholes. But United were put off by the prospect of another summer of haggling with Tottenham chairman Daniel Levy, with whom they clashed over the purchase of Dimitar Berbatov in 2008.
When will the Chelsea-Manchester United replay be?
Chelsea may have to play three games in five days as fixture crisis mounts (Paul Kelso, Daily Telegraph) Chelsea face Steaua Bucharest in the Europa League on Thursday at Stamford Bridge needing to overturn a one-goal deficit from the first leg in Romania last week, and the FA will wait until after the game before deciding when to schedule the fixture. Should Chelsea be eliminated the replay will be held in the first week of next month, after the round of Premier League fixtures that follow the international break. That is also the most likely timing should Chelsea go through, though with the Europa League resuming that week there may be no option but to squeeze the FA Cup replay in on a Monday or Tuesday ahead of the Thursday night European game.
Wilshere out of Bayern clash
Wilshere in race to be fit for England after being ruled out of Arsenal's showdown with Bayern (Sami Mokbel, Daily Mail) Jack Wilshere could miss England's crucial World Cup qualifying double header against San Marino and Montenegro. Arsenal's brilliant midfielder is out of Wednesday's Champions League trip to Bayern Munich after failing to recover from the ankle injury he collected in the 2-1 defeat by Spurs nine days ago. He will be left behind when the team flies to Bavaria today, and is not expected to recover in time for Saturday's vital trip to Swansea. That puts England boss Roy Hodgson on a collision course with Gunners manager Arsene Wenger yet again over picking the 21-year-old for his country.
Jack Wilshere injury sets the alarm bells ringing at Arsenal and the Football Association (Henry Winter, Daily Telegraph) Just when Arsène Wenger was contemplating whether the in-flight entertainment on Arsenal's plane to Munich on Tuesday could be Against All Odds it seems that Mission Impossible is more suitable after all. Wenger expects to be without Wilshere against Bayern on Wednesday, depriving Arsenal of their strongest character, their boldest player, a warrior who would have believed they could breach one of Europe's finest defences three times. Even acknowledging that Tomas Rosicky could be a decent understudy, the trip now feels even more of a tourist excursion for Arsenal fans. Let them eat Apfelkuchen. They will not be tasting further delights in the Champions League.
Lukas Podolski linked with Juventus & Atletico Madrid
Pod Off (Charlie Wyett, Sun) Arsenal face a summer fight to keep hold of Lukas Podolski. Juventus and Atletico Madrid are both interested in signing the Germany striker — less than a year after he arrived at the Emirates for £10.9million. Podolski, 27, is set to miss Arsenal's Champions League clash with his former club Bayern Munich tomorrow because of injury. He started — and scored — in the 3-1 home defeat to Bayern but has fallen out of favour with boss Arsene Wenger and his previous three Premier League appearances have been from the bench. Yet Podolski has scored 13 times this season and Juve are leading the chase, believing he would agree a move to Serie A in a deal likely to cost about £15m. They would certainly have to bid more than the sum Arsenal paid Cologne and Juve would comfortably be able to beat his current weekly wages of £100,000.
Arteta interview
Mikel Arteta interview: Arsenal's season is just not acceptable, we can't be in this position (John Cross, Daily Mirror) Mikel Arteta has admitted Arsenal's season has been "unacceptable" by their own high standards. In a rallying cry ahead of their 'mission impossible' Champions League last-16 second-leg trip to Bayern Munich, and with a place in the Premier League's top four to fight for, Arteta insists there is still time for the Gunners to turn their fortunes around. Arteta claims Arsenal can show their never-say-die spirit against Bayern and believes a top four finish is still within their grasp after a "crazy" roller-coaster season. And just as important, Arteta is convinced the Gunners are not far away from a new era of success. "After winning, it's hard to go to not winning," said Arteta. "There's only a few trophies: after the championship, the FA Cup, the Champions League. There are so many clubs, so much competition, it's tough.
Reading sack Brian McDermott
Another owner hits the panic button with the prospect of missing out on the £100m Premier League windfall looming (Neil Ashton, Daily Mail) Last night, with his career at Reading over after nearly 13 years, he was said to be 'distraught'. McDermott has gone because next season Premier League clubs will share £3bn in domestic TV money, a 70 per cent increase on the previous contract. When the overseas TV deals are finalised, a place in the Premier League will be worth around £100m a season. It's the reason Zingarevich (below), who assumed full control of the Royals after McDermott led them to promotion in the Championship, has panicked. Being fired is a peril of management and the emotional attachment towards McDermott means nothing to the owner when it comes to the riches on offer in August.
Madness of McDermott sacking (Andrew Dillon, Sun) Brian McDermott was last night axed by Reading — just 33 days after he won January's Manager of the Month award. No wonder Royals fans call the Madejski Stadium the "Mad Stad" following another bonkers Premier League sacking. McDermott, 51, had devoted 13 years to Reading in numerous roles and took over as caretaker boss in December 2009 before landing the job permanently just over a month later. Last season he guided the Berkshire club into the top flight for only the second time in their history. An amazing run of 15 wins in the last 17 matches saw them go up as Championship champions.
Di Cano in the frame
Talking Italian: Paolo Di Canio 'in discussions to replace sacked Reading boss Brian McDermott' (John Cross, Daily Mirror) Paolo Di Canio is desperate to play Russian roulette with his managerial future – by going for the vacant job at joint-bottom Reading. Di Canio is understood to have had talks with the Premier League relegation candidates on Monday. Brian McDermott was ruthlessly axed on Monday following Saturday's home loss to Aston Villa, which left the Berkshire club level on points and goal difference with last-placed Queens Park Rangers. The Italian, who quit League One side Swindon last month, was at Reading's game with Villa.
Reading sack Brian McDermott with Paolo Di Canio favourite to take over (Ewan Murray, Guardian) Di Canio holds obvious appeal because he is currently out of work after quitting Swindon, whom he led to promotion from League Two as champions in April. The Italian has also been linked with a possible return to West Ham United should Sam Allardyce not extend his contract beyond this summer but it is his choice of weekend match venue which has triggered fervent Reading speculation. Di Canio's only management experience is his spell at Swindon and he left them well placed to earn a second successive promotion. Other names linked with the Reading post include Nigel Adkins, and Roberto Di Matteo. The situation regarding Adkins, however, is complicated by the fact he is not yet thought to have agreed a settlement over compensation with Southampton, who sacked him in mid-January.
Gazza on Moat madness
A fishing rod and a chicken for Moaty… what was all that about? (Sun) Paul Gascoigne yesterday recalled his bizarre bid to "help" killer Raoul Moat with a fishing rod, lagers and chicken. The alcoholic England legend — now home after five weeks in a US rehab clinic — stunned cops surrounding crazed Moat when he arrived at their cordon at the night-time climax of a 2010 manhunt. He was convinced he knew their target from the days when the gutless gunman worked as a bouncer. But Gazza, 45, now admits his eccentric actions were a vivid example of the drink problem that landed him in rehab and within a whisker of death.
---