"Why do clubs use [agents]? Because they have become lazy. Rather than scout out talent, they wait for agents to bring it, promising to ward off competition in exchange for a fat fee" – Patrick Barclay
Comment & analysis round-up
Quote of the day: "Hopefully we can have good news on Monday. [Jimmy Bullard] lives and breathes football. It's his life." – Phil Brown.
Runner-up: "Partly it was the frustration of not having scored as many goals as he'd have liked. And maybe he reads too many of these blogs that people write in to. Our fans in the Hammersmith End actually constantly chant his name. But these people who write into the club's blogs, they're the real experts and they want something that he's not been able to give them, ie 30 goals a year. But he has been a key player for us. Just a very good player." – Roy Hogdson on why Bobby Zamora was clearly seen mouthing "Shut your f***ing mouths" after scoring against Sunderland.
Today's overview: Where is the Christmas spirit at Stoke?
Stuart James lifts the lid on an alleged bust-up between the Potters. "Tony Pulis was involved in a row with James Beattie in the dressing room after yesterday's defeat at Arsenal which is understood to have led to the Stoke City manager and former England striker exchanging blows before a member of the Premier League club's backroom staff intervened. The alleged argument is believed to have started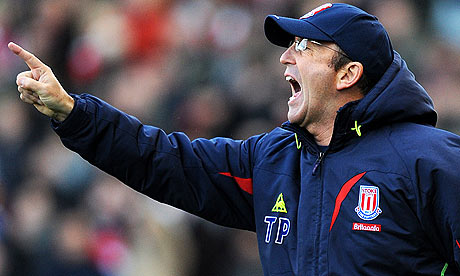 after Pulis ordered the players to report for training [on Sunday], prompting Beattie to object after it had previously been agreed that the first team would not be required to come in until Tuesday because they were due to go out in London last night for their Christmas party."
Adding fuel to the fire, Matt Lawton scribbled "Beattie, sources at Stoke have told Sportsmail, believes he was the victim of an unprovoked attack – Pulis is alleged to have tried to butt his star striker – after an argument about the players' Christmas party."
Its a case of reporting on the walking wounded for John Stanton, as the scribe details how Michael Carrick is set to be used as an emergency centre-back alongside Nemanja Vidic against Wolfsburg in the Champions League while "Wenger, meanwhile, is 'devastated' at the news that Tomas Rosicky could be out for a month with a groin injury."
Homing in on United's tactics at Upton Park, Russell Kempson analysed that, despite the shuffling of the troops the players coped admirably. "Crazy, mixed-up formations, from start to finish. Square pegs in round holes, a mish-mash of needs-must choices from Ferguson, forced by his lack of fit defenders. Yet did anyone notice? United toyed with West Ham, edged ahead on the stroke of half-time and then pulverised them into submission."
Looking at the broader picture for Manchester United, Alan Hansen doubts whether the kids are alright at Old Trafford. "Sir Alex Ferguson knows it will be impossible to replace Paul Scholes, Ryan Giggs and Gary Neville at Manchester United, but what will scare him most is the prospect of the three of them going at the same time… United have some good youngsters coming through, however. Jonny Evans looks a great player, the real deal, and somebody who will go right to the very top, while Darron Gibson has had a good week, scoring three goals in two games. Three goals in a week means nothing, though. He has promise and potential, but the time to judge him is after three seasons rather than one week."
Flipping back to Arsenal, Jeremy Wilson details how the Gunners may be looking seriously at signing Ruud van Nistlerooy. "A succession of possibilities were duly played down [by Wenger]. Inter Milan's Mario Balotelli? Not interested. Bordeaux's Marouane Chamakh? Not available. Wolfsburg's Edin Dzeko? Too expensive. Next up was Ruud van Nistelrooy. Wenger hesitated, looked slightly uncomfortable and then, rather than answer the question, joked about past controversies involving Arsenal and the Dutchman. 'It would not be the best of starts, bearing in mind our past relationship,' he said, grinning broadly… it is understood that Wenger is giving genuine consideration to Van Nistelrooy."
Cold water is poured on the Van Nistlerooy-Arsenal link by John Cross. "Arsene Wenger has laughed off an emergency move for Ruud van Nistelrooy – but says he needs a Christmas miracle to solve his striker crisis… The Gunners boss could not hide his amusement at the prospect of signing a player who is still public enemy number one among Arsenal fans."
Reviewing Everton's remarkable 2-all draw with Spurs on Sunday, Matt Hughes spells out the missed opportunity by Tottenham to claim the victory. "This was a match that Tottenham should have won and the type of game that must yield three points in the future if they are to maintain a Champions League challenge, given their modest record against the competition's established entrants… Defoe's poorly struck penalty will command most attention, but more worrying for Harry Redknapp, and indeed Fabio Capello, was the earlier chances missed from open play. Defoe and Peter Crouch were culpable on several occasions in a show of profligacy that explains Capello's continuing reluctance to play either from the start."
Patrick Barclay begins the new week with a tirade again the institution of agents in English football. "No club should ever need an agent. If Manchester City, with their wealth of inexperience, require advice on which players to sign, they should ask their manager and, if he doesn't know, find one who does, or can operate with a knowledgeable director of football. It is more complicated and expensive — City's outlay on agents over the year was £13 million — only because clubs make it so… [Why] do clubs use them? Because they have become lazy. Rather than scout out talent, they wait for agents to bring it, promising to ward off competition in exchange for a fat fee."
World Cup fever remains in the papers, and Jason Burt announces that "England are considering playing Mexico in their final home friendly at Wembley in May before heading off for the World Cup finals. If the fixture cannot be arranged they will probably face another Central American nation, Honduras."
Delving into the specifics of who'll make England's squad, Sam Wallace details the implications of picking Beckham. "To get Beckham in the squad would mean breaking the old rule of two outfield players for every position. To accommodate him, Capello would have to pick two from Aaron Lennon, Walcott and Shaun Wright-Phillips and probably dispense with one of his back-up full-backs – maybe Wayne Bridge – in favour of a utility man like James Milner who can give him cover in that position."
Beckham remains a central figure this Monday as Martin Samuel makes the case for Goldenballs to lead England's 2018 bid. "Beckham was magnificent in South Africa. He put in the hours, worked the room like a pro. He changed outfits three times on Friday, so he always looked sharp. He even turned up with a haircut like a Piccadilly postcard punk and pulled it off.  Jack Warner of Trinidad and Tobago has to take a cold shower at the mention of his name, Milan loves him, so too Madrid, not to mention his fans in the Far East. Even his move to America was a penalty shoot-out away from glory."
Turning to Italy, Gabrielle Marcotti tries to understand why Inter's Mario Balotelli is subjected to so much abuse. "Balotelli's behaviour clearly does him no favours and, everywhere you turn, pundits and players are urging him to "mature". But "mature" into what? We can all name footballers who are now model citizens but, at the age of 19, got drunk, crashed sports cars, made sex tapes, regularly took dives and wound up opponents. They did not get the treatment Balotelli gets. But then they are not 'very black' in a nation that still thinks of itself as 'very white.'"
In the transfers, Alan Nixon reels off the claim that "Birmingham City boss Alex McLeish is ready to swoop for Fulham left back Paul Konchesky and pull off a £750,000 raid in the transfer window." Nixon goes on to claim "Tottenham boss Harry Redknapp is in a transfer battle to sign Ivory Coast striker Seydo Doumbia – with German side Hoffenheim making a £8 million bid for him to sign immediately."
Lastly, Harry Pratt farts "Arsenal are chasing Barcelona striker Bojan Krkic after being priced out of moves for a number of top targets."
---
GAMBLING CAN BE ADDICTIVE, PLEASE PLAY RESPONSIBLY