Why did the FA treat Chelsea's John Terry more leniently than Liverpool's Luis Suarez, Arsenal's ticket price hike & Leeds' buyout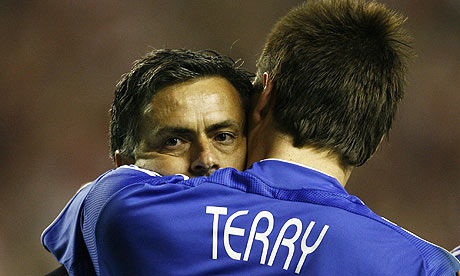 Comment & analysis round-up
Quote of the day: "[John Terry] is not a racist – that's 100%. We had a squad where we had 12 African players in the squad. It was a fantastic squad and he always had a great relationship with every one of them. But in football it can happen during a match, because football sometimes is more than a game and sometimes you have reactions that don't represent what you are really. Probably he had a racist comment or attitude against an opponent. Sometimes in football we do things the wrong way. If he had that reaction, he should pay – but please don't say he's a racist. (Didier) Drogba, (Claude) Makelele…all of them will say he's not a racist. I never felt it (racism) in my dressing room. And I have always had African players in every one of my teams." – Jose Mourinho.
Runner-up: "My main concern is that we have not had the rub of the green. I rang Mike and he was probably expecting me to call a bit earlier. I have seen lots of decisions go against us. I'm still waiting for the assessor from the Manchester United game to call. It is just something that I feel is important – that we are not getting targeted. It is important that referees understand we have real honest players. Luis [Suarez] is a wonderful talent. If he goes down in the area, it is a penalty. But from what I have seen so far, it looks like he is not going to get a decision." – Brendan Rodgers.
John Terry: GUILTY OF RACISM
John Terry will find the stigma of racism sticks like a tick to a dog (Daniel Taylor, Guardian) There has actually been a great sense of anger and revulsion within the game about what Terry said to Ferdinand when Chelsea played at QPR last season. Some of Terry's England colleagues have had to blank it out. At least one is understood to have confronted him… Chelsea have a strong and successful anti-racism campaign and, if they turn a blind eye now, when the football authorities are telling them Terry is guilty, it would send out completely the wrong message. As it is, a ban of only four matches has done that itself.
JT's £800k legal bill (Rob Beasley, Sun) John Terry faces a mega £800,000 bill over the Anton Ferdinand race row. And Chelsea will not pay a penny of it… He copped a four-game ban and an FA record £220,000 fine. But that is only a fraction of the sum Chelsea's captain spent fighting his case. Terry, 31, has run up legal fees estimated at £750,000 battling his criminal and FA charges. He hopes to recoup around £400,000 from the court case, where he was found not guilty. But the ex-England skipper is now liable to pay the costs of the FA hearing, too, said to be at least £200,000. That brings his total bill to a whopping £770,000.
The pariah: Terry faces uncertain future after FA find him guilty in Ferdinand race case (Mail) John Terry's future is shrouded in uncertainty after he was banned for four matches by the FA and fined a record £220,000 for racially abusing Anton Ferdinand. Terry expressed his 'disappointment', claiming the  verdict went against his acquittal at Westminster Magistrates Court in July. But the FA's independent four-man panel left a significant stain on an already battered reputation. Terry has lost the England captaincy, chosen to retire from international football and seen major sponsors desert him.
Terry, captain, leader, legend… outcast? (Neil Ashton, Mail) For a player of his character and commitment, it is customary for him to be in the team. He is the captain, leader, legend, remember. But Terry's influence at Chelsea is on the wane. He's no longer the powerful voice who once had a vice-like grip on dressing room matters. Bit by bit, Roman Abramovich is breaking up the team who won three Premier League titles, four FA Cups and finally, last May, the Champions League. Oscar, Eden Hazard, Juan Mata, Ramires, Victor Moses and Lucas Piazon are the new breed and gone are the days when Terry was the ring-master, organising karting days and paintballing trips 'for the lads'.
Loud and clear: First Suarez, now Terry – FA show there is no room in the modern game for racism (Ollie Holt, Mirror) If the FA are to make real progress in the battle against racism in the game, they have to tackle far deeper issues like the under-representation of black managers, directors and administrators.
John Terry will be remembered for three words rather than Three Lions.. and he only has himself to blame (Robbie Savage, Mirror) Terry has always protested his innocence, both in a court of law and at the FA hearing, by disputing the context in which he used those three words. Maybe I'm naive, but I can't think of a single context where it is excusable for a player to use those three words – even in a question – on the pitch. And they should NEVER come from a serving England captain, a role model to millions of kids, in a game shown live around the world on TV. The bottom line is that those three words don't belong in football.
Where Now For John Terry?
John, don't fall into Suarez trap… just say sorry (Martin Samuel, Mail) He now has two choices. He can say sorry, try to move on and hope that others will let him; or he pick at this like a festering sore until it risks  poisoning his entire system. This is known as the Luis Suarez option… Terry could appeal on the grounds that article 6.8 of the FA Rules and Regulations suggests his case should not even have been brought, once he was found not guilty in Westminster Magistrates Court. That was his strongest argument legally, and it was ignored. Terry may now be advised that a higher court, perhaps the Court of Arbitration for Sport in Lausanne, would take a more sympathetic view. Yet what if it did? What would then be proved?
John Terry should say 'sorry' to underline meaning of football role model (Paul Elliot, Telegraph) It would be very positive for John Terry to show the same on-field leadership by playing his part in the rehabilitation of English football. As we've seen Suarez swallow his pride, so we need to see the same moral strength from Terry and I believe it should supersede any injustice he may feel. That would send English football's positive message to millions of youngsters in this country and across the world: this is what our football and its clubs stand for.
John Terry will find a way to get himself in the picture (Jim White, Telegraph) No matter how imbecilic his behaviour, there is not a crack in his steel-like faith in himself. And England will now find it hard to replace that absolute certainty. Chelsea too, will be without his four-square presence for the next four domestic matches should he lose his appeal. Though this being John Terry, he might be banned, but you suspect he'll find a way to get himself in the picture.
John Terry looks to clear his name over Football Association racism ban (Stuart James, Guardian) Given the stance that Terry has adopted up until now, it would be a surprise if he backed down and accepted the charge.
John Barnes: John Terry is guilty of 'unconscious racism' (Independent) England and Liverpool legend says Chelsea captain should be allowed to play for England again if he wants to.
Analysing John Terry's Punishment
Why did the FA treat John Terry more leniently than Luis Suárez? (David Conn, Guardian) The fact that Terry has been sanctioned with the minimum penalty suggests that the panel in his case, despite finding him guilty, did not find the reference to Ferdinand's colour or race an aggravating factor such that it would double the ban. The apparently more severe fine, £220,000 for Terry, when Suárez was hit for £40,000, is explained by the fact that regulatory panels take into account a player's weekly wage. To understand how the panel did come to its decision, we must wait for its written reasons, which ran to 113 pages in the Suárez case. The FA emphasises that although the panels of three members chaired by a QC are appointed by the FA, they come to their judgments independently.
Why a four-game ban for John Terry when Luis Suarez was suspended for eight? (Independent) The Liverpool striker was not judged to be "racist" – as with Terry – but received an eight-game ban because he used "negro" seven times. His suspension was also lengthened because he was an "international footballer playing for one of the best known clubs in the world… a position that carries a particular degree of responsibility. This is a serious breach of that responsibility." What is John Terry, captain of Chelsea, if not an international player with one of the best known clubs in the world?
JT verdict is crazy – it just doesn't make sense (Ian Wright, Sun) I accept there were differences between the Luis Suarez-Patrice Evra case and this one — even though they both involved racist comments. At no stage did I expect to see exactly the same punishmen. Suarez received an eight-game ban plus a £40,000 fine. I expected Terry to get something like a six-match suspension. But what appears crazy is that Terry has received HALF the ban but nearly SIX TIMES the fine. It doesn't make sense.
Kick in the teeth: Black stars set to boycott Kick It Out campaign over Terry 'let-off' (Mirror) Black football players are threatening to boycott the FA-backed Kick It Out campaign after the landmark ruling on John Terry. Anger grew through the day after Chelsea and former England skipper Terry received a four-match ban for racially abusing Anton Ferdinand – half of that served by Liverpool's Luis Suarez for the same offence.
The John Terry verdict: It's not a stitch-up or a conspiracy – it's the regulations, and his punishment fits directly with the rules (Martin Lipton, Mirror) The truth is simple. Like Luis Suarez, John Terry was judged under the FA rules and regulations. Both cases were prosecuted by the FA disciplinary department after an investigation. Both had their cases assessed by a panel drawn from a pool whose composition was approved by all clubs. And both were found to have breached the regulations and were punished accordingly. So why the difference between Suarez and Terry? Because of the rules.
Hillsborough: Kelvin MacKenzie
Tough luck, Kelvin: Former Sun editor will NOT receive an apology over his Hillsborough 'suffering' (Mirror) A chief constable has told former Sun editor Kelvin MacKenzie that he will not be getting an apology relating to the infamous "The Truth" story published in the wake of the Hillsborough disaster… Mr MacKenzie, writing in The Spectator magazine, said he suffered "personal vilification for decades" as a result of the newspaper's discredited reporting of the disaster… Sue Roberts, secretary of the Hillsborough Families Support Group, had said: "The gall of that man to paint himself as a victim and for him to ask anybody for an apology; it beggars belief."
Tottenham: Man United preview & Backroom Bother
Ambitious AVB plans to storm Old Trafford by telling Spurs to attack Manchester United (Mail) Andre Villas-Boas will encourage his team to attack Manchester United on Saturday despite the Tottenham manager's harrowing experience at Old Trafford with Chelsea last term.
Andre Villas-Boas claims Tim Sherwood will be overlooked for the role as director of football at Tottenham (Mail) Villas-Boas has admitted he could be powerless to prevent Sherwood leaving the club if Blackburn come calling.
Pardew's Mega Magpies Deal
Toon life is simply gr-eight for Pards (Sun) Alan Pardew has been handed an amazing EIGHT-YEAR deal by Newcastle worth £25million.
Toon manager Pardew signs EIGHT-year extension which will keep him at Newcastle until 2020 (Mail) Newcastle United manager Alan Pardew and his three-man coaching team have all signed extraordinary new eight-year deals. The contracts for Pardew, coaches John Carver, Steve Stone and Andy Woodman are identical to the deal chief scout Graham Carr signed in the summer.
Arsenal: Financial Planning or Penny-Pinching?
I'll only spend if we sell, says Wenger… despite Arsenal announcing record profits (Mail) Arsene Wenger defended his transfer policy, claiming he was not afraid to spend Arsenal's growing fortune as the club recorded pre-tax profits of nearly £37million… Arsenal's wage bill is the Premier League's fourth biggest but their top rate does not rival Manchester City, Chelsea or Manchester United and Eden Hazard is among those the Gunners were unable to land.
Gunners fear profit of doom (Sun) Selling Cesc Fabregas and Samir Nasri kept Arsenal well in the black. It is the fifth time in six years Arsenal have made money on transfers since leaving Highbury… Selling Robin van Persie guarantees another healthy profit next year. But maybe the headline should be 'Cash-rich club remains on course not to win trophy'.
Arsenal's 'cheapest' ticket epitomises immoral imperative (Daniel Harris, Guardian) This weekend Arsenal, originators of the Premier League's first £100 matchday ticket will bring in a new pricing plan, under which the cheapest seat for big matches is £62. Sixty-two pounds. Six thousand, two hundred cola bottles. They're not alone in fleecing fans. A season ticket at Chelsea, behind the goal, is £890. At QPR, an away ticket is £50, one at Liverpool last weekend was £48. Arsenal argue that their new pricing structure is what fans want and most matches at the Emirates range from £25.50 to £35 – and no doubt there are tens of thousands with the relevant bank statement already framed on their walls – and mitigated by reduced prices for games deemed less attractive. Perhaps a slap round the face is better than a boot to the solar plexus, but still – that's a lot of money to watch a game of football.
Wigan's Witch-hunt DVD
Martinez to put together DVD defence for FA charge after Old Trafford outburst (Mail) Roberto Martinez will contest his FA charge and is putting together DVD evidence to back his belief that Wigan get a raw deal every time they visit Old Trafford.
Buyout: Leeds Get Rid Of Bates
Middle-Eastern bank confirm Leeds takeover deal with Bates on way out (Mail) Ken Bates' controversial seven year reign as Leeds United owner is nearing an end after investment bank Gulf Finance House emerged as front-runners to complete a £50million-plus takeover. The Bahrain-based company sent a letter to their country's stock exchange, confirming that GFH Capital, one of their subsidiaries, were to 'lead and arrange' the purchase of Leeds City Holdings, who own the club.
Leeds United fans pray for change as Ken Bates continues war of words (David Conn, Guardian) The Leeds owner and chairman continues to criticise supporters, despite being found guilty of harassing a former director.
Transfer Lies
Manchester United are interested in signing Juventus midfielder Arturo Vidal (Mirror) United are understood to be impressed by the dynamic midfielder as they continue to search for a central player in the Roy Keane mould. The club are reported to have contacted Juventus about Vidal's availability. However, United are expected top face competition from Real Madrid and Manchester City in the chase for the player who is valued at £40m by Juventus.
QPR told to fork out £4m in compensation to Blackburn over Hoilett switch (Mail) The 22-year-old left Ewood Park to join the Rs after his contract expired and the two clubs have now agreed an initial fee of £3million, which could rise by £1million depending on appearances.
---
GAMBLING CAN BE ADDICTIVE, PLEASE PLAY RESPONSIBLY