Who can fill John Terry's 'big hole', Everton are better than Liverpool, Walcott wants Arsenal deal as Inter eye Sagna
Comment & analysis round-up
Quote of the day: "I am not the kind of guy who reads the papers or goes on to the internet. When I am not playing I just stay with my family so I wasn't aware of personal criticism. It is the first time I have heard that and I don't like it. But when I hear people say Patrice never had someone to fight him for his place I think they have bad memories. They forget very quickly how I got to become Manchester United's left-back. I fought with two great players in Gabriel Heinze and Mikael Silvestre. Football is like a pyramid. It is easy to reach the top of the pyramid but to stay there is the hardest part. It is too easy for people to say that now we have bought another left back Patrice Evra will have to fight for his place. Patrice Evra has always fought for his place." – Patrice Evra.
Runner-up: "It's true that Tottenham tempted me because it was a young team which was third in the league. Unfortunately, the end of the season did not go well. They did not reach the Champions League, which tipped the balance." – Eden Hazard.
John Terry Has Still Quit England
I'd have him back! Hodgson keeps door open for Terry… even if he's found guilty (Matt Lawton, Mail) The England boss accepted Terry's decision to quit on the eve of the FA disciplinary hearing that started on Monday at Wembley. But the message was clear, both from Hodgson and his employers, that the former captain could return even if found guilty of racially abusing Anton Ferdinand.
You've made this decision for the wrong reasons, JT (Ian Wright, Sun) I absolutely guarantee Terry will regret this decision to quit. In 2014, Terry will be at home watching England take to the field in Brazil for their opening World Cup match and he will wish he was there with the lads. This Ferdinand saga will seem a very long time ago and Terry will think to himself "Why did I do that and retire?"
FA chairman David Bernstein ready to deal with football's 'bad guys' and invoke spirit of 2012 (Henry Winter, Telegraph) From Fabio Capello's departure to Roy Hodgson's appointment, Luis Suárez's ban to John Terry's current charge, many of the Football Association's most momentous events in the past year must be seen through the prism of David Bernstein's moral crusade. A sheriff in a suit, the FA chairman has been determined to bring order to the Wild West of English football.
John Terry Has Still Quit England: The Rio Angle
Terry's exit has given Hodgson a new mess to deal with (Martin Lipton, Mail) Hodgson has decide if his own relationship with Rio Ferdinand can be repaired – and if the breakdown between the United man and Cole can be patched up enough for them to share a dressing room.
Roy's still blanking Rio (Sun) Roy Hodgson continues to blank Rio Ferdinand despite John Terry's shock decision to quit England… Hodgson remains reluctant to turn to Ferdinand, 33, to help him out of his defensive nightmare. Terry's decision to quit international football left England short of top-class central defenders.
Now heal Rio rift, Roy: Ferdinand is the best option but will Hodgson ask him to return? (Mail) In the absence of John Terry, Phil Jagielka and Joleon Lescott certainly struggled and Terry's sudden retirement from international football on Sunday has not made Hodgson's job any easier. Not least because his options are so limited. Right now he would be able to call on Lescott, Jagielka and Gary Cahill. But with Phil Jones and Chris Smalling injured, the need to turn to the one English centre-half at Manchester United who is fit seems impossible to ignore.
Rio to return? England comeback is on following John Terry's retirement (Mirror) Rio Ferdinand WOULD be ready to replace John Terry in the England set-up.
John Terry Has Still Quit England: Filling His Big Hole
John Terry's retirement leaves a void in the England defence that will be difficult for Roy Hodgson to fill (Alan Smith, Telegraph) Whether he is your cup of tea or not, it would be difficult to deny that John Terry's rare abilities as a central defender have served England very well over the last nine years. Only now might we see the difficulties of replacing a player blessed with an instinctive nose for danger who would not hesitate to dive headfirst into flying boots if it meant blocking a shot to stop a goal.
Terry leaves big hole in England's defence… but who can fill it? (Martin Keown, Mail) Micah Richards: With fewer English defenders playing for their clubs each week, Hodgson might have to be imaginative. Richards is a good option and performed well at centre back during the Olympics. In international football you need pace more than aerial dominance and Richards has so much of that, plus mobility and power. He could easily fill the role if he's nurtured and developed.
John Terry's exit may be moment England begin to forge their future (Guardian) That Terry has missed 10 of his country's 24 games since returning from the World Cup in South Africa would suggest life without the Chelsea stalwart should hardly be considered a step into the unknown. There have been five different combinations lacking Terry who have started matches in the last two years and, away from those relatively established names, Hodgson could point to a posse of youngsters eager to make their mark. Phil Jones, Chris Smalling and Steven Caulker would hope to make an impression when fit and in form. The first two would surely have featured against Italy in Berne in August had their respective knee and metatarsal problems not ruled them out.
Theo Will Stay, Probably
Theo: I want to stay at Arsenal (Sun) Walcott turned down a £75,000-a-week offer from the club in August and Wenger has warned he wants the situation resolved within two months. Walcott, a target for Manchester City, Liverpool and Chelsea in the last week of the transfer window, said: "I have always wanted to stay. Hopefully, something can be agreed."
Walcott: I want to stay at Arsenal – as a striker (independent) Walcott's particular issue is that, after spending most of his six Arsenal seasons on the right wing, he wants to play as a striker.
Liverpool
Liverpool have come to a pretty pass with Rodgers at the helm (Dominic King, Mail) After five matches, they are in the bottom three with just two points. It is their worst start since 1911 and Brendan Rodgers finds himself sharing a record with George Patterson, who was appointed in 1928, as a Liverpool manager failing to win any of his first five league games… Rodgers has certainly got Liverpool operating with a style that is easy on the eye and he has players like Steven Gerrard, Johnson and Joe Allen to inflict on opponents what he has described as 'death by football' but the longer they wait for three points, the more hollow those words will become.
Refs think Luis Suarez is a diver (Sun) Steven Gerrard reckons Luis Suarez is being victimised by referees due to his reputation… He said: "Even when Luis gets blatant penalties now he is never going to get them. It is down to referees to not judge him. They have got to make their decisions based on what they see."
Liverpool's problems continue with Martin Kelly out for six months (Guardian) Liverpool have confirmed the 22-year-old requires surgery and will be sidelined "for a significant period of time" with the defender unlikely to resume training until March.
Everton
Has the balance of power on Merseyside shifted for the first time in 25 years? (David Anderson, Mirror) I fully expect Everton to finish above Liverpool again this season. I've already said they are the best placed club out of a group including them, Liverpool, Tottenham and Newcastle to break into the top four. I definitely think they can finish fifth and qualify for Europe again. They are everything Liverpool aren't at the moment… Not only do they have a great team – their best since 1987 – they have a good squad with players able to step in for every position with no loss of quality.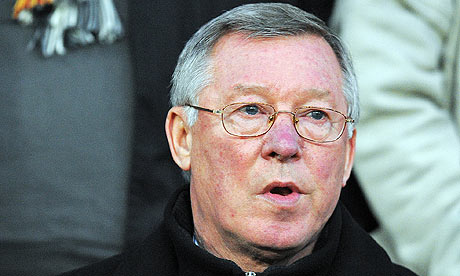 Manchester United
Manchester United need to fill situation vacant in central midfield (Jamie Jackson, Guardian) The problem area that continues to puzzle United followers: central midfield. If retaining possession is an 11-man discipline the key contributors are those who move between defence and attack to set the side's rhythm and start and, ideally, help finish attacks… Ferguson is not the keenest buyer of players in the new year transfer window. But a theory runs that, if United continue to struggle as they did at Liverpool, where the contest largely bypassed Giggs who started ahead of Cleverley and Anderson, then the manager may consider buying reinforcements in January.
Rooney set for Man United return in cup clash against Newcastle (Mail) Midfielder Darren Fletcher will start on Tuesday as he continues his rehabilitation after being diagnosed with a bowel condition last year.
Vidic set for swift return for Manchester United after being rested for win at Liverpool (Mail) Nemanja Vidic is likely to return to Manchester United action next Saturday against Tottenham at Old Trafford.
England: Euro 2020
Wembley in the running to stage final stages of Euro 2020 (Independent) The Football Association is looking to bring the final of the 2020 European Championship to Wembley should Michel Platini persist with his plan to have no fixed host for the tournament.
Transfer Lies
Inter Milan are lining up a move for Arsenal right-back Bacary Sagna next summer (Mirror) Arsenal are confident they can persuade Sagna to re-sign, even though his young understudy, Carl Jenkinson, has had an outstanding start to the campaign.
Arsenal are trailing Icelandic scoring sensation Aron Johannsson (Sun) The forward, 21, has netted an incredible TEN goals in his last four games for Danish side AGF Aarhus.
---