"While the past two internationals have been disconcerting, there is a very good England team inside this rabble trying to get out: it is the one that got us there" – Martin Samuel
Comment & analysis round-up
Quote of the day: "I saw [Liverpool chairman] Martin Broughton at Chelsea's Player of the Year dinner and he refused to tell me that we weren't going to sell Torres. He said, 'At the moment, he's still on board, but it's going to take three years to turn the club around, and at his age…'" – Sky Sports News presenter Charlotte Broughton.
Runner-up: "It's down to the manager but I'll always want to take penalties. It wasn't a great penalty today and it's disappointing because I've practised loads this week. I'm always confident in taking them and that will make me go away and work harder. If the manager wants me to take it I'll always step up." – Frank Lampard.
Today's overview: Today may be the day that Fabio Capello names the 23 England players he will take to the World Cup but much of the talk is of the Italian's future as Three Lions boss and the woeful display against Japan yesterday. The main issues under discussion for England are the form of Wayne Rooney and the age-old debate of whether Frank Lampard and Steven Gerrard can play together in the centre of midfield. Elsewhere, Simon Barnes' piece in The Times on "flat track bullies," Barney Ronay on World Cup songs and James Lawton on Sir Alex Ferguson are all worth a read.
Fabio Capello: Oliver Kay reports: "Fabio Capello will hold emergency talks with the FA's new hierarchy today as his employers look to head off Inter Milan's interest before Wednesday, when the England manager departs with his squad for the World Cup finals. Having previously distanced himself from vacancies at AC Milan, Juventus and with the Russia national team, Capello expressed uncertainty about the FA's intentions after the recent resignation of Lord Triesman as chairman, but Sir Dave Richards, the chairman of the newly formed Club England board, will attempt to resolve the situation in a telephone conversation with the Italian today."
Rob Beasley puts a tabloid spin on the talks in The Sun. "Fabio Capello will decide his England future today after crunch talks with Sir Dave Richards. The Italian boss will stay on as national coach beyond the World Cup only if Club England chief Richards tells him what he wants to hear. Capello, on Inter Milan's official wanted list, is ready to see out his contract until 2012 if Richards confirms his value and an agreement he made with ex-FA chairman Lord Triesman."
To add to the uncertainty, Matt Lawton adds that "Reports in Italy last night indicated that Moratti will make a formal approach to Capello's representatives today. In an interview with Sky Italia, Moratti said: "'I am pleased to see that Capello can disentangle himself from the FA after the World Cup.'"
Sam Wallace also lays into Capello for breaking his own rules. "One of the principal rules of his squad this summer was that there was to be no discussion of transfers and no England players involved in negotiations. In reality, no one can stop Steven Gerrard and James Milner getting on the phone to their agents in their hotel rooms, but it was preferable to the open house that Eriksson ran at Euro 2004, when Jose Mourinho turned up to meet his new Chelsea players. On Saturday, however, Capello broke his own rules. In the double-speak world of transfers and negotiation – where what is left unsaid is as important as what is said – Capello left so much up in the air about Inter that he can hardly have been surprised that we are starting to wonder whether he wants to stay."
Gabriele Marcotti uses his weekly column to describe why Don Fabio is such a great coach. "In 1991, Capello was offered the task of replacing Arrigo Sacchi as coach of AC Milan As was the case at Chelsea — who turned to Avram Grant — the guy chosen to replace a legend [in Sacchi] was seen as a 'company man', a toady who would fulfil the owner's every whim. Again, outrageous as it seems today, back then, Capello was the Grant of his day."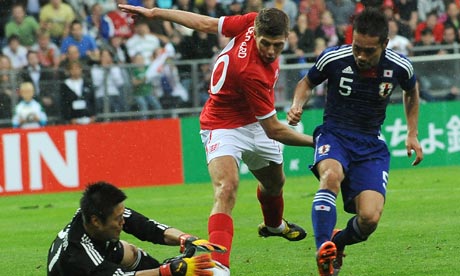 England-Japan: Oliver Kay comes down hard on the Three Lions after their lacklustre display against the Japanese. "The past fortnight in The Sound of Music country was envisaged by Capello as some kind of audition process, one in which he would be left to make painstaking decisions about which players to leave out of his final 23-man squad for the World Cup. If it came down to the ones he was desperate to take with him to South Africa, there would perhaps be no more than 16, going on 17."
Matt Lawton summed up England's display. "This was, as the scoreboard suggested it might be when it declared that a certain 'D Brent' was on the pitch, a bad day at the office for England. Fabio Capello's side delivered an abject, lifeless display here. A performance that even England's manager admitted had done nothing to alter his thinking."
Henry Winter also failed to hold anything back. "Sadly, some of yesterday's events in alpine Austria resembled Carry On Up The Brenner Pass. Forget the altitude issue. England's attitude was the problem for 45 minutes. Their hearts simply did not seem in their first-half labours, their laxness in possession shocking. Huddlestone was one of the main culprits, his unwillingness to seize his World Cup audition galling to behold."
Martin Samuel also despairs. "Meaningless friendly? We can only hope so. We can only hope that what we saw in Graz on Sunday was a manager fine-tuning alternatives to a practised gameplan, exploring possibilities, surprises, tiny twists of the imagination for use in extreme circumstances. For if it was not, the most settled, the most recognisable, the most comfortable England side in years is a structural mess less than two weeks before its first competitive game at the World Cup finals …While the past two internationals have been disconcerting, there is a very good England team inside this rabble trying to get out: it is the one that got us there.
Wayne Rooney: Jamie Redknapp fears for the Manchester United striker. "Wayne Rooney is a terrific player, but our World Cup opposition will have noticed his temper fraying yesterday. They will look to wind him up. The World Cup is packed with clever defenders, who will use whatever it takes to gain an advantage. He needs to rise above that. I don't agree he plays better angry. For me, he's better when he's smiling and happy."
Patrick Barclay also worries about the form of Wayne Rooney. "When England's key player has a scowl on his face, England have a problem. So the condition of Wayne Rooney less than two weeks before the match against the United States was a worry. Two silly challenges emphasised Rooney's frustration with the World Cup build-up. Twice in friendly games — against Mexico a week ago and Japan yesterday — England had been poorly prepared by their richly rewarded manager."
The Lampard-Gerrard riddle: Richard Williams worries that Capello faces a familiar problem of playing Frank Lampard and Steven Gerrard together in central midfield. "Fabio Capello must be awfully sure that Gareth Barry is on his way to a complete recovery, because nothing else could explain his lack of interest in addressing England's principal weakness in their final match before embarking for South Africa. Unless, that is, he really believes himself to be the one man in the entire world capable of devising a way in which Frank Lampard and Steven Gerrard can function successfully together in central midfield."
Steven Howard is also fretting about pairing Lampard and Gerrard in the middle for the clash with the USA. "Because of Gareth Barry's injury and the failure of James Milner to nail down the position against Mexico, we are likely to start the USA game in Rustenburg in 12 days' time with two players even Capello has admitted are not his idea of a viable combination. Sure, things perked up when Gerrard joined Lampard in the England engine room at the break. But it could hardly have got any worse. At half-time people were asking when was the last time we had seen such a dysfunctional performance from the national side in the opening 45 minutes. And when was the last time the defence looked as vulnerable?"
Matt Dickinson adds to the chorus. "There are many much-loved double acts in English life; Morecambe and Wise, Pete and Dud, Cameron and Clegg. Steven Gerrard and Frank Lampard has never been one of them. Just to mention them in the same breath may have you reaching for the revolver — please, not this again! — in which case you need to sit down, take a deep breath and compose yourself. Or go and hide in a dark room until the World Cup finals are over."
Alan Hansen highlights the importance of Gareth Barry. "Gerrard and Lampard are absolutely crucial to England's ambitions in South Africa and they simply have to play because the time when you rely most on your best players is when you are performing at the very highest level. But if Barry is not fit enough to perform the holding role in front of the back four, you only have to look at Capello's options to realise that the England manager will be left with a real selection dilemma."
England's World Cup hopes: Simon Barnes cites the example of England cricket batsman Jonathan Trott against Bangladesh for how the Three Lions should approach their group matches in South Africa. " It would be really handy if they used their experience, their sense of superiority and their genuinely superior talents to swagger through these three matches, if they could be "professional" and "clinical" and generally soulless — and collect the three Ws they need. But something in the English nature rebels against this task. Traditionally, England always wobble against lesser teams in the early stages of a tournament. Germany don't; they are the most efficient flat-track bullies in sport. We should envy them."
Ian Wright predictably goes all optimistic on us. "We're going to have to play some great stuff to beat the big teams. But the attitude of the players is spot on. They're totally focused, so they've got a great chance."
Miscellaneous World Cup: Barney Ronay laments the passing of the official England World Cup song. "The only proper England World Cup songs are those actually sung by, or featuring centrally, the England squad. These are the real deal and stand out partly because of their rarity: only four were ever made. What we're left with is a quartet of time capsules; fascinating because they tell us, with a surprising degree of frankness, exactly how we felt back then."
Emine Saner writes of the no sex ban placed on the England squad. "The question about whether or not the UK's World Cup squad should lie back and think of England once more rears its head. Manager Fabio Capello has limited the access his players will have to their wives and girlfriends to one day after each game, with further restrictions should the team progress."
Jane Hamilton reveals in The Sun that "Argentina World Cup footie shirts are outselling those featuring England's Frank Lampard and David Beckham by three to one. Tops with the name of Argie superstar Lionel Messi are the fifth bestseller. The only England players to beat the Barcelona ace are striker Wayne Rooney and midfielder Steven Gerrard. Many of the Argie shirts are being sent to fans in Scotland, who refuse to back their neighbours."
Pete Jenson paints a bleak picture for world champions Italy. "When Inter won the European Cup final last week they became the first team to do so without a single Italian national player in their starting line-up. It was not a problem for their manager, Jose Mourinho, but the ever-decreasing pool of home-grown talent is starting to take its toll on Italy's chances of winning a major international tournament any time soon." 
Sir Alex Ferguson: James Lawton paints a bleak picture for Sir Alex Ferguson in his weekly column in The Independent. "Within Old Trafford the conviction is strong that when Ferguson decides it is time to walk away his natural successor will maybe have had his fill of the dramas and the pressures of the Bernabeu. Mourinho, the passionate leader, the man who has proved that he can hold both the starriest of players and a great following in the palm of his hand, is seen as the most natural fit for a United navigating new tides in a so far unexplored sea. Meanwhile, though, the trick – and it will be a considerable one even for a man like Ferguson who has claimed so much plunder in his time – will be to keep the ship afloat."
Jose Mourinho: With the Special One to be unveiled today, Kevin Garside questions Mourinho's move to Real Madrid. "He has made footballing minimalism an art form. The transformation of one of the world's most flamboyant strikers, Samuel Eto'o, into a willing workhorse at right-half symbolises the Mourinho way. He cannot prevail at Madrid by work ethic and dizzying intractability. Madrid are not permitted to dog it out for victory. The fans will not allow it, the brand will not tolerate it and Cristiano Ronaldo will not submit to it. Good luck Special One."
Transfer gossip: The main piece of transfer goss in The Times surrounds Fernando Torres (see quote of the day). "Sources at Liverpool insist that Broughton's position on Torres's future has been made abundantly clear by a series of on-the-record interviews in which the British Airways chairman was adamant that the 26-year-old forward will not be sold this summer. But the fact that he is alleged to have suggested in a private conversation that the immediate future at Anfield is so bleak that it may be better for Torres to seek pastures new will increase concern among Liverpool supporters that the club's prized asset could depart." 
Dominic Fifield reveals in The Guardian that Yossi Benayoun will replace Joe Cole at Chelsea. "Chelsea have paved the way for Joe Cole's departure from Stamford Bridge by formalising their interest in the Liverpool midfielder Yossi Benayoun, with the Israeli confident a transfer can be completed over the next week. An opening bid of £4m is understood to have been knocked back by the Merseyside club, though they have offered Chelsea encouragement that an improved offer of about £6m will secure the 30-year-old."
The main transfer story in The Sun is that "Arsene Wenger has lined up a £21.8million deal for Bordeaux ace Yoann Gourcuff – his No 1 choice to replace Cesc Fabregas. Arsenal have already spoken to the France star's dad Christian to pave the way for a switch that will make Gourcuff the Gunners' record signing." Elsewhere in the Currant Bun we learn Chelsea are closing in on Dario Srna, Liverpool must up their bid to sign Rangers defender Danny Wilson and Aston Villa, Birmingham and Sunderland are after Bobby Zamora.
The Daily Mail also have their daily swathes of transfer gossip, including Arsenal have inquired about Joe Cole, Manchester City and Manchester United are fighting over Santos starlet Paulo Henrique Ganso and Manchester City are closing on on Athletic Bilbao midfielder Javi Martinez. The Daily Mirror add that Aston Villa will look to sign Ajax right back Gregory van der Wiel.
From the foreign papers we learn that Manchester City will sign Edin Dzeko today, Spurs have joined the chase for Benfica forward Oscar Cardozo and Aston Villa are considering a move for Evaldo.
---