While most doubt Liverpool's ability to beat Chelsea, Benitez inches closer to Turin, Villa's O'Neill is tipped for Anfield & Everton eye Leeds striker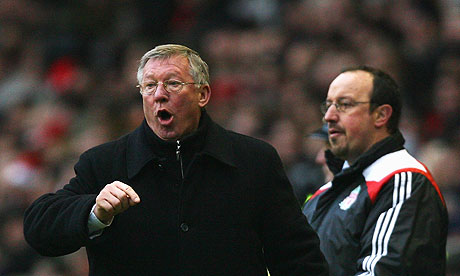 Comment & analysis round-up
Quote of the day: "I am confident [that Liverpool will beat Chelsea] and I have to be confident. Great clubs don't throw their histories away. They don't throw their traditions away for one game. In 1995 it was exactly the same. We depended and hoped on Liverpool producing and we got that from them. I remember Roy Evans [the then Liverpool manager] saying to me: 'You have to earn the right to win the title' and that stands today. I think Liverpool will do their best on Sunday. They have to, there is no doubt about that. They have been in 10 European finals and won 18 titles, so that's a fantastic history. You don't throw that away just because of one game. And do you think their fans want to go home saying their team capitulated and didn't try?" – Sir Alex Ferguson.
Runner-up: "I think that Sunderland will do their best to beat United and Liverpool will do the same against us. Every team has respect for this Premier League and every team has to do their best until the end of the matches. Now, two games from the end, Liverpool are involved in the race for fourth place so every team has an aim to reach. But we know that, with two victories, we will be champions, so we have to focus on our games and that is it. Our aim at the start of the season was to win something. Now, 15 days from the end of the season, we are still involved in two important competitions. We're happy with this and will try our best to bring something home. At the moment, I have a good feeling about things." – Carlo Ancelotti.
Today's overview: All eyes focus on the top of the Premier League this Saturday as the fourth estate speculate over who will win this season's title while a summer of change is being prepared in Liverpool.
The Title Race: Will Liverpool do arch enemies Manchester a favour this weekend and beat Chelsea?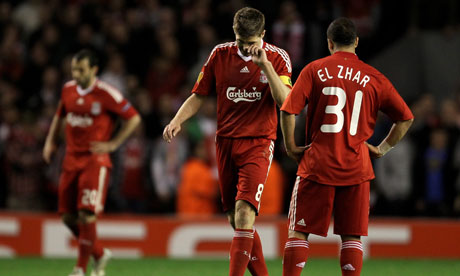 After the Meserysiders' extra-time Europa League defeat to Atletico Madrid, Daniel Taylor details the low ebb Liverpool find themselves at. "The sapping effects of [the Europa League] have also left doubts over a number of Benítez's players, including Dirk Kuyt, Javier Mascherano, Yossi Benayoun and Glen Johnson, and Liverpool's manager described the mood at Anfield as "down" as they approach the end of what has been a dismal season for the pre-season favourites to win the league."
Kevin McCarra doubts Liverpool's ability to beat the Blues. "If United have anything to dread at Anfield, it is simply the fact that Liverpool could lack the means to stop Chelsea… In plain physiological terms Benítez's men should be overmatched. Those two draining hours against Atlético may be felt against Chelsea, particularly as the match enters its closing phase. Benítez cannot do a great deal about that, since limited options are a major part of his club's malaise. Expectations were surely restricted when the forwards deployed as substitutes against Atlético Madrid were Nabil El Zhar and Dani Pacheco."
On Chelsea, Oliver Kay outlines how, while Sir Alex Ferguson is going about trying to ratchet up pressure on the Blues in a war of words, Carlo Ancelotti simply doesn't bite back. "In some ways Ancelotti remains an enigma to the English football public — even to some of his players — but the search for hidden depths might prove to be a vain one. Chelsea's players have, over the course of the season, concluded that what you see is what you get… If it were Mourinho, Benítez or even the urbane Arsène Wenger in this position, slugging it out with Ferguson and Manchester United for the Premier League title, the barbs would be flying back and forth. Mind games, we call them. Ancelotti would probably call them nonsense."
Richard Williams picks up on how John Terry publicly defended his form this week. "By mounting an ironclad defence of his form this week, John Terry succeeded only in confirming the sceptics' view that, on the field as well as off it, his aura is not what it was. The smart thing to do would have been to make a quiet admission of a temporary dip, or to say nothing. But Terry, who returns to the Chelsea squad at Anfield tomorrow after serving a one-match ban, has not always distinguished himself off the pitch through an instinct for doing the smart thing."
Fighting for Fourth: Just as tense as the title race is the battle for fourth spot between Spurs, Manchester City and Aston Villa.
With the Citizens and Villains meeting on Saturday Stuart James traces how business between the clubs last season were arguably central to the Midlanders' successes this term. "By unlikely coincidence a couple of City's transfer deals last summer played a part in helping Villa to compete this season. Villa fans lamented Gareth Barry's switch to Eastlands but, ultimately, his exit allowed James Milner to move inside and excel, while City's decision to spend £24m on Joleon Lescott and allow Richard Dunne to leave for £5m must rank as the most ridiculous piece of business last summer. Milner and Dunne have been outstanding for Villa… Barry, meanwhile, has gone from being an influential player at Villa to a peripheral one at City, raising questions about his place in the England team."
Speaking in crass generalisations without defending his beliefs with any concrete examples, Andy Townsend bashes Villa's top four chances this season. "I think they will come up short. Despite everything good Villa have done this season, they are still two or three players away from being a really strong side. I look at their squad compared to those at City and Tottenham and they haven't got the same quality… Villa are not equipped for the Champions League and if they don't continue to invest and add to what is there in the summer, then next season could see them finish eighth or ninth."
Arrivederci Anfield: Is Rafa Benitez going to Juventus?
Fence-sitting, Andy Hunter claims the inner agenda of the present Liverpool boss is to stay put, provided the club's internal structure is fixed. "Rafael Benítez remains torn over whether to end his six-year reign at Liverpool despite increasing confidence at Juventus that he will become their coach at the end of this season… Benítez would prefer to remain on Merseyside under a new ownership structure but has yet to see firm evidence that Tom Hicks and George Gillett, the Anfield co-owners, have found a buyer willing to meet their asking price."
Oliver Kay, however, opens up a massive can of worms as he splashes in The Times with news that "Rafael Benítez could bid an emotional farewell to Anfield tomorrow after a breakdown of trust between the Liverpool manager and the board. The club's hierarchy believe Benítez is "playing games" as he weighs up an offer to take over at Juventus. Sources at Anfield said last night that the situation looks increasingly untenable for both parties, but the mechanics of Benítez's departure remain unclear because of two factors: the extraordinary sum of £16 million that he would be due as compensation if relieved of his duties and the uncertainty over the future ownership of the club."
For Patrick Barclay, Benitez's departure is an issue of who and not if. "The question is not of how much longer Benítez should stay at Anfield but who should replace him after the parting is negotiated — a process that, if the parties do get round to it, is likely to be difficult, given the difference between what is left on the manager's contract and the amount the club have to spare… When Benítez goes, he should be swiftly followed by Torres, Gerrard while he can still command a large fee, Javier Mascherano and the rest."
Tooting from a similar trumpet, Ian Herbert explains why Juventus is the likeliest destination for Benitez. "With alternative new horizons seemingly closed off to Benitez – the Real Madrid-affiliated paper Marca exhorted Jose Mourinho to move to the Bernabeu yesterday – it is tempting to view Juve's move to seal a deal for the Brazilian midfielder Hernanes, a player in the mould of Xabi Alonso and whom Benitez is known to like – as yet another indicator that the wind is blowing towards the River Po for him. Reports in Turin suggest that the only incomplete aspect of a deal put in place by Benitez's agent, Manuel Garcia Quillon, is the buonuscita ("good exit") – the golden handshake equivalent to one year's salary that Benitez feels he is entitled to."
Injecting the without-evidence tabloid twist, John Edwards chugs in the Daily Mail that "Juventus expect Rafa Benitez to sign a four-year deal at the Stadio Olimpico in the next fortnight… Significantly, Juventus are being linked with Sao Paolo midfielder Hernandes, a top target for Benitez earlier this season, and are also said to be considering an approach for Liverpool's Dirk Kuyt."
With the feeling mushrooming that the end is nigh for Rafa, Tony Barrett goes as far as to cast his eye over possible replacements as Liverpool's next manager. "Martin O'Neill is being touted as a replacement, although the Aston Villa manager would be a hard sell, particularly with many of Benítez's critics keen to see more attack-minded football, for which O'Neill is not renowned… Jamie Carragher has been mooted as a potential player-manager, with Kenny Dalglish in the background to give a helping hand. Both are loved by the fans and many see Carragher as a future manager. However, such a move would be perceived as the owners taking the cheap option."
Managers on the Move: Ian Herbert is convinced that they'll be no change at Eastlands this summer in the managerial department. "It is highly unlikely, based upon the Italian's record in the past five months and a relationship with Khaldoon al-Mubarak which is far closer than Hughes's ever was with the chairman, that he will be sacked."
Burnley's European hopes: In an almost unbelievable twist, could next season's Championship side Burnley be in the Europa League?
Tom Dart explains how the Clarets could be going on a European tour. "The aftershocks of Fulham's progress might be felt as far north as Lancashire. Fulham are in pole position to qualify for next season's Europa League via the Fair Play League, but if they win the trophy, they will be entered as holders and their Fair Play place would go to the next best- behaved English club: Burnley. 'It is a long shot,' Brian Laws, the Burnley manager, said. Words Fulham have heard before; words they rendered meaningless on Thursday and two short, long years ago."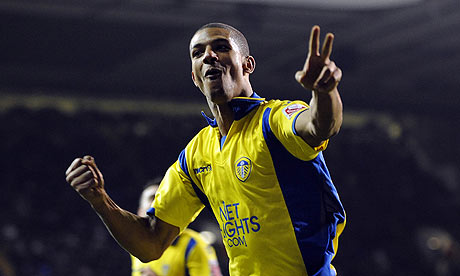 The Recruitment Drive: Once again there are plenty of transfer rumours to trawl through this Saturday.
The Guardian reveal how Everton are favourites to sign Jermaine Beckford while the Toffees are also closing in on a £500,000 deal for João Silva of Desportivo Aves. Rory Smith adds that "Moyes has also secured Slovakian goalkeeper Janko Mucha on a free transfer, and has not ruled out retaining Philippe Senderos when his Goodison Park deal expires at the end of the campaign."
Without a shred of supporting evidence, a no-name article in the Daily Mail links Manchester United with Everton's Steven Pienaar. In a similar vain the Daily Mail fart that "Kevin Kuranyi has emerged as a surprise target for Manchester City… City, meanwhile, face competition from Real Madrid for Alaves defender Alex Vallejo, 18, who has been on trial at Eastlands."
The Daily Mail conclude their Saturday lies with a third baseless rumour claiming "Sunderland, Newcastle and Celtic are monitoring Bayern Munich striker Deniz Yilmaz."
According to Charlie Wyatt in The Sun, "West Ham keeper Rob Green is a £6million summer target for German side Schalke. The Bundesliga outfit are looking for a new No 1 as Manuel Neuer is being chased by Bayern Munich and Manchester United."
Lastly, The Mirror gossip that "Aruna Dindane is on the brink of signing for Blackburn – but Rovers have still not agreed a deal with his club Lens."
Click here for more Premier League betting tips
---