While Hull are bunged up, loan deals are made for Robinbo to go Santos, Senderos to join Everton; Huntelaar to be a Hammer & Gudjohnsen to join Rovers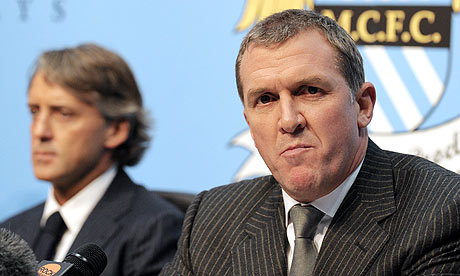 Comment & analysis round-up
Quote of the day: "Not if, but when we are at Wembley, having beaten Man United yet again. This football club [Manchester City] is going to be without doubt the biggest and best football club in the world. People don't like to hear it and I will make no excuses for saying it and I will never stop saying it because I truly believe it, with the resources and the capabilities that we have." – Garry Cook.
Runner-up: "The company [Hull City FC] believes that Mr Duffen has acted in breach of his employment contracts and fiduciary duties as a director, through the use of company monies for his own personal expenditure, and other wrongdoings. The company also believes that he has acted in breach of his employment contracts and fiduciary duties as a director, through the payment of certain monies by third-party football agents to Mr Duffen's services company, in return for which Mr Duffen procured that Hull City contract with the agents for business." – a statement from Hull City.
Today's overview: The sexiest story of the week, Carlos Tevez's accusation that Gary Neville is a "boot-licking moron" and the continued war of words between Manchesters United and City, spills over into the Saturdays as the hype ahead of the return leg of the Carling Cup semi-final grows.
Daniel Taylor scoops up all the latest he said/she said from Friday, jotting down how Ferguson barked that "he was 'not interested' in Tevez's behaviour as 'he's not our player any more'" while Mancini explained "that Tevez may have been 'tired' when he castigated Neville during an interview with an Argentinian radio station." All the managers good work though was undone by "City's chief
executive, Garry Cook, who was filmed telling supporters over a microphone that the club were on course to overtake United and become 'without doubt the biggest and best football club in the world.'"
Serial soap-boxer, Des Kelly, annoyingly jumps onto his high perch once again to chastise both United and City in the Tevez-Neville spat. "The open hostility between a new-born Manchester City and a less than imperious United is undeniably engrossing, but it is worth reminding all concerned that they are supposed to be at the pinnacle of their trade, professional sportsmen charged with the responsibility of representing two of the most famous clubs in world football. And just look how they behave."
A week after Manchester United released their bond issue which the fifth estate almost universally viewed as a sign of the impending financial catastrophe to hit Old Trafford, and surprisingly the Glazers appear to have upset the doom-mongers.
Owen Gibson reveals that "Manchester United successfully completed their controversial refinancing as expected, raising £504m that will be partly used to repay the onerous hedge fund loans taken out by the Glazer family to buy the club… The success of the MU Finance bond issue, combined with the fact that the interest (yield) that must be paid on it was within the hoped for range of the five banks that managed it, suggests that the club's argument that they could continue to grow revenues, invest in the squad and meet debt repayments was accepted by investors."
Turning to on-the-field issues for Manchester United, Alan Smith warns fans to be gentle with Rio Ferdinand who is due to make his return to first team action today. "Plagued by a long-standing back complaint that, at one point, showed no signs of improvement, he will need time to rebuild belief and confidence. You can't expect him to find his best form straight away. Ferdinand will need several games on the bounce – importantly without discomfort – before believing he can hit those previous high standards."
Michael Owen sat down for a chin-wag with Paul Hayward and the Manchester United explained his thoughts on going to the World Cup. Owen: "I'd love to go and I'd love to play for my country and go to a World Cup again. I've got to accept I'm not in the ­current squad and just think, 'If I get it, it's a bonus and I'll give it everything.' But it's hard to do when you've been thinking a different way all your life."
Despite losing its shine, the fourth round of the FA Cup does inspire some romantic pieces about lower league clubs, kicking off with Ian Herbert's report on how Accrington Stanley's run to a fourth-round home tie with Fulham today has saved the League Two club financial peril. Shifting along, Robin Scott-Elliot details that a winding-up order looming, Notts County have nothing to lose against Wigan in the cup.
One of the dirtiest words in the football lexicon rears its ugly head this Saturday, as bungs are back in vogue.
The revelations concern Hull City, with James Ducker reporting that "English football was left reeling by a fresh bung scandal on Friday after Hull City launched a High Court case against Paul Duffen, their former executive chairman…Hull allege that Duffen's company received payments from agents in return for using those agents to deal with transfers and that the money has been paid into an offshore account."
Putting a figure on the sum of the bungs alleged, Paul Kelso announces "the club claims the alleged deal between Duffen and agents contributed to a total of £5 million in fees relating to transfers and contract negotiations paid between July 2007 and Sept 2009."
In a supplementary article from James Ducker the scribe discusses the immediate problems for Hull in light of their high-profile, and potentially messy, court case. "Hull's fight against relegation will be played out against a battle in the courts that promises to be no less dramatic than events on the pitch… The chairman is seeking up to £25 million in additional investment to ease the club's financial problems, but with Hull far from assured of Premier League football next season — a point against Manchester United at Old Trafford this afternoon would move them out of the relegation zone — would-be investors appear to be sitting tight."
Money is once again thin on the ground as clubs look to agree loan deals for fringe players, as the transfer window begins it's final stage of business.
The biggest mooted deal of the day, as reported by Mark Ogden in the Telegraph, is that "Robinho could make his final appearance for Manchester City in the FA Cup tie at Scunthorpe after club officials sanctioned moves to offload the £32.5 million British record signing on loan to Santos.
The Guardian report Everton have agreed a loan deal with Arsenal defender Philippe Senderos, while The Times' window watch links Ruud van Nistelrooy to Hamburg, Vladimir Weiss with a loan move to Eastlands and Cologne are said to have made an approach to sign Zoran Tosic.
The loan deals continue in the Daily Mail, where we learn that Blackburn are looking top bring in both Eidur Gudjohnsen and Turkish midfielder Yildiray Basturk on pay-as-you-play deals. And over in The Sun it is revealed that West Ham are looking to snare Klaas Jan Huntelaar on loan.
Yet not everyone appears financially strapped for cash, with some clubs actually able to pay transfer fees for players on their shopping lists.
The Daily Mail appear to cough up fur balls claiming Manchester United are interested in Toulouse's £18m midfielder Moussa Sissoko while Lyon are eyeing up a move for United midfielder Anderson." And the pseudo-tabloid continues by publishing that "Fulham have made a bid for £6m Swiss striker Marco Streller."
Anthony Kastrinikas splashes in the The Sun with news that "Real Madrid have stepped up their chase for Wayne Rooney by drafting in super-agent Pini Zahavi. The Spanish giants want football's best-known middle-man to try to negotiate a deal with Manchester United. And Roo is one of Real chief Florentino Perez's top summer targets."
Exposing the desperation at Pompey for money to roll into the club, Owen Gibson scribbles "stricken Portsmouth were today hoping that interest from the club's former manager Harry Redknapp in taking Younes Kaboul back to White Hart Lane would solidify into a £10m offer."
The final transfer shorts include news that Sunderland are tracking Habib Beye from Aston Villa, Morten Gamst Pedersen is considering a move to Turkish giants Fenerbahce, Benni McCarthy is on the verge of joining West Ham on loan, and Bolton are set to snap up the excellent American winger Stuart Holden for the rest of the season.
Finally, in the standout article of the day, Mick Hume depressingly admits that normal football fans can no longer affect change at their club. "Faced with mounting debts, rising prices, rumours of ground or player sell-offs, what is the fan in the stand to do? Marches, meetings and protests are being staged and there are even murmurs of solidarity between fans of opposing clubs. Some want the United crowd to start wearing green-and- yellow shirts — the old Newton Heath colours — to show solidarity with the founding spirit of the working men's football club. Whether these prove much more than token protests remains to be seen. In practical terms, fans might be desperate to make the bad owners sell, but to whom? There is talk at some clubs of supporters making a bid. That is fantasy football finances. It was possible for 20-odd thousand people paying £35 each to buy Ebbsfleet United, but a big club are out of our league."
---
GAMBLING CAN BE ADDICTIVE, PLEASE PLAY RESPONSIBLY