What Recession? Spurs to shell out £23m on three players, Aston Villa will spend £17m on two defenders, while Man City will pay £111m on four recruits this summer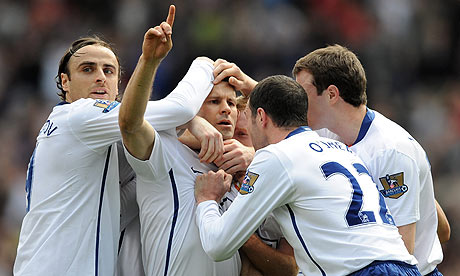 Comment & analysis round-up
Quote of the day: "I'm no longer thinking of Madrid. That dream is dead. The only thing I dream about now is Manchester United and winning the Champions League again in Rome." – Cristiano Ronaldo.
Runner-up: "I am happy here and I'd sign a new contract anytime. I want to stay at this club for the rest of my career. I will sign an extension any time the club want me to." – Wayne Rooney.
Today's overview: The Sundays are jam-packed this weekend with the Premier League title race and relegation scrap, the final day of the Championship, Champions League previews and an unbelievable amount of transfer gossip all covered across the paper-divide.
Many, including Daniel Taylor, use Manchester United's win at the Riverside to justify Ryan Giggs' PFA winners' award. "Giggs played with such suave effortlessness it felt at times as though the game had gone into slow-motion… the expertise with which Giggs opened the scoring was a poke in the eye to all those people who belittled his award." Jonathan Northcroft follows suit adding "in the company of some world-class talents, Giggs passed better, dribbled better and finished better than any other player." Rob Draper adds "he may only be a bit-part player nowadays, but when required he still possesses qualities to bewilder opponents. Better teams than Middlesbrough will fall under his spell before the 35-year-old finally retires."
According to Paul Wilson, "opinion is coming round to favour Wayne Rooney as Footballer of the Year, not because he has had a particularly spectacular season but because his consistency and competitive instincts put him at the head of an otherwise level field."
Poor Middlesbrough. Paul Wilson uses a throw-away line to condemn Boro to playing Championship football next year. "Full-blooded relegation scraps ought to be no place for old men, but Middlesbrough don't do full-blooded or scraps. Just ­relegation, on this evidence." Downtrodden, Michael Walker also sticks the boot into Boro writing "Boro look like a Championship team. This was not a performance that encouraged any other sense… Middlesbrough gave their followers nothing."
Turning focus onto the Toon, David Conn has sympathy for the Newcastle faithful. "Even in this dire season, in which Owen has laboured heart-wrenchingly in the incoherent teams managed by Keegan, Joe Kinnear, Chris Hughton as a caretaker and now Shearer, the ground has mostly been stubbornly close to full."
Looking at the battle against the drop into the championship, Paul Hayward suggests setting "up a parallel system of relegations for chairmen and owners? Retrospectively, Shepherd could be made to save, say, Stockport County. Newcastle could be confiscated from Ashley and Darlington given to him instead. A new scale of forfeits for reckless owners would marry crime and punishment."
Flipping the discussion 180 degrees, James Corrigan boasts that "this all or bugger-all realisation is the very life-force of sporting tension and it is why the Championship with its enthralling finale is quite easily the purest form of football theatre within the English and indeed the European pyramid."
On a slightly different note Jonathan Nortcroft wonders whether "Championship and Premier League players [are] different species? ProZone statistics suggest so. In the Championship there are fewer passes, more interceptions, because of passing inaccuracy, and 25% more headers in every game."
Amy Lawrence is the latest scribe to wax lyrical over Guus Hiddink. "He is an expert at taking the heat out of situations, at sounding reasonable, amenable. He knows when to push buttons, but also has a gift for turning potential critics into putty when he feels the occasion demands some anti-septic." While looking ahead to the Champions League Chelsea-Barcelona match this week, Hugh McIlvanney bleats "that the remorseless negativity of Chelsea's performance at the Nou Camp last week leaves them with an obligation to prove it was merely a pragmatic preamble to turning destructively positive at Stamford Bridge on Wednesday night."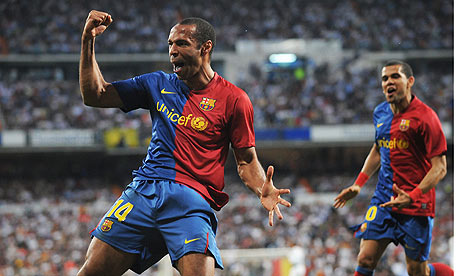 Those who watched Barcelona destroy Real Madrid are left reeling this Sunday. Sid Lowe leads the chorus for the Catalans. "Barcelona glided through as if playing Real was not a risk but an opportunity to put their pursuers out of their misery, to make a point. They could hardly have made it any better."
While looking further ahead to Barca's visit to London this week, Rory Smith notes that tactically "brain, they believe, will always outwit brawn… [Barcelona] have faced greater oppressors and remained true to their principles. They will not buckle now."
Pompous prat Piers Morgan uses his latest column in the Mail on Sunday to compare Manchester United to swine-flu. "There's no doubt about it. I've got Manchester United Swine Influenza. Or Red Swine Flu as it's better known. A potentially lethal affliction that emanates from pig-like creatures wallowing together in a muddy, rain-infested sty in the Trafford borough of Manchester."
Rod Liddle picks up the slack on the Almunia-for-England debate. "We know Almunia is not English and he knows it too and it would hover at the back of our minds, and his mind, every time he pulled on the England jersey: we are cheating."
In other news, Rob Draper worryingly reports how "the £425million deal between the Football Association and broadcasters Setanta and ITV is in danger of collapsing, say insiders."
In the Sunday interviews, Crystal Palace manager Neil Warnock speaks to Nick Townsend ahead of the Eagles' final match of the season against the Blades. While, turning the clock back a decade, Simon Turnbull speaks to Jimmy Glass about the goalie's famous goalscoring moment that kept Carlisle in the football league.
In the manager-merry-go-round, despite avoiding any quotes, Rob Draper farts "Louis Van Gaal has told his bosses at Dutch champions AZ Alkmaar that Sunderland want him as their manager next season." And, after reportedly turning down Bayern Munich last week, Rob Shepherd reports that "Arsene Wenger will commit the rest of his career to Arsenal after turning down a £40million offer from Real Madrid."
Graham Chase announces that "Rafael Benitez has insisted he will not offer Michael Owen a Robbie Fowler-style return to Liverpool even though the Newcastle forward is available on a free transfer this summer." Yet Liverpool are seeking out new recruits this summer, Joe Bernstein claiming "Rafa Benitez is prepared to trade in Xabi Alonso for Gareth Barry in a repeat of last season's long-running transfer saga at Liverpool, but will be beaten by Tottenham in the chase for £10 million England defender Glen Johnson." And the Reds' will continue to buy, Chris Bascombe penning "Middlesbrough winger Downing, 24, is back on Rafa Benitez's list of targets as the Kop boss was turned down in his first bid to sign Valencia's David Silva."
With Spurs having already shelled out £10m on Johnson (see above), the Sunday's commit the North Londoners to a bigger spending spree. Gary Ward reports that "Spurs are poised to make a £9million move for Lille's Michel Bastos." While the NOTW also print that "Harry Redknapp is ready to raid old club Portsmouth by launching a £4million swoop for French defender Sylvain Distin."
If the tabloids are to be believed, Manchester City have committed to spend £111 million this Sunday.
According to Simon Mullock, "Manchester City will make John Terry their No.1 target this summer by making a £20million bid for the England captain." The City chequebook is also whipped out by Harry Pratt, who writes "Bayern Munich have slapped a staggering £50million price-tag on Franck Ribery – paving the way for Manchester City to snatch the French superstar." Incredibly, Man City's spending spree extends further, Steve Morgan reporting "Hughes' future as Man City boss is in further doubt after Roberto Mancini was reported to be behind a £16m Blues swoop for Napoli striker Ezequiel Lavezzi." And we are still not done spending, David Harrison announcing "City are closing in on a £25million deal for Barcelona ace Yaya Toure." And Alan Nixon closes out the ridiculous rumours farting "Manchester City's Arab rulers are at it again with a staggering plan to land a dream double of Lionel Messi AND Jose Mourinho."
Should Mourinho leave Inter, it will leave Rob Shepherd looking red-faced as the hack fantasties that "Jose Mourinho will go back for Jermaine Jenas this summer as he attempts to turn his Inter Milan side into European champions." And joining Shepherd will be Tom Hopkinson, who announces "Jose Mourinho will offer Obafemi Martins an escape route back to Inter Milan if Newcastle are relegated."
Other transfer lies include the NOTW's report that "Martin O'Neill is ready to pay £10million for Fulham defender Brede Hangeland this summer." And Villa are also set buy another defender, David Harrison making up the story that Micah Richards is £7million target for the Midlanders.
And finally, Luke Nicoli links Everton with Dynamo Kiev striker Ismael Bangoura, Steve Bates claims "Real Madrid have targeted Arsenal star Gael Clichy as a £15million summer transfer target – after being warned off a move for Manchester United's Patrice Evra," while the People table that rumour that "Real Madrid have further angered Sir Alex Ferguson by claiming they have hijacked Manchester United's bid for Wigan ace Antonio Valencia."
---