What is the point of Andorra?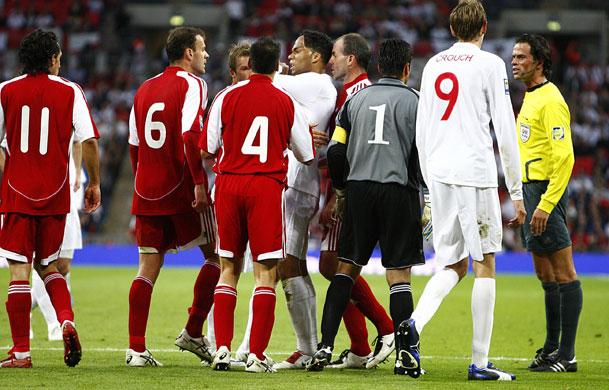 Comment & analysis round-up
Quote of the day: "I want people to remember me as a very good and skilful player. I don't want to be remembered as a top scorer. I've played with strikers with 100 goals, who can't control the ball. It seems like a three-metre pass when they're trying to control the ball with their feet." – Dimatar Berbatov.
Runner-up: "The Profitable Group can confirm that it has expressed an initial interest in acquiring Newcastle United. A preliminary discussion with the representatives appointed to handle the sale of the club has been held but contrary to some reports no direct talks have been held with either the owner, Mike Ashley, or the chairman Derek Llambias. The Group consider the leaking of the Group's interest in this matter unfortunate, and as supporters of Newcastle United seek only to serve in the best interests of the club, the fans and the local community. The Group will not be making any further comment at the present time." – a statement from The Profitable Group.
Today's overview: Now that Andorra have come and gone with consummate ease, some wonder why England are forced to play such minnows in the first place.
Kevin McCarra kicks-off the minnow bashing arguing "there is a latent absurdity in the obligation to play matches against sides such as Andorra… it was impossible for them to make it look as if they belonged at Wembley." Henry Winter followed in kind, penning "ranked 196 in the world, Andorra are more plankton than minnows but it was still satisfying to observe England sticking to their game-plan… England's reserves from the 1966 World Cup final, at last presented with their medals, looked more threatening than Andorra – and Jimmy Armfield, Greaves and company are in their sixties and seventies."
Yet the most damning critique of Andorra was served up by Martin Samuel. "Andorra are useless and the theory that by letting inferior nations into major competitions, their standards will improve is growing more discredited with each passing year. Andorra are not getting better… If anything, Andorra's attempts to compete on even the most rudimentary level involve taking all that is negative and base about the game."
Rejoicing in England's six goals, Oliver Kay reminds his readers that "This, a home match against the minnows of Andorra, was not a night on which to draw any meaningful conclusions about Capello's team." Others however attempt to do just that, drawing tactical conclusions from England's latest World Cup qualifier.
First off is James Lawton, who contends that "bullying Andorra will never mean much in the serious corners of football, but maybe it does suggest that England have indeed moved on from where they used to be. At least, they now know how to deal with teams who never had the right to share the same pitch."
Richard Williams is found praising England's marauding full-backs. "Great full-backs generally come in pairs, and it has been a long time since England were able to field a partnership worth boasting about." While Jason Burt plays up to the stereotypical English hack talking up England's World Cup chances. "A perfect qualifying campaign so far has not only added the missing ingredients of a winning mentality and confidence, but has also led to expectation. Expectation that England will not just reach their potential this time, but surpass it."
Sourpuss Patrick Barclay poops all over Glenn Johnson's parade. "Going forward, he is like a train. Asked to turn, he becomes a handcart. That's not a modern international full back. That's neither one thing nor the other." However Sam Wallace comes to the full-back's aid, countering "without getting carried away there are signs of progress in players such as Glen Johnson who looks like he might have a future as an international right-back."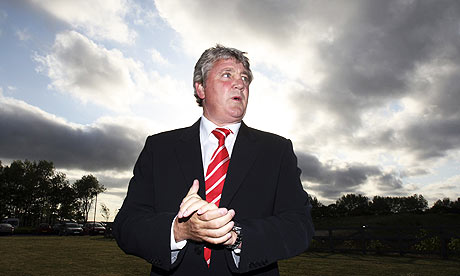 Paul Wilson opens his door to receiving sackloads of hate-mail from Sunderland fans after publishing an article discussing why Steve Bruce will have trouble bringing quality to the Stadium of Light. "All Bruce is doing at the moment is window shopping. As Roy Keane could have told him, actually getting players to move to Sunderland is a different story, no matter how much money you throw at them… Sunderland is a long way from anywhere, apart from Championship football." Despite Wilson's negativity, the Black Cats are linked with new recruits in today's Daily Mail. "Sunderland will battle with Stoke and Tottenham to sign Richard Dunne from Manchester City. The 29-year-old Irish centre-back is to be made available for £5million at Eastlands as City boss Mark Hughes tries to bring in Arsenal's Kolo Toure and Everton's Joleon Lescott."
Focusing on the transfers out of Serie A this summer – first Kaka, and now Zlatan, Maicon, Pato and possibly Pirlo may leave too – The Guardian teeter on the brink of exaggeration by talking down the quality of the Italian top flight. "The loss of possibly the two best players in Italy would be a huge blow for the struggling league, which has slipped well behind Spain and England in terms of appeal and financial clout." Yet the slurring of Serie A extends into the Daily Mail, where Laura Williamson takes pot-shots at the league. "Rocked by the match-fixing scandal and persistent hooligan problems, Serie A feels like a league hanging on to past glories… The likes of Philippe Senderos, Mohamed Sissoko, Ousmane Dabo, Adrian Mutu, Andriy Shevchenko and Hernan Crespo were Premier League flops but have survived in Serie A."
Today we welcome back the return of the "source," a shadowy figure lurking in the bushes whose sole purpose is to deliver soundbites to rumour-hungry hacks. According to the source, who spoke with Jamie Jackson, a personal plea from Sir Alex Ferguson to convince Carlos Tevez to stay at Old Trafford has failed. "A source close to [Tevez] said: 'You treat someone badly for a whole year, you don't make it up with a telephone call, right?'… The source also confirmed that staying in the Premier League is the 'first choice' for the Argentinian, who is reportedly also attracting interest from other European clubs."
Yet its not all bad news for Manchester United this Thursday as Daniel Taylor reports "Sporting Lisbon have initiated talks with Manchester United about re-signing Nani on an extended loan spell or arranging a player-plus-cash exchange involving their captain, the attacking midfielder Joao Moutinho."
Delivering the news in an unnecessary negative fashion, James Ducker reports how "Chelsea's summer transfer plans suffered another blow yesterday when they were quoted a £65 million asking price by Bayern Munich for Franck Ribery." Another player who the Blues may miss out on is Daniel Sturridge with the Daily Mail claiming that West Ham are trying to hijack the deal.
Turning to Eastlands, the Daily Mail spuriously link Robinho with a move to the Nou Camp while Christopher Davies is prepared to link together a series of transfer rumours to conclude "Manchester City target Samuel Eto'o is set to leave Barcelona for Inter Milan with Zlatan Ibrahimovic moving to the Nou Camp."
In other news, the Daily Mail print "Andrea Dossena's agent has claimed Juventus and Genoa are keen on signing the Liverpool defender," while Mark Irwin gets severly carried away barfing "Harry Redknapp is ready to launch a massive Spurs clearout – with up to FOURTEEN players facing the chop… Redknapp is still trying to persuade Real Madrid star Ruud van Nistelrooy to return to England… Redknapp is also determined to rival Manchester City for the signature of £10m-rated Blackburn striker Roque Santa Cruz and will also join the scramble for Wolfsburg's Edin Dzeko." Finally, The Sun print that "Everton look likely to sign Cameroon midfielder Stephane Mbia."
---