"What can David Beckham bring to a Spurs squad which is arguably the best in the Premier League alongside Manchester City's? – Alan Hansen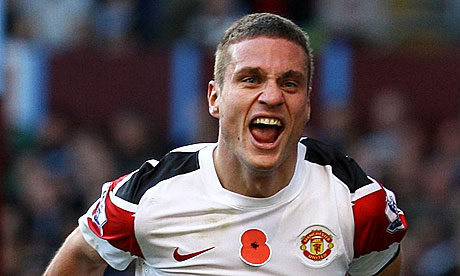 Comment & analysis round-up
Quote of the day:Â "If someone had predicted we would lose this many points I'd have said we would not win the league, that's for sure. Our away record is not something we're proud of, yet here we are top and still unbeaten. But we want to improve and we must play better. If we had won just half of the away games we have drawn we would have been out of reach by now. So it is very inconsistent from us and it's hard to explain why. Definitely in some games we did not perform well, but got the result. Then again sometimes we did play well and didn't get the result. We still believe we can win the League and we have certainly shown this season we can play solid because we haven't lost. This season is very strange indeed – if you'd told me five weeks ago Chelsea wouldn't win for five or six games I wouldn't have believed you. Everyone thought Chelsea were the strongest team and that they would win the title… but after that they didn't win. And that shows how strong and competitive it is in the Premier League." – Nemanja Vidic.
Runner-up:Â "I would like more dynamic speed in the team and that wouldn't be David Beckham. He wouldn't be somebody on our list. People are suggesting we are in the market for him because I said I wanted an offensive player. We have targets elsewhere with more chance of fruition. There's a need for some athletic, speedy players, especially in wide areas to give us something different." – Alan Pardew.
Alex McLeish blasts the FA: "We're looking for fairness. We're not defending anybody if they have made a bad decision on the field. But we're looking for fairness. If it's going to be the smaller clubs that are scrutinised, then you've got to look at the bigger clubs as well. I'll give you an example," he said. "Alan Hutton – I never said anything about this after the game – head-butted one of our players a few weeks ago on the touchline and there was nothing done about that. In fact, Match of the Day 2 laughed about it and called him a little bull, saying it was the way a bull would head-butt somebody. They had a good laugh about it. But ours is a big furore: 'Bowyer has got to get done'. We didn't hear anybody screaming about Alan Hutton that day. And Alan came into the dressing room and apologised to David Murphy for it after the game. I was quite happy just to let it be swept under the carpet. I could have come out at the time and said: 'Why's he not being done?' I don't like to see trial by television, but if we are getting tried by television, then everyone has got to get tried by television."
Sir Alex Ferguson has a dig at Arsene Wenger whilst discussing Stoke: "People have criticised their physical style of play but they stick to what they do best. I suppose Arsene Wenger has been one of their main critics, but then he does go off on a tangent at times. For instance, he criticised our pitch after they lost here before Christmas and I was at a loss to understand why. I have a great admiration for Tony and the wry way he rides the criticism levelled at his team. If anything the criticism galvanises the players and gives them extra motivation."
Today's overview: David Beckham continues to dominate the back pages with plenty of conjecture over his proposed move to Spurs.
There are differing reports as to whether the deal will actually happen, Sam Wallace says Spurs have turned their attention to Luis Suarez and both James Lawton and Alan Hansen are particularly vociferous in suggesting that Tottenham don't need Goldenballs.
David Hytner details how Carlo Ancelotti can turn things around at Chelsea and Matt Barlow also explains the reasons for the Blues' downturn this season.
Rory Smith in the Telegraph has a report on how Roy Hodgson has begged to be given more time, Glenn Moore writes about the ill-judged buys of the transfer window and there is plenty of gossip. Including Eljero Elia for Liverpool and Emmanuel Adebayor to Real Madrid.
Beckham forced to wait on move to Spurs: Simon Veness reveals in The Sun "David Beckham is being forced to wait on his dream move to Spurs — because his American bosses are busy buying an NFL team. Becks was hoping to complete a three-month loan switch in time to face former club Manchester United on January 16. But the whole deal is under threat because his LA Galaxy chiefs, the AEG Group, are involved in a £1billion bid to buy the San Diego Chargers gridiron team. Billionaire businessman Philip Anschutz, head of AEG, would need to give the green light to any loan deal involving the Galaxy's biggest star. But Anschutz is devoting all his time to the gridiron bid and will not talk about football matters until at least the end of this week."
Paul Doyle adds "David Beckham's chances of returning to the Premier League this month depend on his club, Los Angeles Galaxy, whom the 35-year-old has sought to reassure by declaring that he is only seeking a short loan move and would return to California in time for the start of the Major League Soccer season in mid-March. That declaration is intended to allay any fears Galaxy may have that allowing Beckham to spend the MLS off-season with another club could pave the way for a permanent move. The other factor that Galaxy are believed to be mulling over as they decide whether to accede to Beckham's request is whether the boon of having a hefty portion of the player's wages paid by the borrowing club, and the possibility of Beckham returning already match-fit, would outweigh the risk of him suffering an injury, as he did when he went on loan to Milan last year. Galaxy said tonight that they were continuing to consider the issue. 'A decision is still being made,' they said."
Matt Scott also reports on the liklehood of the deal. "Digger expects David Beckham to pitch up at White Hart Lane before long. Harry Redknapp says it was his son, Jamie, who passed on Beckham's interest in joining on loan to the Tottenham Hotspur manager. Perhaps, but all transfer business at Spurs is conducted by Daniel Levy, and it is his relationship with the Anschutz Entertainment Group that matters much more. As Digger reported last month, Philip Anschutz is well placed to capitalise on his firm's partnership with Tottenham in the bid for the Olympic Stadium and launch a full takeover bid for the club. There is another link that makes a Beckham switch to north London very convenient. His registration is held by LA Galaxy, owner: Philip Anschutz. According to Beckham's spokesman, the deal depends on the authorisation of Anschutz. Digger does not expect Spurs will have to wait long."
Sam Wallace reports that doubts are emeging over the move for Beckham and Spurs are after Luis Suarez. "The Uruguayan striker Luis Suarez is a target for Tottenham Hotspur this transfer window and his club Ajax have indicated privately that they would be prepared to sell the player for a fee of around £17m. The decision on Suarez was the key issue at the club before Harry Redknapp raised the possibility of the loan signing of David Beckham on Friday which has dominated over the weekend. However, there are doubts among key figures at Spurs as to whether signing Beckham until March would be a wise move – and even Redknapp is thought to be less sure than he might have indicated. While Redknapp has changed his mind dramatically in the past on major decisions, including those in his own managerial career, the indications yesterday were that Spurs would not follow-up with their interest in Beckham."
James Lawton criticises Spurs' potential move for Beckham. "Here is all the influence and the style and inspiration any growing football team needs. Redknapp has presided over its development with a fine professional touch. He has pushed back the horizon of his team's possibilities. He has achieved genuine momentum and self-confidence. Beckham says he would love to play at Spurs. Who wouldn't? But then someone should tell him that it has become a rite of passage and not another self-serving publicity spin-off. That somebody should be you, Harry."
Alan Hansen sings from a similar hymn sheet. "But if I were Harry, I would steer clear of bringing David back to the Premier League because I cannot see how he can be a major influence. Beckham has consistently proved his doubters wrong and you can only admire his hunger and readiness to return to England and play football during LA Galaxy's off-season. But what can he bring to a squad which is arguably the best in the Premier League, alongside Manchester City's? You don't bring somebody in merely to be good in the dressing room, especially with Spurs already looking to have a fantastic team spirit. And it is difficult to see how David can possibly start games when Harry has a midfield of Aaron Lennon, Gareth Bale, Luka Modric and Rafael van der Vaart, plus a host of other players knocking on the door."
Chelsea's woes: David Hytner addresses what Carlo Ancelotti can do to address the Blues current slump. "A few statistics. Since 7 November Drogba has scored three goals in 12 appearances (one of them a penalty), Florent Malouda has scored two in 12 and for Nicolas Anelka it is none in nine. They reflect a downturn that was pretty much inconceivable at the beginning of the season, when the trio were in riotous form. Drogba's travails have been related to his bout of malaria, which he is estimated to have contracted some time in October and which sapped his power. He trained and played with it and he has yet to recover fully. In the 3-3 draw against Aston Villa on Sunday he seemed to drag himself to life for the final 10 minutes, after another difficult game, through the sheer force of his character. The Ivorian has been a bit bolshie of late, as he has contended with the frustration, and none of his team-mates celebrated his goal against Villa with him. Malouda's slump has led to plenty of grumbling while Anelka has never liked a starting position on the flank and he seems to determined to wander as far away from it. Ancelotti is eager for them all to regain focus."
Matt Barlow also writes on the Chelsea slump. "Ancelotti can hide behind what look like boardroom clangers — letting Ballack, Joe Cole and Carvalho leave, promoting the youngsters too fast and sacking coach Ray Wilkins. But the Double-winning former AC Milan manager has risked his popularity and reputation in the dressing room by accepting the decisions and refusing to engage in a political battle with owner Abramovich. Jose Mourinho didn't mind skirmishing with the owner but this is a different Chelsea."
Also on Chelsea, Richard Williams hails the burgeoning talent of Josh McEachran. "But as any scout will tell you, usually with a rueful air, there is no knowing how a prodigy will turn out when adolescence is left behind. Joe Cole, for example, seems to have spent most of his career desperately trying to prove that there is more to him than the precious skill he showed as a teenager at West Ham United. And the last junior player who made a similar impression on me, 10 winters ago, was David Bentley, playing in one of Arsenal's academy sides. That 16-year-old seemed to have everything, too, yet look how over-confidence and bad decisions withered his rich promise. Something about McEachran's presence on the pitch and on the bench – that air of quiet watchfulness – suggests that this will not be his route through the game."
Praising Heskey: Kevin McCarra writes: "He is that rarity, an attacker who is all too effective in avoiding fame. Others in his line of work hate to be taken for granted, but it seems to suit Heskey. During the World Cup qualifiers, he rejoiced at being the catalyst for Wayne Rooney, although the chemistry was not repeated in the adverse conditions of the finals themselves. Nonetheless, Heskey still collected 62 caps. They were bestowed, too, by a variety of managers who saw merit in him over an 11-year period. Despite that sustained participation, he has been affected by injury. It would therefore have been unpleasant for Chelsea to discover that he had brought so much vigour to the match on Sunday. Villa's restrictions may be bringing out the best in him. Gabriel Agbonlahor has not scored in the league this season, John Carew is on the margins and Nathan Delfouneso is still a teenager. Heskey has responsibilities and that appeared to do him good when the onus was on him to ensure that Chelsea were not allowed to assume their old authority."
Woy struggling along: Rory Smith reports in the Daily Telegraph "Roy Hodgson has issued a heartfelt plea to Liverpool's owners to grant him the time and money he requires to construct a squad in his own image before deciding if he is the right man to lead the club forward. John W Henry and Tom Werner, the principal backers of the club's parent company Fenway Sports Group, have lost patience with the 63 year-old and will consider replacing him — initially by installing a caretaker before making a permanent appointment in the summer — as soon as they have identified their preferred candidate for the temporary role. Hodgson, though, believes it would be unfair to judge his troubled reign at Anfield based on his results with a squad largely bequeathed to him by Rafael Benítez."
In a seperate article, Rory Smith adds to the rumours linking Ralf Rangnick to the Anfield hotseat. "Kenny Dalglish seems the obvious choice to return to the post he last occupied 19 years ago, given the vociferous backing from the Kop he has already received. Ralf Rangnick, the little-known former manager of German side Hoffenheim, is a little more left field. It would be easy to characterise the 52 year-old as a continental nobody, to mock his previous engagements at the likes of Ulm and Reutlingen in his homeland and his brief playing stint at Sussex County League side Southwick FC as evidence of how inappropriate his CV is for the task of taking over English football's most decorated club. Yet his work at Hoffenheim qualifies him perfectly. After comparatively unsuccessful spells at Stuttgart and Schalke, Rangnick, nicknamed 'The Professor' by a German football establishment suspicious of his modernity, took the tiny village club — admittedly bankrolled by the billionaire Dieter Hopp — from the German third division to the cusp of Europe."
Blackburn have bid for Ronaldinho: Martin Blackburn reports "Blackburn's owners last night claimed they had made a £6.2million bid for Ronaldinho — 24 hours after denying it. Indian poultry firm Venky's first posted news of their interest on their Facebook site on Sunday morning. But hours later director Venkatesh Rao ridiculed the story. He insisted it was 'not true at all' and there was no Rovers interest in the Brazilian superstar. But last night his sister and Venky's chairwoman Anuradha Desai insisted they HAD lodged an offer with AC Milan. Senior figures at Ewood Park also claimed no knowledge of any bid going in for Ronaldinho."
Stars leaving the Premier League: Ian Wright goes off on a tangent. "Cesc Fabregas and Carlos Tevez both stand a chance of lifting the Premier League title. The winning captain from what should be a fascinating tussle between Arsenal and Manchester City tomorrow will fancy his chances of getting his hands on the trophy. And this could prove to be one of the key matches of the season. While Manchester United remain my tip for the title, both City and Arsenal are serious contenders because of the incredible number of surprise results involving the teams at the top. Fabregas and Tevez find themselves in similar situations as there have been doubts over their futures."
The January transfer window: Glenn Moore writes of the "ill-judged" buys that have blighted this month of the calendar year. "When Saturday Comes once ran a cartoon that depicted three newspaper hacks (drawn as pigs wearing trilbys with 'press' stuck in the hatband) each holding a bag of the sort once used for the FA Cup draw. In turn they pull out a piece of paper. The first reads out: 'Vinnie Jones'. The second: 'Real Madrid'. The third: '£2m'. The first one says, 'That'll do'. At this time of year it would be easy to believe this is how the sports media operates, not least because of the speculation industry's expansion beyond the traditional red-tops to what were once known as broadsheets, plus radio, rolling news broadcasters and websites. The sheer volume of touted transfers is astonishing. Every Premier League club is linked with a minimum half-a-dozen names, yet in this transfer window last year the 20 clubs completed only 10 deals between them."
Transfer gossip: The Sun have a host of stories, including Jose Mourinho chasing Emmanuel Adebayor, Juventus could make a loan move for Dan Agger, Aston Villa are planning a move for Christopher Samba and Wigan want Gabriel Obertan if Tom Cleverley leaves the DW Stadium. The Currant Bun adds that Liverpool are closing in on Eljero Elia, West Ham have bid for Demba Ba and Benni McCarthy is heading to the MLS.
The Daily Mail also have a host of transfer articles. Liverpool want Luis Suarez and Daniel Sturridge, Newcastle are after Wayne Bridge and Robbie Keane, Federico Macheda rejected Premier League clubs to join Sampdoria on loan and Everton have joined the race for Dieumerci Mbokani. 
The Daily Mirror join in the transfer window fun, linking Liverpool with Eljero Elia, "as well as Lacina Traore, Chelsea's Daniel Sturridge and Ajax forward Luis Suarez." They also report that Blackburn want Roque Santa Cruz, Bayern Munich have conceded defeat in their chase for Leighton Baines and West Ham are leading the chase for Tuncay.
The Daily Telegraph add that Manuel Almunia has played his last game for Arsenal and Gary Cahill is likely to be priced out of a move to Chelsea.
Smut: The Sun warn Wayne Bridge of another potential John Terry situation with his new girlfriend and Adam Johnson.
Click here for more Premier League betting tips
---