"What a treat for Capello to be able to name as his last midfield player someone of Beckham's abilities. Just don't bring the beard" – Matt Dickinson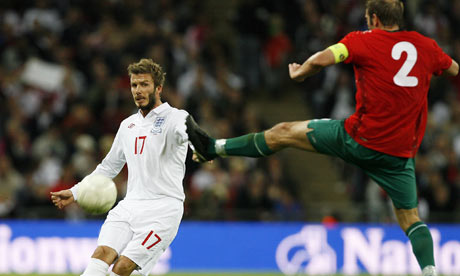 Comment & analysis round-up
Quote of the day: "It would be special to win the World Cup and then host it, but there is a long way to go before that. It's everyone's dream to do that, but there is a lot of hard work for both." – David Beckham.
Runner-up: "I've realised with every year how big the Premier League is. Growing up it's about Champions League and World Cups. But, once you come to play here, you realise how the fans live for the Premier League. The league is really competitive and I like it a lot. I think in England the Premier League is the biggest thing. All the top teams in Europe want to win their own league but the English is the hardest to win. I want to win it even more now than when I first arrived." – Cesc Fabregas.
Today's overview: For those not entirely bothered about whether David Beckham goes to the World Cup much of today's comment and analysis should be skipped. There may be many months to go to South Africa but Capello's likely 23 is chewed over and analysed in great detail. If Goldenballs doesn't do it for you, make sure you read Marcela Mora y Araujo's piece in The Guardian titled: Just because Maradona's paranoid doesn't mean they're not out to get him
Matt Dickinson outlines his reasons for why David Beckham should go to the World Cup. "Beckham will spend the months leading up to South Africa in the company of world champions Andrea Pirlo and Gennaro Gattuso at AC Milan, not in Hollywood. Chances are that he will be the 23rd man, but what a treat for Capello to be able to name as his last midfield player someone of Beckham's abilities. Just don't bring the beard."
In turn, also in The Times, Oliver Kay lists the reasons why Beckham shouldn't go to the World Cup. "A fully fit, on-form Beckham would be an asset to any squad, but a 32-minute run-out against Belarus is no basis on which to end the debate. To pick him on his name alone — or on some spurious ground about what he "brings to the squad" — is simply not enough."
Readers of The Sun will wonder why they are even having this debate in The Times as the lead story in the Currant Bun is that David Beckham (and Peter Crouch) will go to South Africa. "David Beckham has played his way into Fabio Capello's World Cup squad. And Peter Crouch will also be on England's plane to South Africa next summer. SunSport can reveal boss Capello considers both to be in his final 23, despite being fringe figures in qualifying. Beckham, 34, was named man of the match in Wednesday's 3-0 win over Belarus, even though he made only a half-hour appearance as sub. But the LA Galaxy midfielder will be delighted his transatlantic travels have paid off – and a second loan spell at AC Milan will now end with a FOURTH appearance at the finals."
Paul Hayward also adds his two penneth on the David Beckham debate. "This harmless sideshow will not consume England's efforts to reach the final of a major tournament for the first time since 1966, because Capello will not allow it to, and because the match-winning impetus has shifted to Wayne Rooney, Frank Lampard and Steven Gerrard. To the England coach – a product of Serie A, where top footballers play on into their dotage – a veteran Beckham brings an indispensable virtue to the last third of high-pressure games: control, tactical cunning and the capacity to plant doubt in the minds of tired opponents with his crossing and dead-ball prowess."
Ian Herbert also backs Goldenballs. "Beckham should be in Capello's plans because he can provide what so many of those pretenders to his right-wing role – Theo Walcott, Aaron Lennon, Shaun Wright- Phillips – cannot. There was prescient timing in the rolled Beckham pass, a minute after his arrival from the bench, which set up Wright-Phillips' goal on Wednesday. James Milner had just beaten his man and put in a cross so inadequate you longed for such stardust."
The inequalities of others is also cited by Jim White on the Beckham debate. "In his 31-minute cameo, Beckham did something of which most of his colleagues seemed incapable: he gave the ball to someone wearing a similar coloured shirt to his own. Five or six times he did this, which is roughly five or six times more than Wayne Bridge has managed in his entire England career. That his care, his intelligence, his precision stood out was a jarring comment on the thinness of Capello's second string."
Oliver Kay analyses how Don Dabio will choose his squad for South Africa. "Sporting convention has it that form is temporary and class is permanent. It is a nice thought, one that has been embraced by every top-class sportsman who has endured a wobble, but, when it comes to discussing his England squad for the World Cup finals next summer, Fabio Capello swears by what he calls 'the moment'. It is not enough, he says, to be in the form of your life in autumn, eight months before the carnival in South Africa gets under way. It is about hitting form at the right time and showing that you have enough in your tank to get through what he hopes will be a long tournament."
Henry Winter also looks ahead to Capello's 23 and has bad news for Crouch and Owen. "Crouch deserves his chance. Prolific, albeit against minnows rather than sharks, he offers a completely different option to the others. The one concern, and a legitimate one if influencing Capello's thinking, is that Crouch's angular style of jumping will be penalised by World Cup referees. Sadly, it is hard to imagine Capello finding a place for Michael Owen. What a pity. The Manchester derby highlighted Owen's enduring usefulness."
It is left to Kevin McCarra to inject a bit of pessimism to England's plans for the World Cup. "Fabio Capello's latest gift to the country has been to grant it some scope for grumbling. Following England's defeat in Ukraine there was a win over Belarus that was flecked with imperfections. No one can have left Wembley with the notion that the side is on the verge of greatness and nitpicking would have occupied many people on their journey home."
Andy Cole claims "arrogance is England's biggest enemy in South Africa." "One of the biggest problems with English international football is institutional arrogance. We qualify for a tournament and that means we're going to win it. We've heard this nonsense too many times. What's the logic? We gave football to the world, so we're entitled to the trophy? It doesn't work like that. Yes, England did superbly to win the first eight games straight in a qualifying campaign that ended last night. But we've got to get out of the mentality that we're owed anything." There is also an interview with Andy Cole in the Daily Mail.
Elsewhere on the international action, if you are going to read one article today, make it Marcela Mora y Araujo's in The Guardian titled: Just because Maradona's paranoid doesn't mean they're not out to get him. "Wednesday may have been the night on which Argentina confirmed their reservation at South Africa 2010, but if it goes on like this it ain't going to be pretty. And even though some of us chuckled during Maradona's press conference, deep down we also know that it's not funny either."
Martin Samuel also files another report from Montevideo on Maradona and Argentina. "Don Corleone would make an offer you couldn't refuse. In the depths of the Estadio Centenario in Montevideo, the Godfather of Argentine football, Diego Maradona, made one it was all too easy to turn down. 'You can all,' he told the assembly of waiting press men, 'suck my ****.' He extended that invitation several times in the next 15 minutes, collectively and, on one occasion, to a hapless figure reporting live and direct to camera for his television network, individually, too. Maradona did first apologise for his language to the two girls flanking him to promote sponsors Coca-Cola, who incongruously maintained their transfixed smiles throughout, creating a surreal montage of human expression."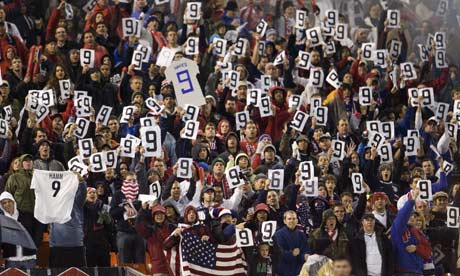 Amy Lawrence puts Argentina's struggles in perspective, by profiling Team America. "The smokebombs that engulfed the USA team tell of another kind of emotional charge altogether. In the ninth minute of their match against Costa Rica, supporters released flares to highlight a cause close to their hearts as they held aloft cards bearing the No9. It was their way of showing support to their striker Charlie Davies, who is in a Washington hospital with career-threatening multiple injuries following a car accident that took the life of a young woman. This was not the most straightforward match for the Americans, but the outcome reveals why they will be one of the teams to watch for next summer."
Looking ahead to the Premier League action this weekend, Harry Redknapp uses his column in The Sun to prepare for his return to Fratton Park. "The entire Cup final team cost £34m – we sold Johnson and Diarra for £38m. Why I should be condemned by the fans is beyond me. When I collected the freedom of the city a few days after joining Spurs, I was warmly welcomed by 95 per cent of the people there. One or two morons heckled but so what? Tomorrow at Fratton Park. I am optimistic most of the punters will remember the good times we had together, understand I had to take my last chance to manage a 'big' club in Spurs and move on. It's a game of football, not a matter of life and death."
Brian Viner interviews Bolton striker Kevin Davies in The Independent. "Sir Alex Ferguson has had other fish to fry these past few days, but his usual tactic in the run-up to a Manchester United v Bolton Wanderers game is to put it about that Kevin Davies, the Wanderers captain and centre-forward, is an aggressive so-and-so who needs watching as much by the officials as by the United defence. 'Two years ago it was spread all over the papers,' says Davies, with a rueful smile. 'All this stuff from Fergie about me bullying and kicking. And I went there and hardly made a tackle, because I knew I'd be straight in the book. So I suppose he did his job. That's what Fergie's good at, isn't it?'"
Liverpool winger Albert Riera is the subject of The Guardian's Small Talk. "Let's cut to the chase, Albert. Are Liverpool in crisis? Crisis? No. Look, it's true that we've suffered the kind of results Liverpool are not used to. But everyone has got accustomed to a league where the champions finish with 88, 90 points and I don't think that's going to be the case this season. We'll see a league that's much closer, with more points taken off each other than in previous seasons. Manchester United aren't going to be so predominant – in fact they've already lost against Burnley – and all the teams will drop points. We've got a smaller margin for error than we'd like but you'll be able to win the league even if you lose five or six matches."
Following John Barnes' departure at Tranmere, Gabby Logan weighs into the debate on black managers in England. "It must look like very hard and often fruitless work to a young black player to break into coaching when they are so very rarely coached by a peer, as hard as it looked for the black players on the pitch in the 1970s and 1980s suffering the verbal and emotional abuse they did. But they carried on, they were the pioneers, eventually it got better, and now it is unthinkable that such behaviour would be tolerated. Let's hope that John Barnes doesn't give up his dream, that Chris Hughton gets his rewards and Ince gets another crack of the whip in the Premier League and that in ten years' time it is unthinkable that we don't see a black manager on Match of the Day every week. But I believe this will only come with the hand being ever so slightly forced."
In the transfer gossip, Sir Alex Ferguson has been embarassed by a letter sent to Standard Liege midfielder Steven Defour and Chelsea will target Middlesbrough's Adam Johnson if they can get their transfer ban lifted. Stoke hope Ryan Shawcross will sign a new deal and the Robinho to Barcelona rumour is still being spouted as if no one has heard it before. The Independent add a twist, claiming Mark Hughes could be tempted if Thierry Henry heads to Eastlands (hasn't the French captain consistently said he would never play for any other team in England bar Arsenal?)
---
GAMBLING CAN BE ADDICTIVE, PLEASE PLAY RESPONSIBLY