West Ham prepare to sack Zola, did Watmore really think he could run football without fighting, Chelsea eye Van der Vaart & Juve ready to sell Buffon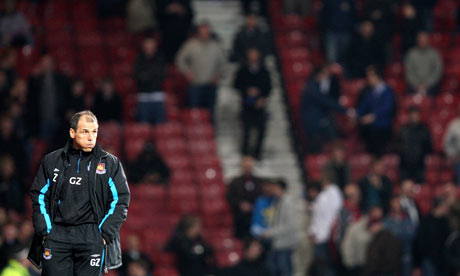 Comment & analysis round-up
Quote of the day: "The owners can do whatever they feel is the right thing to do. I try to do my work as best I can every single day. If that's not good enough, not considered good enough… I have no time or desire to live worrying about things. Worry doesn't help me do a better job. We tried tonight but in a disorganised way and that's very painful for me. It's my duty to correct that and I take full responsibility for that. I try to concentrate on the things I can do rather than the things I can't. Whether I will be able to do that, I don't know. We will see. I've got a long night in front of me to think about that." – Gianfranco Zola.
Runner-up: "Everywhere you look there's people who want to shoot us down. From the moment we lost our first Premier League game against Bolton, we were written off. But when you prove people wrong, it gets under their skins and they are just waiting for you to slip up so they can say 'told you so'. It wasn't in the script for us to be competitive. That's why you get people like Arsene Wenger moaning on at you – because we have made it difficult for them and we're not supposed to do that. As recent refereeing decisions have shown, we are not getting a fair crack of the whip and that can leave you thinking we are on our own. But there's a feeling in the outside world that we are as united as any club in the country. We mustn't let anyone destroy that. We can build on what we've done so far for another three or four years to give us something people will talk about for generations." – Tony Pulis.
Today's overview: He's lovable, but Gianfranco Zola is under the gun this Wednesday after his Hammers side were torn apart by fellow relegation strugglers Wolves. Will the Italian get an opportunity to turn things around?
Dominic Fifield fears the end is nigh for Zola. "The mood has turned at West Ham United. Gianfranco Zola's 18-month reign as the Hammers' manager may limp on for now but this felt like the beginning of the end… There may be no recovery from this… Form has drained away with dreadful timing, the dissent in the stands stripping the team of conviction."
Striking up the fat lady, Alyson Rudd also believes Zola is now waiting for the axe to fall. "Zola was not expected to stay beyond the summer but may now leave much sooner. The fans received free clap banners that produced a curious static noise that initially served partially to drown out the groans. By the end the banners sounded more like nails being hammered into coffins."
The Sun flag up how Carlton Cole got into a spot of bother at the full-time whistle. "Cole was restrained by police and security guards after a bust-up with a supporter on a disastrous night for crisis-hit West Ham… A West Ham fan who witnessed the event told SunSport that Cole was dragged down the tunnel – only to return to hurl more abuse at the fan."
Zola isn't the only Premier League manager to get it in the neck, as Ian McGarry forgets that Chelsea can still win the league and FA Cup as he prefers to slam Carlo Ancelotti. "Their current form cannot be passed off as a blip and it is at times like this that both managers and players really earn their crust. In Ancelotti's case, the question has to be asked if he is really worth his £4.5million-a-year salary? So far, his contribution has been to turn a squad of players who lost one game in five months under Guus Hiddink into a nervous wreck."
The fallout from the resignation of Ian Watmore as chief executive of the FA continues, as the football governing body tries to paper over the cracks of his departure by trying to convince people that everything is still OK.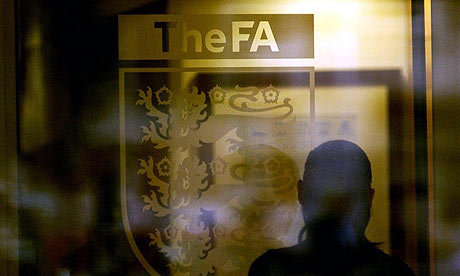 Noting the latest developments from the men in suits, Owen Gibson detailed that "in what appeared to be an attempt to portray Watmore's actions as being out of step with the mood of the rest of the board, an FA statement said there was no need for a substantial overhaul of the way the game is governed… It is understood, however, that Watmore came to believe that only a complete modernisation of the FA's structure, giving it independence from what he saw as 'vested interests' on the board, would leave it with enough power to govern English football."
While the FA try and convince people that all is still well, David Conn remains confused as to why Watmore resigned. "Watmore was clearly emotional when he wrote his furious email on Saturday to all members of the FA board, but he was complaining about the leaking of an internal briefing about the new communications director. Deeply frustrating for a chief executive who had specifically asked his board not to leak it? Yes. But the final straw, worthy of resignation from his opportunity – albeit fiendishly difficult – to shape the FA and English football? It does not seem substantial enough."
Martin Samuel wades in and expresses the common consensus on the Watmore story – who cares! "I am trying very hard to care about this, but when I see a headline that reads 'FA meltdown' in World Cup year, I immediately think Wayne Rooney's knee or Fabio Capello's sanity. The departure of Ian Watmore, the former chief executive, not so much… Watmore had trouble with the professional clubs. Big deal. Every FA executive is going to have that… Did Watmore seriously think he would come in and run football without having to fight? It would be like challenging the playground bully with a balloon on a stick. This time, the FA needs a stronger voice."
Moving on, Ashley Gray reports the latest list of the highest paid footballers on the planet. "Lionel Messi earned a staggering £29.7million in the last year, replacing David Beckham as the world's highest-earning footballer… Jose Mourinho is the highest earning coach, with the Inter Milan boss picking up £11.7m, while last year's No 1 Luiz Felipe Scolari fell to third with £8.5m after Chelsea finally stopped topping up his gold-plated contract with Uzbekistan side Bunyodkur."
We end we the transfer lies.
The Sun today fart that "Chelsea are closing in on Rafael van der Vaart. Boss Carlo Ancelotti has been tracking Real Madrid's £10m Dutch playmaker for several months."
Rather than splashing the cash, Arsenal and Manchester united are adopting a policy of consolidation. Alan Nixon coughs "Arsenal defender William Gallas is ready to sign a new contract following showdown talks between the clubs and his agent," while David McDonnell scribbles "Gary Neville will be handed a one-year contract extension by Manchester United this summer."
Elsewhere, Alan Nixon chugs "Fulham are red-hot favourites to snap up Wigan star Paul Scharner when he quits at the end of his contract," Neil McLeman claims "Gianluigi Buffon has been put up for sale by Juventus to finance a massive squad overhaul. The Italian giants hope to lure Manchester City and Bayern Munich into an auction to raise £30m," while John Ley details how Spurs have signed Sandro and that Harry Redknapp hopes to sign Eidur Gudjohnsen on a permanent basis.
Lastly, is it Spartak or CSKA? According to Chris Wheeler, "Spartak Moscow remain the favourites to sign Albert Riera after CSKA Moscow insisted they would not make a move for the Liverpool outcast."
---
GAMBLING CAN BE ADDICTIVE, PLEASE PLAY RESPONSIBLY