West Ham fans threw a hot dog & coins at Chelsea, Wigan's McManaman slammed for horror tackle & are Spurs collapsing?
Comment & analysis round-up
Quote of the day: "At half-time [Halsey] said 'If I've missed it I apologise. It's an awful challenge. The pictures speak for themselves. I thought it was a bad challenge and I was 60 yards away from the incident. When it filtered through that it was as bad as it was and the players knew because they were on top of it, there was a lot of bad feeling about that incident when it went unpunished. We should have had a corner and it goes up the other end and we should have had a handball. It's tough to take. The linesman's looking right at it, all of our players reacted and in that split second we didn't clear it because of our reaction to the handball and that's what happens when you miss a decision as big as that." – Alan Pardew.
Runner-up: "I wasn't hit by anything. I went quite close to the West Ham fans but that was the natural curve of my run." – Frank Lampard.
West Ham In Trouble After Throwing Missiles
Cops investigate coin thrown at Lamps 'n Co in Hammers clash (Mark Irwin, Sun) Frank Lampard was pelted with coins as he celebrated his 200th Chelsea goal against his former club. Sub John Terry was also hit by a coin thrown by a West Ham fan as he warmed up. Cops are probing the incidents and Lamps said: "I wasn't hit by anything but I went quite close to the West Ham fans — it was the natural curve of my run!"
Police launch investigation as HOT DOG and coins are thrown at Terry and Lampard (Sami Mokbel, Mail) Hammers fans launched coins and bottles at Blues players as they celebrated Frank Lampard's 200th goal for the club. A hot dog was also launched in his direction from the away end.
Yobs spoil Frank Lampard 200 goal landmark by throwing coins (Kevin Garside, Independent) The incident could result in a fine for Chelsea, should the FA chose to act on the referee's report. There were no evictions or arrests made but the police are investigating the incident and West Ham said that any fans identified faced a ban from Upton Park. The fourth official, Howard Webb, instructed the Chelsea players to warm-up at the other end to avoid a repeat.
Chelsea Don't Get Clattenburg
The ref Chelsea just don't get (Daniel Taylor, Guardian) It is nearly four months since the Football Association decided that, whatever Ramires thought he heard Mark Clattenburg say to John Obi Mikel when Chelsea played Manchester United in November, it certainly wasn't "monkey", as the Brazilian alleged. Since then Clattenburg has taken charge of 20 matches but the Premier League has deliberately kept him away from refereeing another Chelsea game. How long that will last nobody seems sure but don't be surprised if it runs into next season.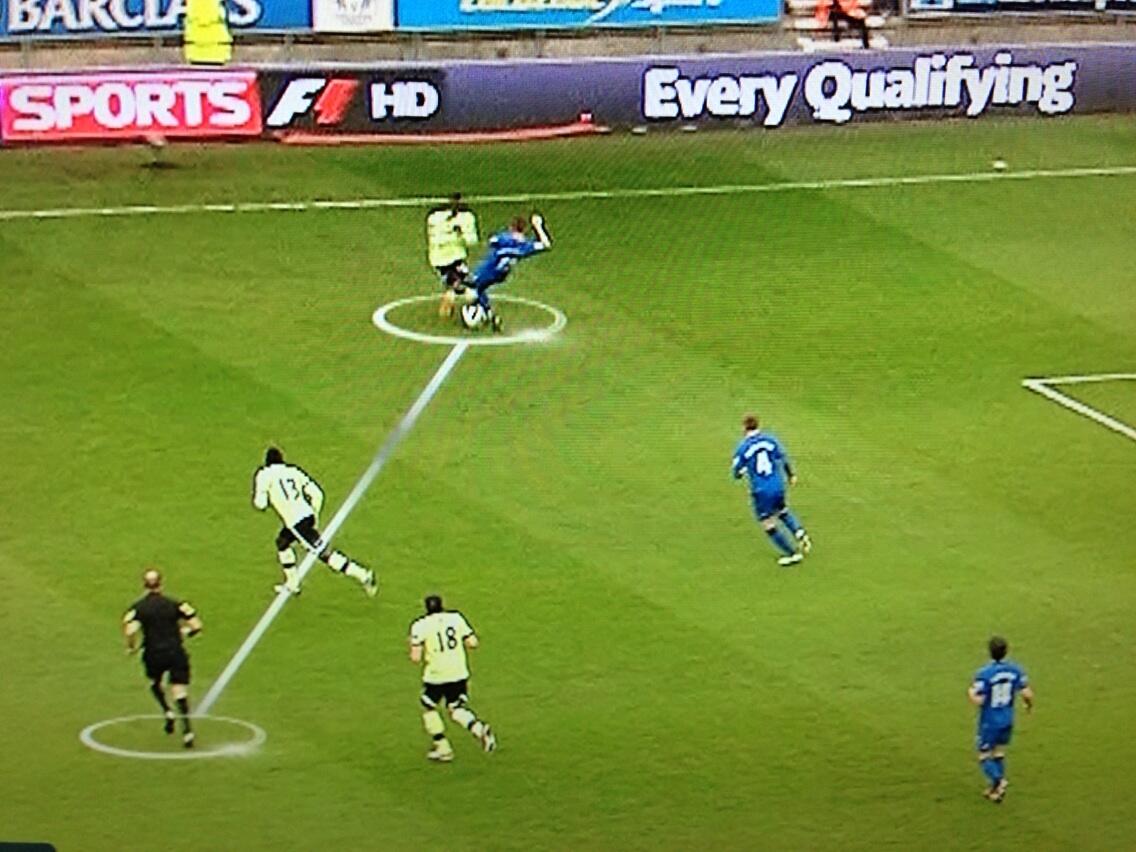 Public Enemy No 1: Callum McManaman
McManaman horror tackle sparks half-time brawl as Newcastle's Haidara is crocked (David Kent, Mail) A Callum McManaman horror tackle on Massadio Haidara sparked a half-time melee as the Premier League clash between Wigan and Newcastle turned nasty. McManaman went in high on the Newcastle defender, who had to be carried off on a stretcher. Magpies assistant manager John Carver confronted McManaman as the teams left the pitch at the end of the first half with stewards and players also getting involved.
Halsey should have sent McManaman off… he'll pay the price by missing games (Graham Poll, Mail) Callum McManaman is only 21 and looks a good prospect but, if he plays until he is 35, I doubt he'll make a worse challenge than the one on Newcastle's Massadio Haidara. His straight-legged lunge over the top of the ball, with his studs up, caused his opponent to be stretchered off. Referee Mark Halsey should have sent McManaman off.
Newcastle coach faces FA rap for clash with Wigan horror tackler (Alan Nixon, Mirror) Newcastle United coach John Carver is facing an FA rap for an ugly half-time clash with Callum McManaman after the Wigan winger's horror tackle on Massadio Haidara during the 2-1 defeat at Wigan. McManaman is also in danger of being banned retrospectively – possibly missing the FA Cup semi-final – for the shocking foul that left Haidara with suspected knee ligament damage.
Public Enemy No 2: Grant Holt
Norwich should have finished with nine men (Graham Poll, Mail) The challenge Grant Holt made on Sunderland goalkeeper was a very poor one and certainly endangered his opponents' safety… Foy awarded the free kick and settled for a yellow card when red would have been more appropriate. Before the game Foy had not dismissed a Premier League player- two should have seen red.
Spurs Start To Struggle
No Bale Out, Spurs (Jamie Redknapp, Mail) Spurs need the strikers to liven up. People asked if they were a one-man team when Gareth Bale was in a hot streak. Now he hasn't scored in two and they've lost both games. Jermain Defoe last scored on Boxing Day and Emmanuel Adebayor's last league goal was January 1.
Spurs' collapse no surprise (Mark Lawrenson, Mirror) When Tottenham beat Arsenal three weeks ago I backed the Gunners to finish in the top four. This collapse from Spurs does not surprise me. I said before yesterday it would be their biggest game of the season. It was a question of what their attitude would be like against a team with a poor away record. It wasn't good enough. And their mistake of not adding to the forward line in January is about to come back and bite them.
Defeat by Fulham leaves Tottenham facing familiar run-in test (Darren Lewis, Mirror) The spectre of this time last year is looming large over White Hart Lane right now. Twelve months ago Tottenham had a ten-point lead over Arsenal only for Harry Redknapp's side to win just two of their final 11 games and miss out on the Champions League. A year on Squeaky Bum Time has been declared officially re-open. Three weeks ago, following victory in the north London derby, Villas-Boas claimed the result would send the Gunners into a "negative spiral". Since then, however, the opposite had happened. Arsenal have won at Bayern Munich and Swansea while Tottenham's Europa League win over Inter Milan has been followed by three defeats under their Portuguese boss for the first time during his reign. The collapse is all the more eye-catching because, had Spurs held on at Liverpool last week and won here against Fulham, they would be second right now. Instead, Chelsea's win sends them back down to fourth.
Sacking Isn't Always The Solution
Dropping pilot doesn't stop ship going down – Reading, please note (Sean Ingle, Guardian) Too often, however, chairmen stick their finger in their air and see which way the wind is blowing. Sometimes it isn't even that scientific. All chairmen should have a realistic idea of their team's likely performance before the season starts. Reading, for instance, were even- money favourites for relegation with Sporting Bet last summer, who also forecast they would get 37-40 points. McDermott wasn't ripping up giant oaks, but only a visitor from the planet Zog – and, apparently, the club's owner Anton Zingarevich – would have been surprised at Reading's results. Some knowledge of recent history helps too. Nine managers have been sacked by clubs in the relegation places in March or later since the Premier League began – and all nine went down.
Transfer Lies
Chelsea slap £17m price tag on keeper Thibaut Courtois (Star) Atletico boss Diego Simeone wants to sign Courtois permanently – but has been quoted an eye-watering asking price.
Arsenal blow as target Villa offered new Barcelona contract (Mail) The Spaniard is due to be a free agent in 14-months time, with several English clubs sniffing around to see if they can get the striker at a cut price figure. However, Barcelona feel he still has a very important role at the club and staying in Spain may be his best chance of competing for a place in the national side.
Reading flop Pavel Pogrebnyak could go to Zenit St Petersburg (Mirror) Russian striker Pavel Pogrebnyak is wanted by Zenit St Petersburg after failing to justify his £65,000 a week wages with struggling Reading.
West Brom are tracking Birmingham kid Callum Reilly (Mirror) West Bromwich Albion are tracking Birmingham City's rookie midfielder Callum Reilly. Albion have had a scout at Birmingham's recent games to run the rule over 19-year-old Reilly.
The England Squad
Rio Ferdinand and Ashley Cole must be told to end their rift for the sake of England's World Cup chances (Alan Hansen, Telegraph) In a perfect world, Rio Ferdinand and Ashley Cole would put all of their issues behind them for the greater good of the England team before they report for duty at St George's Park on Monday evening, but that will be easier said than done… The fact that Cole and Rio were good friends prior to the case means it may be harder for them to resolve this. Being so close previously could make it more difficult for them to wipe the slate clean and start afresh.
These fixtures may define Roy's tenure as England manager… Rio better be worth it (Martin Samuel, Mail) Rio Ferdinand will do everyone a favour this week and join up with England. Boy, does he need an absolute blinder against Montenegro next Tuesday. We have set out the equation before. A high maintenance player must be indispensable to be worth the hassle. Cristiano Ronaldo is, Mario Balotelli wasn't; Paul Gascoigne was, Joey Barton wasn't. And, as Roy Hodgson is discovering, Ferdinand's inclusion means a lot of his time will be spent on one man… Ferdinand's return has been unnecessarily complicated, political and has taken a toll on a manager who needs calm as he approaches a crucial match for England. For it to have been worthwhile only two words now matter: Montenegro nil.
Get Cole and Rio to sort this out TODAY (Alan Shearer, Sun) When the squad meet up today, Hodgson needs to get both players into a room to sort out their differences. There doesn't need to be a public handshake or anything like that. I understand Ferdinand's feelings go deeper and more personal than a simple training ground spat. But the pair of them will take the field against Montenegro in a crucial game as we bid to get to the next World Cup. The matter needs to be put away not avoided and Hodgson needs to come out also on day one to say it has been as well.
Cahill and Dawson injuries put onus on Ferdinand to play in both England qualifiers (Neil Ashton, Mail) 34-year-old [Ferdinand] may be pressed into action for both games after Dawson and Cahill picked up knocks on club duty.
---
GAMBLING CAN BE ADDICTIVE, PLEASE PLAY RESPONSIBLY